Meet Howard and Piper
This is the story of how I fell in love with my two Shelties—the silliest, fluffiest, funniest, noisiest dogs I've ever known.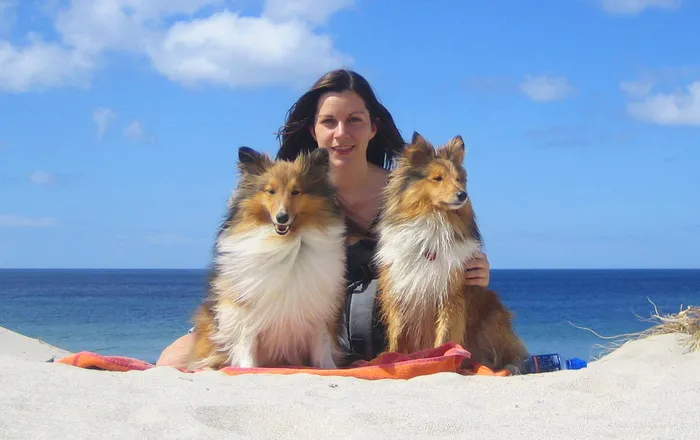 I discovered Shelties in 2008 after I emigrated to New Zealand. Pete and I moved into our first home and, as practice for a baby, we decided to get a dog.
Because the internet existed, I started researching dog breeds obsessively. Border Collies. Old English Sheepdogs. Pomeranians. Leonbergers. German Shepherds. Pyrenean Mountain Dogs. Samoyeds. The most important feature for me? Lots and lots of fluff.
Two fateful things happened next. Our landlord said we couldn't have a big dog that would tear the house up. This made Pete grumpy for about a day. I was delighted. We narrowed our search to smaller breeds—and it led us to the magnificent Shetland Sheepdog.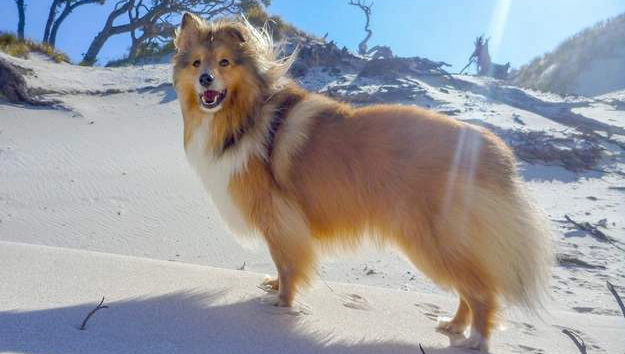 Once I learned about Shelties, I set my heart on adopting one. I scoured rescue listings but as it turned out, Shelties are very uncommon in New Zealand.
So I turned to a Sheltie breeder, one of a handful in NZ, and to my great delight she was rehoming a litter the next week! But my excitement was short lived. She then said all her puppies were destined for families who had signed up months ago. She was planning another litter the next year if I wanted to wait.
But fate struck a second time a few days later. The breeder called me back to say of her buyers had broken her ankle and had decided to postpone her puppy plans. And just like that, "Toes" was ours if we wanted him (so named for his little white socks on each paw).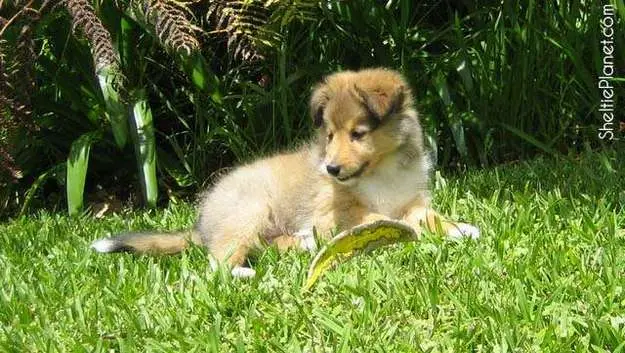 We were so excited. We drove down to the kennels a few days later to meet the little fella. He was even more gorgeous in real life, and holding him for the first time felt surreal. I had never held a puppy before. I was in love!
We brought Toes home the same day and settled on the grand name of Howard Woofington Moon.
Little Howard didn't leave my side for the next three days straight. I could see he was scared and vulnerable having been parted from his littermates. And he peed everywhere. A note for landlords: it's not the size of the dog that matters. It's the size of his bladder.
Who knew puppies peed so much? I didn't. My work as a freelance writer fell by the wayside and I spent the next week playing with Howard and cleaning up his emissions.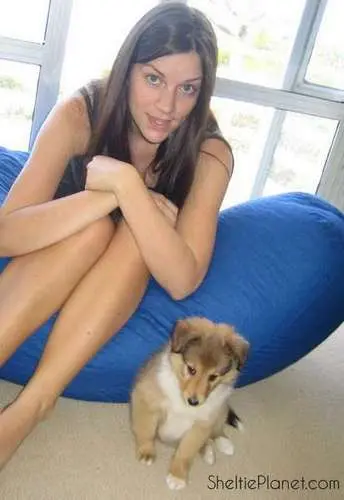 I was overwhelmed by the amount of attention this puppy needed. I thought this must be what it's like to have a newborn baby. Ha. But at the time, it felt like we'd taken on a huge responsibility, and I learned the reality of puppy ownership fast.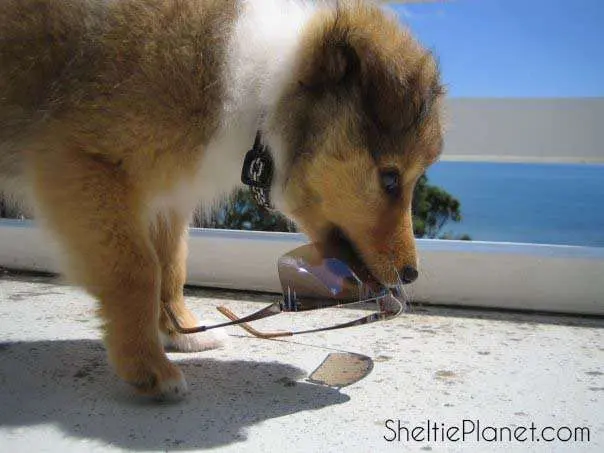 Luckily, Howard was completely and utterly loveable. And as he settled into his new home, he became bold and curious. He slowly explored further and further away from me, learning all about his new environment with all its strange objects and smells.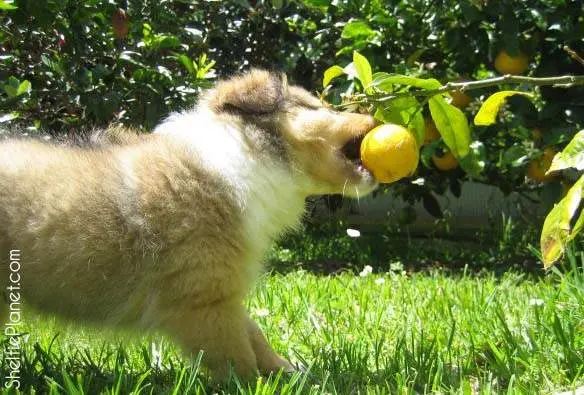 Soon, we took Howard out on social trips, where he met lots of new people. Everyone wanted to play with our gorgeous little puppy. He was just adorable whatever he did. Forget the pee all over the floors. Our little puppy was amazing.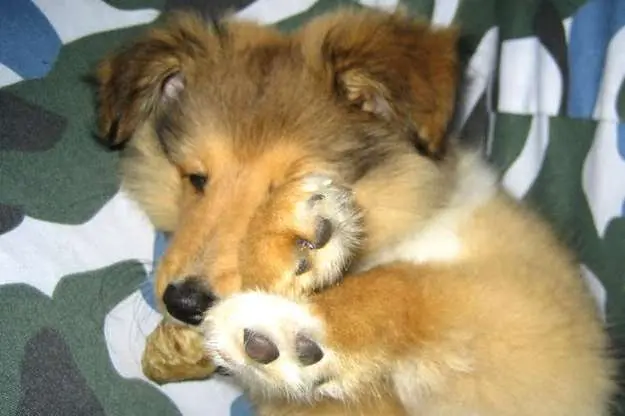 After Howard had his next round of puppy vaccinations, we started taking him for walks along the beach. Even as a tiny pup, he bounded up to big dogs and invited them to play. And he didn't hesitate to run up to strangers. This was definitely not the shy Sheltie I'd read about in my breed research.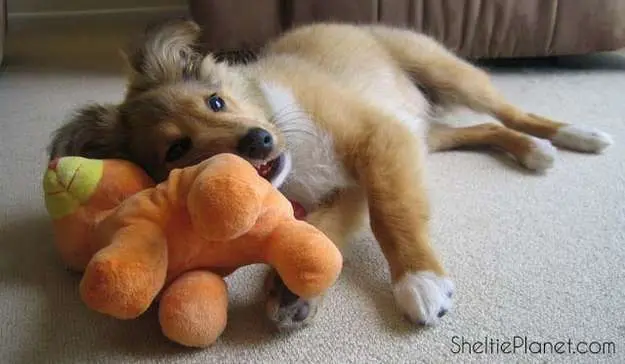 In the blink of an eye, Howard grew into a awkward teenager. Here he is in his gangly coyote stage, right before his thick double coat came in.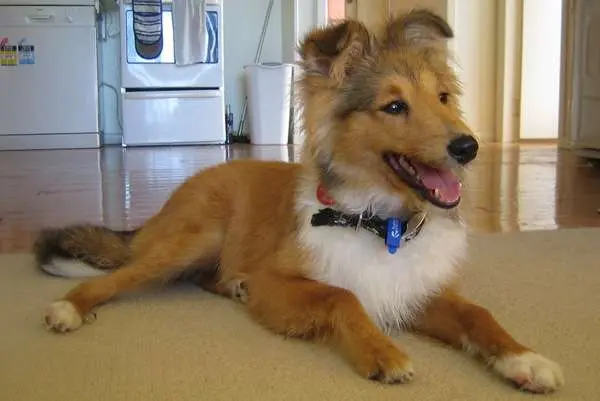 Here he is at one year old, looking like the classic English-type Sheltie we all recognize. Totally handsome, and supremely confident to boot. Check out these photos of Sheltie puppies growing up to see the transition in more detail.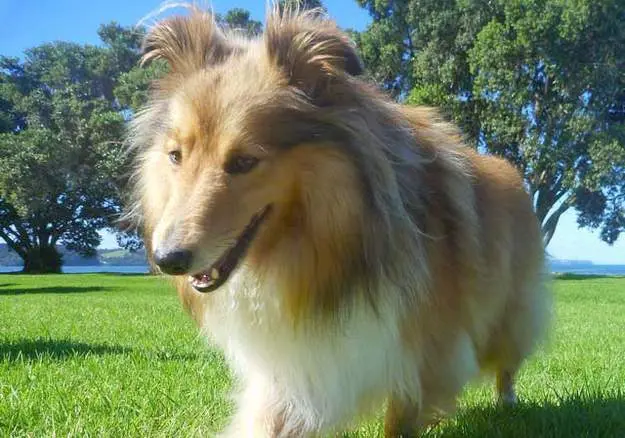 Along Came Piper
Let's wind back a tiny bit. When Howard was nine months old, I emailed his breeder with some up-to-date photos. I remember her saying she loved his ears. And when I mentioned in passing that we would love to have another Sheltie some day, she offered us Howard's brother.
"Shelties are like potato chips. You can never have just one."
Howard's half-brother came from another litter, whelped three weeks apart. The breeder had kept Piper as a hopeful show dog, with the possibility of breeding him down the line. He was obedient and eager to please, but had also grown up to be a very nervous Sheltie.
Nervousness is not unusual in Shelties because they're very sensitive dogs. But it's not the ideal temperament and certainly not suitable for Conformation. It had become clear that Piper wasn't going to handle the show dog lifestyle at all, and need a home where he could feel safe and secure. Would we like him?
Pete and I mulled it over but deep down I already knew my answer. Of course we would have another Sheltie—and he was Howard's brother to boot! So we went down to the kennels the next day and met our second Sheltie baby.
Now, I was expecting to meet a dog very similar to Howard Woofington Moon. I had a vision of him looking just like Howard but wearing denim dungarees for some unfathomable reason.
The moment I laid eyes on Piper, I realized he was completely different. He caught sight of us and shot down low, trying to blend himself into the ground so we wouldn't notice him.
Here he is a little later, having developed the confidence to sit upright.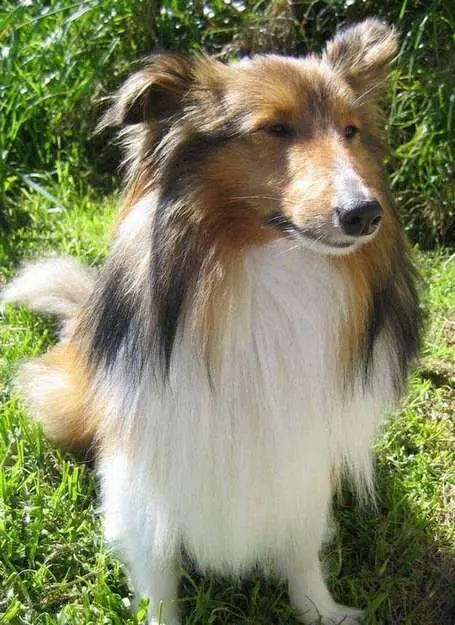 Howard, on the other hand, was busy peeing on the breeder's foot.
We reunited the boys, who responded to each other with pricked ears and high tails, whiffing each other's faces and butts. Howard being Howard, he had a little something to prove. Piper let him do all the talking and from then we knew they'd get along just fine.
We took a tour of the kennels and met the boys' father, Storm, who was a real handsome devil like Howard. We met a dozen other beautiful Shelties that day. By then I was obsessed with the breed and it was an enormous treat to meet so many of them all at once. I was in Sheltie paradise.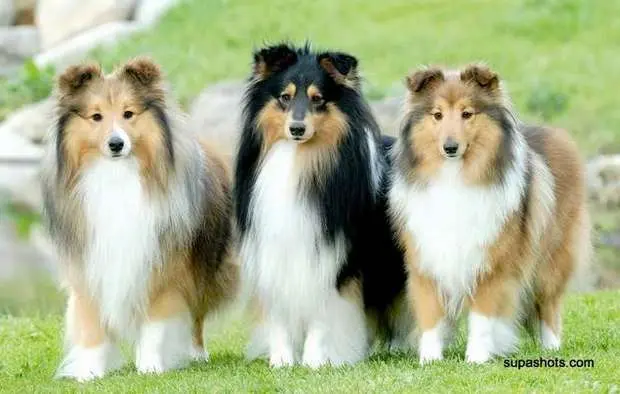 The journey home was terrifying for Piper. He sat tensed-up on my lap and vomited twice. I tried to help him calm down, but he was scared of everything.
But things got better over the next few days and weeks. Reassured by his brother, Piper settled into his new home. And he got an excessive amount of love and affection from us. The timid little guy even found his voice after a few months. When anyone asks if Shelties bark a lot, I just look at Piper and he proves my point.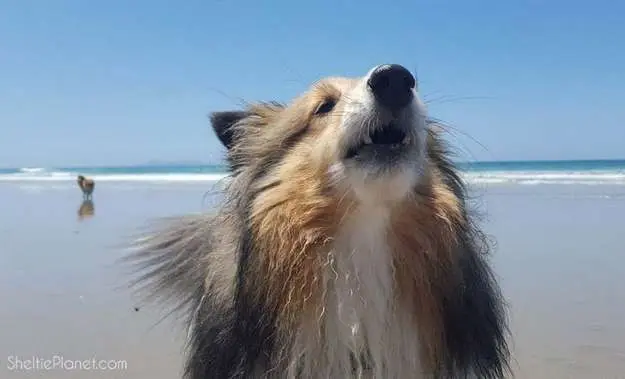 Piper developed a gorgeous habit of howling to alert us when the answer machine went off. Sometimes we went on big hikes into the forest and howled ourselves, so Howard and Piper could really go for it. It was such a great feeling when we all howled together like a bunch of wild wolves.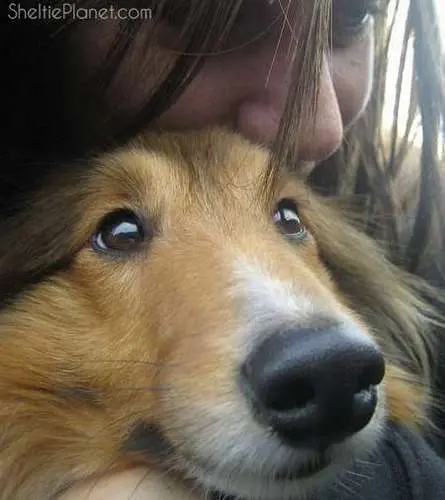 Piper is the perfect lap dog. You only need to make eye contact across the room and he sits up immediately, ears pricked, tail wagging, waiting for you to invite him up. He's got the classic Sheltie brains—a highly intelligent and sensitive breed—able to read our facial expressions and even respond to social gestures like pointing.
Double Trouble
Howard and Piper excelled at teamwork. Piper used his nose to open sock drawers, and Howard used his teeth to displace the contents around the house. It wasn't unusual for visitors to see Howard proudly trotting into the living room with a pair of underpants in his mouth.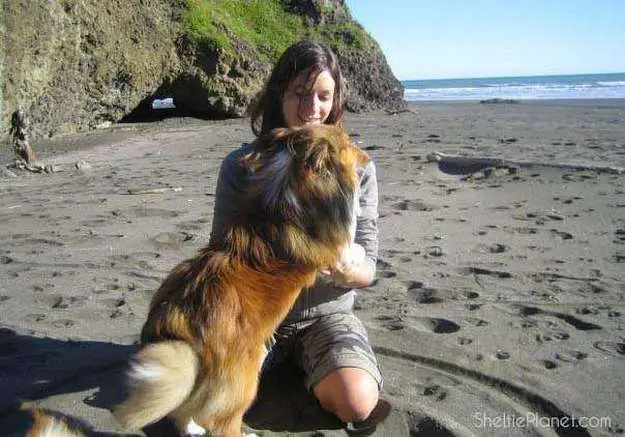 When Howard and Piper were four, we welcomed our first human baby, Fox, into the family. That's right: in our house the animals get human names, and the humans get animal names. That's just how it's done.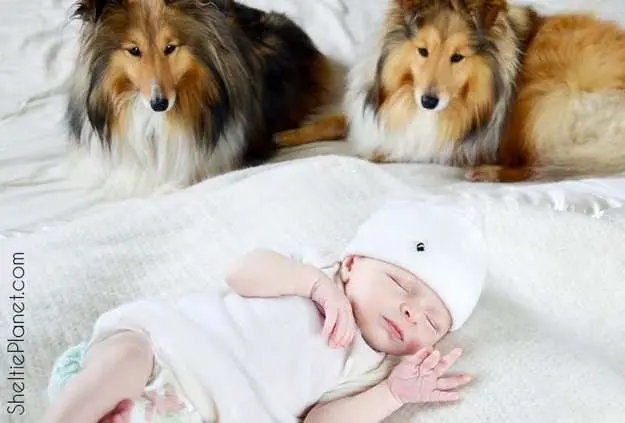 The biggest change in their behavior was that Piper was far less likely to sit on my lap for hours like he used to. I wrote a bit about introducing Shelties to a newborn if you're wondering what it's like.
When the dogs were ten years old, we had another baby, Kea. The Shelties were so gentle with her, putting up with much vigorous patting and fur pulling once she could crawl. But I think they adjusted really well to the kids. And with the six of us, our family was complete.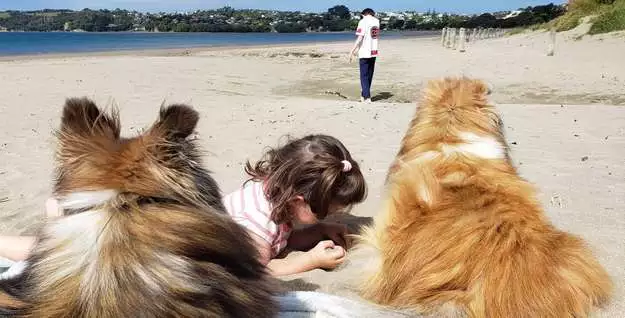 Of course, it didn't stay that way forever. In 2021, we lost our beautiful Howard to congestive heart failure. It was one of the worst days of my life.
We think about Howard every day. He comes up in our conversations as the subject of many fond memories. He was my first baby, my bold companion, and my furriest of bed fellows.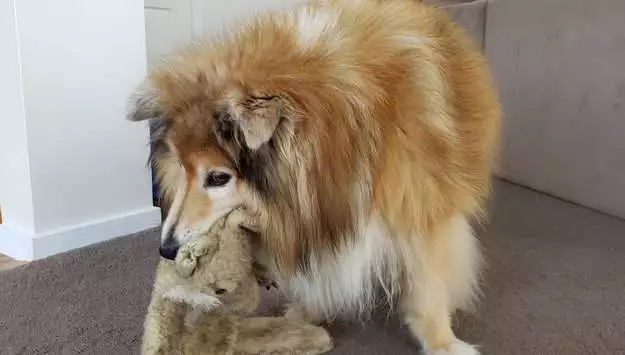 I have many wonderful memories of Howard. He was a hilarious and handsome dog, loved by all. He was naughty in the funniest ways. He stole food at every opportunity, and was especially proud of the time he nabbed Mr Pygott's steak off the BBQ. He ate dog poo, sheep poo, baby poo, and one fat, doomed bumble bee.
When I think of Howard now, I remember him chasing the waves on the beach, playing zoomies around the living room with Piper, being smoochy at night after a long hard day being the boss, having a scruff on the floor, burying treats in the garden, playing with the kids, and lapping up the attention of strangers who so often were drawn to this devastatingly dashing dog.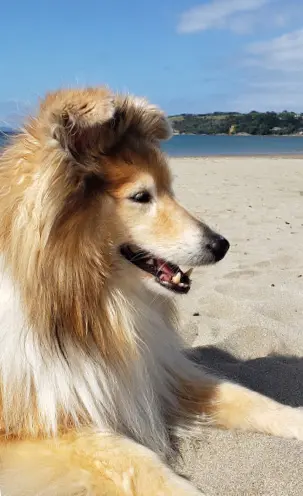 Piper has slowly adjusted to life without his brother. In the first few weeks he was heartbreakingly depressed. He wouldn't even run on the beach. But he eventually found himself again, receiving lots of extra attention from his family, and we're slowly adapting to life with one Sheltie.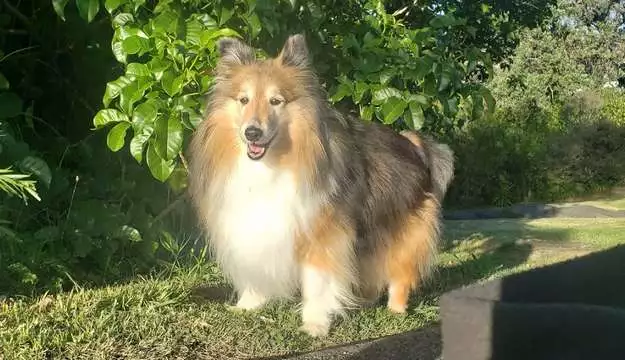 Howard gave us years of joy and, I hope, we gave him the best life possible. Among many things, he was my first puppy, the inspiration for Sheltie Planet, and the reason we found Piper. I still love him to bits.
Perhaps you have a young Sheltie of your own, and such times feel a million miles away. Good. Don't waste precious time worrying about how it will all end. Enjoy every moment with your Sheltie, knowing that the connection you have will imprint on you both forever.
Sheltie Planet is dedicated to our courageous, hilarious, playful, wave-chasing, food-centric, scruff-loving Howard.