Our Sheltie and Collie Family
We lost our beautiful mahogany Sheltie, Katie, last June. She was named Lakofsky's Katie Scarlett after Gone With The Wind. By Margaret Lakofsky.
Sadly we lost our beautiful mahogany Sheltie, Katie, last June - just two months short of 15 years old. She was named Lakofsky's Katie Scarlett after Gone With The Wind and we had had her since she was 7 weeks old.
The next day, I was looking at the website of Almost Home Dog Rescue in Ohio. We have fostered 25 Collies and Shelties over the years from them and our Collie, Apollo, was adopted from them.
Very unexpectedly they had two Sable and White 12-week-old Sheltie puppies listed on the website. I always said that I would never get another puppy, because they are such hard work when they're young compared to older rescue dogs. However I was drawn to her, because her name was Tara, the same as the plantation in Gone With The Wind. It was Kismet! It was as if Katie was sending Tara to us.
I called Daryl, who handles the adoptions for AHDRO. She had heard that we had lost our Katie the day before, but she said that they had already had two applications for the puppies. She said if one of them fell through, Tara would be ours. A few days later I had resigned myself to not getting Tara when Daryl called and told me that one of the applicants for the puppies had dropped out. Tara was ours!
The next day Daryl called again. The family that was adopting the other puppy wanted to know if they could have Tara instead - because she interacted much more with their kids and they wanted to just change her name to Tara. But I told her we wanted the puppy named Tara and so a few days later we made the drive down to Columbus to pick her up at her foster parents' home.
They told us she was feisty and she certainly is! From the time she arrived, she and our male Collie, Apollo, became best buddies, Tara at 5lbs and Apollo at over 80lbs. She climbed all over him and played tug of war with his tail, but he never minded. (When we fostered two Shelties in the spring, poor Apollo was jealous because she played with them.)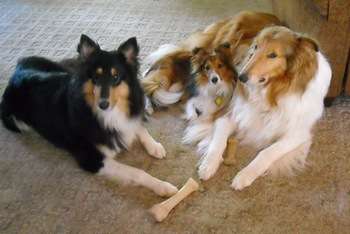 We also lost our 11-year-old Collie Gracie this past June and adopted another Collie, a Tri Color named Gabriella from a rescue in Michigan. So now Tara has two collie playmates! Gabby will put her shoulder down on the floor so that Tara can climb on her shoulders or she will lay on her back so that Tara can climb on her chest to play. Tara now weighs 15lbs and is the perfect size to be my little "lap Collie".
Tara is very different than our Katie was, but we love her very much. We love to watch her run around the backyard with the Collies following close behind her. She is such a hoot. We are looking forward to having 15 years with her, just like we had with our Katie.
By Margaret Lakofsky