220+ Cute Sheltie Pictures
By Becky Casale | About | Download her Ebook
Here you can see our Sheltie puppy growing up, and explore themed collections of cute Sheltie pictures sent in by our readers.
Sheltie puppies go through rapid developments after birth, growing to full size by one year old. The coat continues to develop until three years. Check out the stages of Sheltie puppy development here.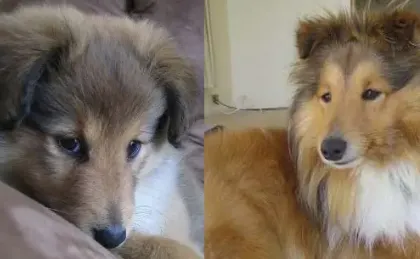 All puppies are adorable. That's a fact. But the Shetland Sheepdog puppy—with his big floppy ears, beautiful almond eyes and silky soft fur—knows how to be deliberately cute on demand.
I can't get enough of puppies, which is why I asked our readers to send in their favorite Sheltie puppy photos. And this is the squeal-worthy result. Get ready for complete fluff overload because these guys will melt your heart. Silly, curious, playful, sleepy, bashful... oh wait now I'm naming dwarves.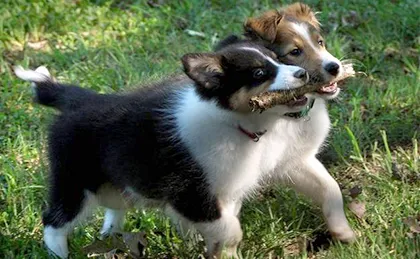 Shelties just love a nice wet bath, right? Ah, how about no! Bathing a Sheltie is like wrestling with a hairy octopus. He'd rather be anywhere else than struggling in your grip under the shower head. Eventually the forlorn Sheltie submits to your watery whims and then you get the look of absolute sorrow.
I asked our readers to share their cutest, funniest, and oh-so-sorrowful photos of dripping wet Shelties in the tub, this is what we got. Whether they're shrunk by half, or giving you the side eye for making them smell like coconut, the resulting collection is downright ridiculous.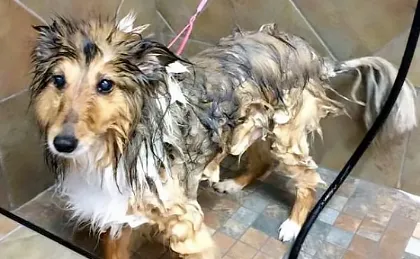 One of the reasons I made Sheltie Planet was because I had so many photos of Howard and Piper I wanted to share. I love being able to capture those special moments forever, and in this article I share my top pet photography tips so you can get some great shots of your Sheltie that you treasure.
When we got Howard as a puppy I was eager to snap away at this beautiful little bundle. The more photos I took of any given scene, the more likely I was to get the perfect shot. At the same time, I learned the basic ground rules for taking good photos, especially when small, fast-moving fluffballs are involved.