About Us
As you probably know, this site was inspired by two devastatingly handsome Shelties named Howard and Piper. They are incredibly sweet, you have to agree. Why aren't you agreeing with me? Agree at once! Quick, here's a picture to help you agree with me.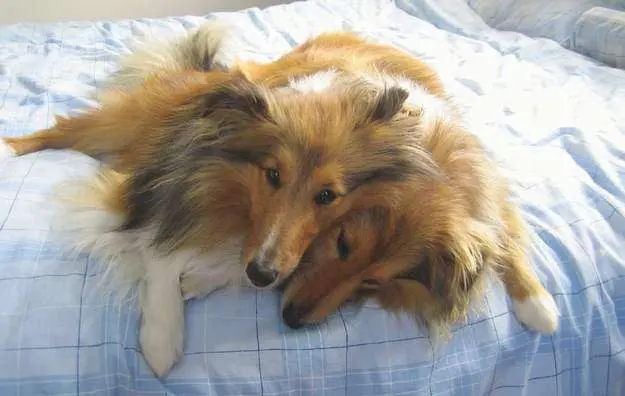 We met Howard Woofington Moon as a puppy when he was 8 weeks old. Despite his timid first appearances (he was only a baby after all), he turned out to be a rather bold, proud, confident grown-up Sheltie.
Somewhat unusually for a Sheltie, Howard loved strangers. He bounded up to everyone on our beach walks to say hello. He didn't mind if you were sunbathing. He'd take the time out of his busy schedule to block your light and sniff your bum.
At night, Howard turned his affections to us and became one smoochy devil of a dog. He frequently enjoyed snuggling up with us on the couch and in bed.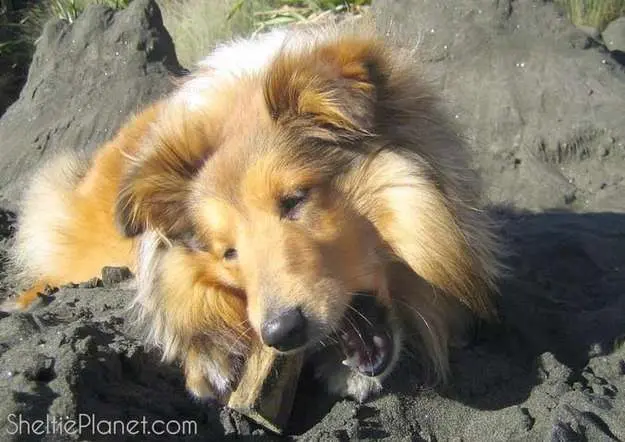 Piper joined us he was 9 months old, having responded to a flatmate wanted ad in the local paper. Although our ad specified a 30-something professional with at least three references, we made do with the fact that he was toilet trained.
Piper was an immediate hit and turned out to be an especially eager and loyal adult Sheltie. All in all, Piper is the more typical personality you'd expect of a Shetland Sheepdog.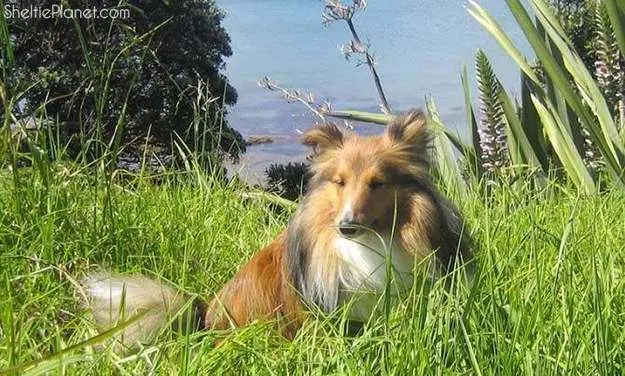 In fact, Piper follows me everywhere he possibly can. He's very doting, and never hesitates to lick the toe-based wounds of our house guests while they try to relax on the couch and hold a conversation. Yes, Piper is the sweetest, loveliest, timidest, silliest dog in the world and will nibble the toes of anyone who disagrees.
Living in New Zealand, we've had the immense pleasure of taking our Shelties on many outdoor adventures. Beaches, coastal tracks, forests, parks, Mount Doom, you name it. No, maybe not Mount Doom. But definitely some very large hills and the occasional escarpment.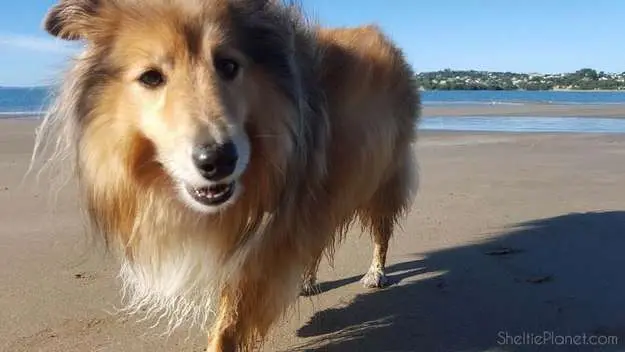 It was in early 2021 that we lost our lovely Howard. He was a grand old dog of 12.5 years when, on top of his arthritis, he developed congestive heart failure. We think of Howard every day, and are making the most of the time we have left with our beautiful Piper.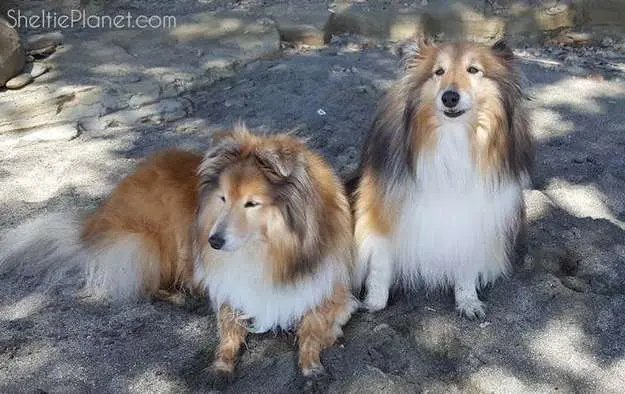 I have many wonderful memories of Howard. He was a hilarious and handsome dog, loved by all. He was naughty in the funniest ways. He stole food at every opportunity, and was especially proud of the time he nabbed Mr Pygott's steak off the BBQ. He ate dog poo, sheep poo, baby poo, and one fat, doomed bumble bee.
When I think of Howard now, I remember him chasing the waves on the beach, playing zoomies around the living room with Piper, being smoochy at night after a long hard day being the boss, having a scruff on the floor, burying treats in the garden, meeting our babies for the first time, and lapping up the attention of strangers who so often were drawn to this utterly dashing dog.
Piper has slowly adjusted to life without his brother. In the first few weeks he was heartbreakingly depressed and wouldn't even run on the beach. But he found himself again, receiving extra attention from his human family, and we are slowly adapting to life with one Sheltie.
Rest in peace beautiful Howard. We love you always.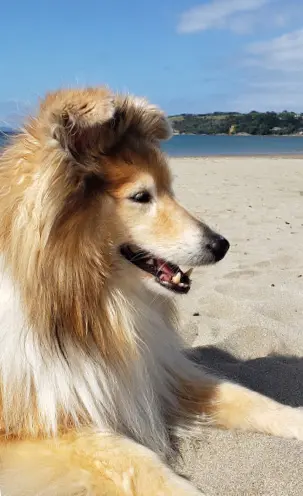 The Humans of Sheltie Planet
My name is Becky Casale (once Turner, if you're trying to piece together my history for a Wolverine-style origins movie). I'm a 30-something-mumble-mumble mother of two human babies and two fur babies.
It was 2008 when I fell in love with the young Howard Woofington Moon. Little did I know that this adoration would turn into one of the biggest Sheltie sites in the world. I took the many Sheltie photos on my computer, and set to work researching everything there is to know about this amazing dog breed. I've since made several blogs on my passions and it's super creative fun.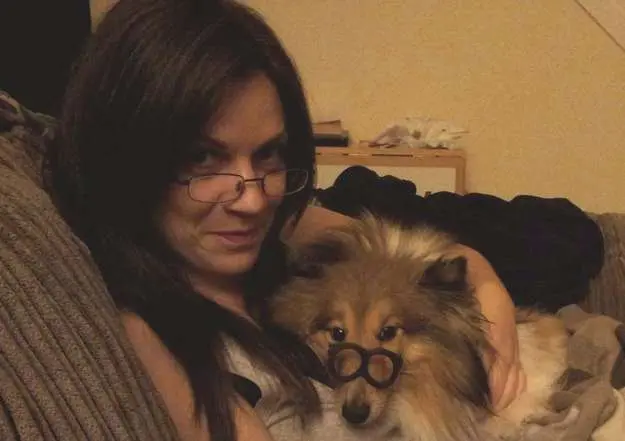 Besides blogging, I'm halfway through a Bachelor of Science. My goal is to be a full time science writer, and I'm developing the illustrated blog Science Me to this end.
My partner, Pete, is a game designer. He intuits technology the way a monkey intuits bananas, and I've twisted his arm into helping me with Sheltie Planet more than a few times.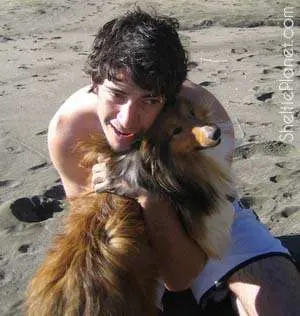 Pete's a natural born Kiwi who introduced me to the delights of New Zealand. His special features are that he's 6'7" tall and has taught himself how to play seven musical instruments.
We have two kids: Fox and Kea. Of course we named our children after animals, why do you ask?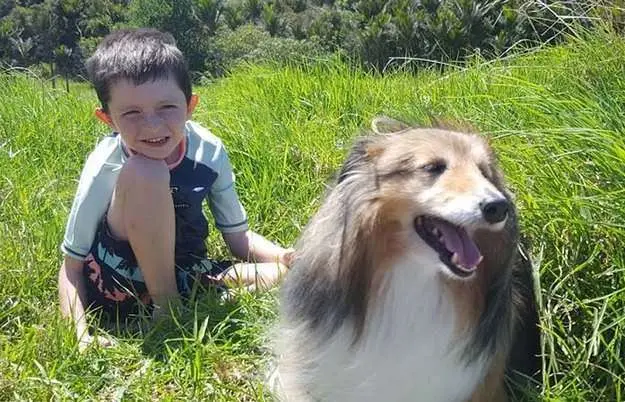 Fox is obsessed with extinct marine reptiles. He's autistic, which for him means his default mode of living is "daydream" and that makes him the most liberated, living-in-the-moment human I've ever met.
Kea is still new to this planet. She's got huge eyes and shouts an awful lot. I suspect she's going to be incredibly bossy which may or may not be endearing depending on whether you're the subject. She has a wicked smile. Seeing Kea and Fox grow up will be the highlight of my life.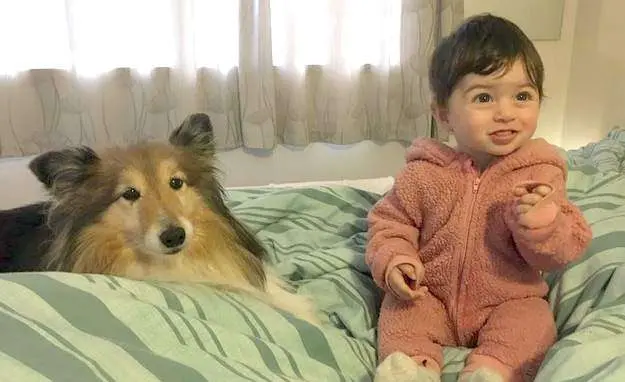 That's everything you could possibly want to know about us. Or is it? Stay tuned for more dog droppings including photo updates of our fur babies. My preferred mode is Facebook even though I was informed today by a 13-year-old that Facebook is for old people. Hmmmph. Follow us below and star us as a favorite to see our latest Sheltie pics.
Download my Ebook Guide to Shelties
If you dig my vibe here, you'll love my ebook, Shelties: The Complete Pet Owner's Guide. It's lavishly illustrated (lavishly!) with photos from Sheltie Planet readers as well as our own Howard and Piper.
Besides being an excuse to ogle Shelties, it has detailed advice on housebreaking, socialization, grooming, obedience training, de-sexing, healthcare, personality, breed traits, and more. It's a $5 download and your purchase seriously helps support our ongoing work here at Sheltie Planet.