The Best Dog Products for Shelties
Here I examine the best dog brushes, food, beds, leashes, and more for your Sheltie. Plus: is pet insurance worth it for a well-bred Sheltie?
Here are the only three brushes you'll ever need to groom and tidy your Sheltie's thick double coat. Not all dog combs and brushes are effective on Sheltie fur, so spare yourself the experimental rigmarole of testing different bristle types on your Sheltie's dense coat. Over the years, and the course of countless grooming tools, I've settled on the most effective de-tangling, de-shedding, and slicker brushes for our furry friends. Here, I also explain how to use these three brushes correctly to groom your Shetland Sheepdog with minimum discomfort. Read more.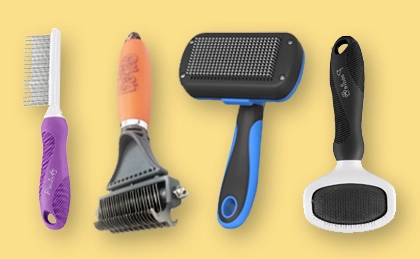 A good dog bed is a worthwhile investment for your Sheltie, who doesn't just sleep at night, but naps regularly throughout the daytime too. The right bed can help him regulate his body temperature, sleep more comfortably, and provide security if he's a nervous Sheltie. And need I say, the best dog bed provides an attractive alternative to your own bed, leaving you to sleep in peace without the hourly leg disruption. So let's look at the best dog beds for Shelties, based on a number of different criteria depending on your needs. Read more.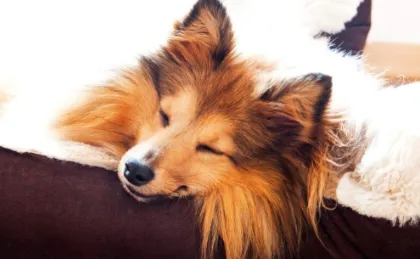 The day you bring a new puppy home, your life will change in a big way. Those first few weeks will be the most demanding. You'll spend hours bonding with your new friend and at times the constant supervision may feel overwhelming. So get the whole family involved and take turns to look after him. Everything in the house is new to your puppy. He'll try to chew on everything, explore every crevice, and make all kinds of mess on the carpet. It pays to stock up on puppy gear before you bring him home, so you're prepared for all the mischief and mishaps that lie ahead. Read more.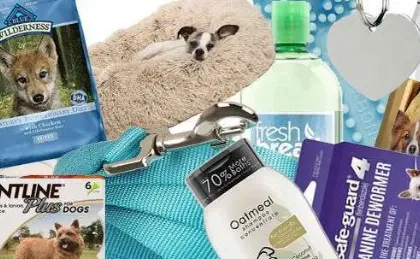 Dry kibble may look and smell the same to us humans, but looks can be deceiving. In fact, the scale of dog food is broad, and price can be an indicator of what you're really feeding your Sheltie. At the low end of the scale, dirt-cheap supermarket dog food is loaded with grains, artificial preservatives, and poor quality sources of meat. Premium dog foods focus on a single source of meat as the main ingredient, and use natural, non-toxic preservatives. Many also included added vitamins and trace minerals for optimal health. Here's a summary of the ingredients to seek and avoid in dog food, as well as tips on supplements and feeding a raw food diet. Read more.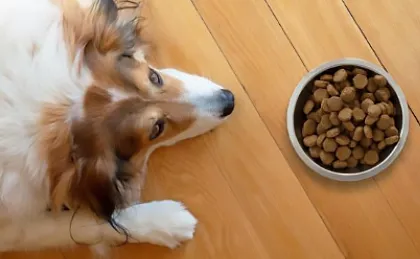 When Howard was just a little puppy he used to graze on his kibble all day long. But the day we got Piper, the competition was on. Imagine our surprise when we fed the dogs that first night. What ensued was a 20-second frenzy of snarfing and gobbling, followed by hiccups, burps, and bloating. In vacuuming up their food, ours Sheltie also swallowed a lot of air, causing stomach bloating and hiccups. And by swallowing without chewing, they began to miss out on the first stage of digestion, making them more likely to regurgitate and vomit. Read More.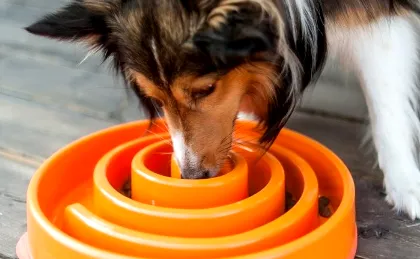 Here we look at three types of dog leashes. The best one for your Shetland Sheepdog depends on a few factors. For instance, if you're leash training, you'll need to keep him more restrained. Or if he's an obedient little chap, maybe you can trust him with an extendable range. The material of a dog leash is important too. For puppies who love to chew (read: all puppies), a metal chain link leash lasts longer, but getting it wet can lead to rust. Nylon dog leashes are strong and cheap, but they can chafe on your skin if your dog pulls constantly. Perhaps this is why dog trainers use leather leashes: although they are more expensive, leather is soft, strong, and flexible. Read more.