About Shetland Sheepdogs
By Becky Casale | About | Download her Ebook
Shetland Sheepdogs are sensitive, smart, and easy to train. But how much do Shelties shed? Are they incessant barkers? Are they easy to train? Here's what you need to know about Shetland Sheepdogs before you adopt one.
Shetland Sheepdogs have a lot going on in the brains department. They're also incredibly sensitive and easy to train. They're small dogs, bordering on medium, with long hair and thick double coats. Originally bred as working dogs, Shelties retain a strong herding instinct and a desire to alert you to potential threats, which is why they can bark incessantly if you don't train them. The most common misconception about Shelties is that they're miniaturized Lassies! Not that we have anything against our gorgeous Collie cousins. But Lassie, dude, you're really overshadowing us with your greatness. Can you step aside for a moment and let the Sheltie have his day? He's really quite a lovely dog in his own right. Read more.
The most common Sheltie color you've probably seen is Sable, which encapsulates many types of colors ranging from light gold to mahogany. Today we're going to examine all five Sheltie colors: Sable, Tri Color, Blue Merle, Bi Blue, and Bi Black, with a special note on white factoring and the rare Color Headed White.
Puppies don't need much grooming until they're 5-6 months and the full coat starts to come in. The color, thickness, and quality of the coat continue to develop beyond the first year. It's important that breeders understand the genetics of coat colors, not only to plan their next litter but also to avoid inherited diseases. For instance, breeding two Blue Merles creates a 1 in 4 chance of producing a Double Merle. While it results in a stunning all-white coat, the lack of melanin means many Double Merles born blind. Read more.
All puppies are adorable. That's a fact! But the Shetland Sheepdog puppy—with his big floppy ears, beautiful almond eyes and silky soft fur—knows how to be deliberately cute on demand.
In this article you'll learn about the different Sheltie colors, 20 things you'll need for your new puppy, and what vaccinations he needs to stay safe. Read more.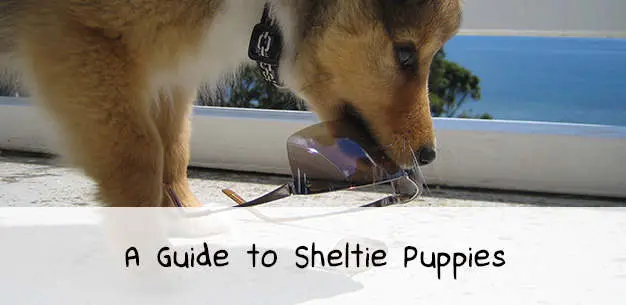 The Sheltie leads the pack among small breeds for their intelligence and downright fluffiness. As the world's 6th most intelligent dog breed, and with their working dog history, Shetland Sheepdogs have exceptional alarm dog and agility skills. They can learn new commands in as little as five repetitions and have the capacity to learn hundreds of spoken words. Naturally, the Sheltie is very curious to explore the world around him and has lots of mental energy to expend. While many small dog breeds have a bad reputation for being yappy (sorry little guys) the alertness of the Sheltie makes him easy to love. Read more.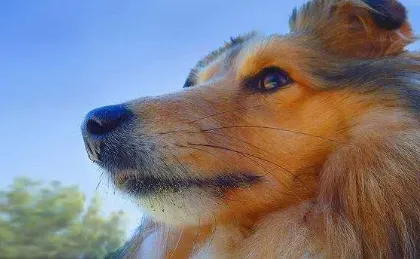 We all know that Shetland Sheepdogs come from the Shetland Islands of Scotland. But the complete Sheltie history is lesser known and makes for an intriguing story. The most likely explanation of the Sheltie's origins is a Scandinavian herding dog, perhaps a Spitz breed similar to the modern Icelandic Sheepdog. Their thick double coats made them well equipped to deal with harsh winters and they were excellent working dog candidates for the islands of Scotland. Once imported into the Shetland Islands in the 1700s, the Scandinavian Spitz breed was extensively crossed with mainland working collies. Read more.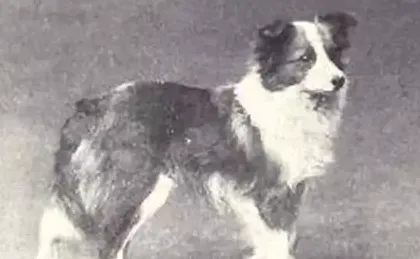 Miniature Shelties, also known as Toy Shelties, are Shelties that measure less than 13 inches (33cm) at the withers. In stature, they fall under the official AKC-defined standard for Shetland Sheepdogs. However, in every other respect, professional Miniature Sheltie breeders strive for the same characteristics and appearance. The fact that mini Shelties aren't an official dog breed drives the controversy between breeders of Shelties and Toy Shelties. The latter wants to see the AKC define a separate breed category, as has been done for Standard, Miniature, and Toy Poodles. Read more.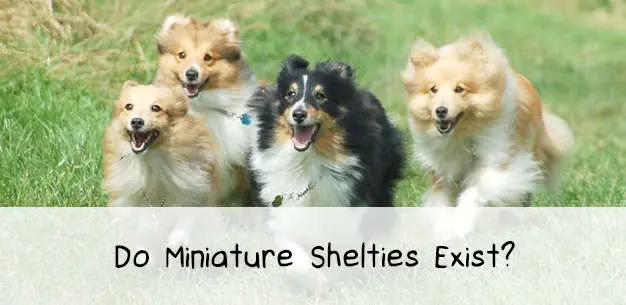 Here are the most frequently asked questions about Shelties. Learn about temperament, intelligence, lifespan, health, grooming, puppies, breeders, adoption, training, and more. The Sheltie temperament is generally intelligent, sensitive, playful, observant, and affectionate. Without proper socialization as puppies, Shelties have a tendency to be shy and anxious, so it's important to introduce them to all kinds of people when young to develop their confidence. And Shelties are well known for their barking. This is not a quiet dog breed. They bark when they're excited or trying to alert you to something in the environment. The good news is barking can be minimized through training. Read more.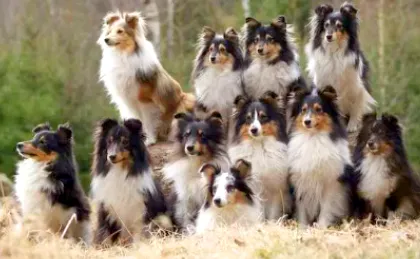 One of the reasons I made Sheltie Planet was because I had so many photos of Howard and Piper I wanted to share. I love being able to capture those special moments forever, and in this article I share my top pet photography tips so you can get some great shots of your Sheltie that you treasure. When we got Howard as a puppy I was eager to snap away at this beautiful little bundle. The more photos I took of any given scene, the more likely I was to get the perfect shot. At the same time, I learned the basic ground rules for taking good photos, especially when small, fast-moving fluffballs are involved.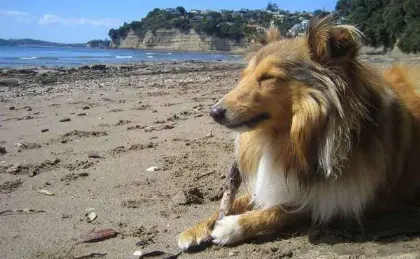 Is your Shetland Sheepdog smiling at you? Are our dogs actually happy or are we just anthropomorphizing them? Dog experts say they are smiling, but not for the reason we think. In the wild, wolves smile to indicate submission. In the same vein, dogs instinctively interpret this grin as sign of submission. It says this particular dog isn't a threat. If you think about it, the social smile is what we humans often do too. Read more.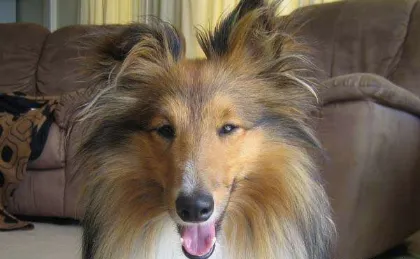 Shelties are among the most vocal of dog breeds and this extends far beyond barking. Check out these adorable Sheltie sounds caught on camera today: you can actually hear our Shelties talk. What I call "Sheltie talk" is just about any noise a Sheltie makes that isn't a bark or a whine. It is, without question, completely adorable. They can make strange and beautiful vocalisations that to us sound like they are singing. Most other dog breeds seem just too quiet in comparison. Read more.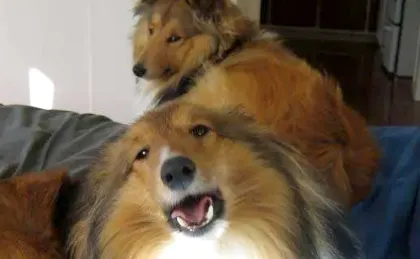 These are your Sheltie Tales: how you met, funny memories, and tributes to Shelties past, revealing the beautiful nature of these sweet companion dogs.
"Sandy was 10 years old when she came to bless our family. Her gait was sprightly and so was her spirit. If left to her own devices she could drag the toilet paper from the roll through the entire house—or until the paper tore, whichever came first. If the roll was empty, she would munch on the edges of the extra rolls kept in a basket." Read more.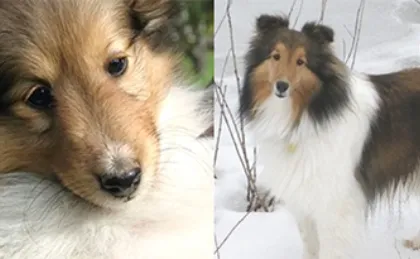 Shelties have an amusing trait of sleeping on their backs, legs akimbo. It's not a unique trait to the breed but they do look extra hilarious with all the fur sticking up. In terms of dog psychology, this position is relaxed and secure. It shows they're feeling safe enough to expose their vulnerable body parts (chest, throat, and stomach) open to attack. Recently I asked Sheltie Planet readers to submit their Sheltie photos sleeping on their backs and looking oh-so-relaxed. Here are the pictures I received. Read more.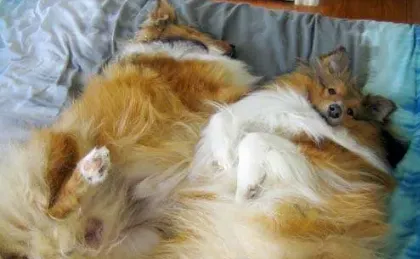 Have you ever seen a giant ball of fluff run around the living room seventeen times? How about a ball of fluff that rolls on his back, waggles all four limbs in the air, then flops back over with long ear-fur hanging over his face, grinning at you with sparkling eyes? If not, you've never met a Sheltie. When it comes to the Shetland Sheepdog personality, quirky doesn't even cover it. When I asked our readers about the most ridiculous thing their Sheltie did recently, this is what came back. Read more.
In the world of Shetland Sheepdogs, there's the American type and the English type. There are very slight variations between the two countries' breed Standards, yet most Shelties would have issues competing in the other's show ring. Ultimately, however, all breeding lines are from the same original stock of the early 20th century. In 1952, the American Kennel Club (AKC) created a new Standard which defined the ideal Sheltie as small, alert, rough-coated, and long-haired. Shelties should also be sound, agile, and sturdy, with males appearing masculine and females feminine. Find all the details of the modern breed Standard here, and see the lengths professional breeders go to in order to maintain the breed we all know and love. Read more.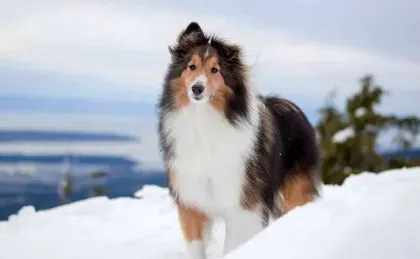 In this guest article, Charlotte Hulett of Sunridge Shelties in Missouri considers the breed Standard after breeding Shelties professionally for 50 years. She offers comparisons of US and English Champions, plus five excellent reasons why we should endeavor to breed Shelties to such strict definitions.
"First, we need to realize that at the time the current Standard was written in 1952, there was still a need to stabilize breed type. I recall that even in the early 1960s when I first started going to dog shows, there was much more variation in the general look of the dogs than we see in the ring today." Read more.
The AKC recognizes 190 official dog breeds, each boasting unique qualities in their appearance and temperament. Surveys found that while the average person can identify only about 10% of dog breeds, dog lovers may still only recognize around 25%. This goes to show that as a population, we tend to favor only a few dozen particular dog breeds as pets, out of all the varied and unusual breeds out there. Here our top 10 lists of the most popular dog breeds in America, ranked by the number of dog registrations with the AKC. Read more.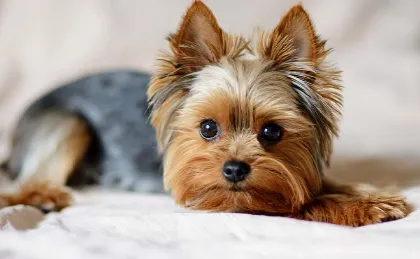 Like people, individual dogs are intelligent in different ways. But generally speaking, a breed with an acute and well­honed ability to work will be quick to learn how to do its job and stick to it. Other breeds may be so attentive and trainable that they can carry out a range of tasks not prescribed by their breeding history, such as guide dogs for the blind.
However, natural intelligence alone doesn't make a good pet. We have to be willing to put in the work to channel our dog's smarts. Left untrained and without a job to do, an intelligent dog can become a neurotic mess. Here are the top 10 most intelligent dog breeds in the world today with a focus on their historic roles as working dogs. Read more.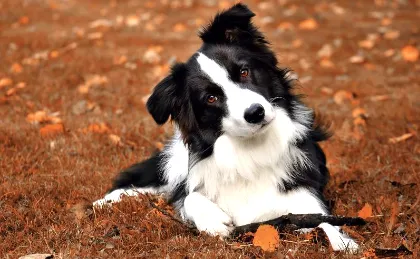 Astonishingly, it has been proven that dogs can pick up on the scent of cancer in humans. Now, certain breeds with the best sense of smell are being trained to detect cancer in patient samples with up to 95% success. Meet Daisy, a Labrador who detected breast cancer in her owner, Claire Guest, six years ago. "She kept staring at me and lunging into my chest. It led me to find a lump." Guest is now the CEO of Medical Detection Dogs in the UK. MDD is part of one of the largest clinical trials of dog cancer detection. So far they've had eight dogs sniff out 3,000 urine samples to see if they could detect the presence of cancer. Read more.