How to Care for Your Shetland Sheepdog's Health
Caring for Your Sheltie's Teeth
Look after your dog's oral health, especially if you feed dry dog food, which sticks in small spaces between the teeth. Proper care now will spare your Sheltie the pain of cavities and surgical tooth extractions down the line.
Here are the best three ways to care for your Sheltie's teeth:
1. Brush Your Sheltie's Teeth
Use a toothpaste designed for dogs such as Vet's Best Enzymatic Toothpaste which comes with a dog toothbrush. Set a routine of brushing his teeth just a little at first to help him get used to the intrusion. Aim to build up to daily brushing, but know that even a few times a week can make a big improvement.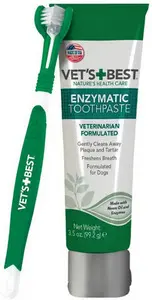 2. Offer Your Sheltie Dental Chews
Chewing tough food mechanically loosens tartar while stimulating saliva for better oral health. Virbac Oral Hygiene Chews contain enzymes for antiseptic action and have an abrasive texture for working debris off the teeth. Feed your Sheltie a dental chew every day, preferably half an hour after dinner to dislodge food particles that may otherwise stick around overnight.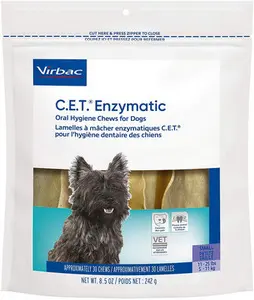 3. Supplement Your Sheltie's Drinking Water
There's no equivalent human product like this, because humans are much better at brushing their teeth on a regular basis. TropiClean Fresh Breath Plaque Remover is a water additive, which means you simply add it to your dog's water bowl. It contains natural ingredients to help fight plaque, tartar, and bad breath, remaining in the saliva for hours. Because it uses natural ingredients, it's also safe to drink.

Vaccinations for Shelties
Ethical breeders ensure their puppies have the first vaccinations at 6-8 weeks. Your job is to continue taking your Shetland Sheepdog puppy to the vet on schedule so she doesn't become vulnerable to common infectious diseases. Here's the current vaccine schedule for dogs per the AKC:
| | | |
| --- | --- | --- |
| Age | Essential Vaccines | Optional Vaccines |
| 6-8 weeks | Distemper, Parvovirus | Bordetella |
| 10-12 weeks | DHPP (Distemper, Hepatitis, Parainfluenza, Parvovirus) | Influenza, Leptospirosis, Bordetella, Lyme Disease |
| 16-18 weeks | DHPP, Rabies | Influenza, Leptospirosis, Bordetella, Lyme Disease |
| 12-16 months | DHPP, Rabies | Coronavirus, Leptospirosis, Bordetella, Lyme Disease |
| Every 1-2 years | DHPP, Rabies | Coronavirus, Influenza, Leptospirosis, Bordetella, Lyme Disease |
Whether you adopt a Sheltie adult or a puppy, make sure you register her with your vet and sign up for reminders when her next vaccinations are due.