About The Authors
Rebecca Turner, Writer and Editor
Rebecca Turner is a writer and blogger, studying for a BSc in Zoology at Massey University. Besides learning about the evolution of all animals on Earth - from sessile sponges to prodigious primates - she gets to discover the workings of DNA, physiology, lifecycles, populations and conservation.
Rebecca has taken care of Shelties for 10 years and written 100+ articles about the breed. She's talked to numerous breeders, rescuers and pet owners who are in love with Shelties. Read her personal story of how she came to meet her first Sheltie puppies and download her Sheltie Anthology today.
With a passion for biology and evolution, Rebecca also writes science-based explainers on her illustrated website Science Me. Visit Rebecca on LinkedIn or contect her via email.
Pete Casale, Web Designer and Writer
Pete Casale is a multi-talented web designer and UX specialist, studying for a BSc in Psychology and Philosophy at Massey University. He's a lifelong animal lover and regularly donates his time to New Zealand's animal welfare charity the SPCA.
Pete manages all the technical aspects of running Sheltie Planet, and with his love of Shelties is also a contributing writer and illustrator. Check out Pete's digital music, his comedy podcast Schemey Pete's Scenarios and illustrated science articles at Science Me.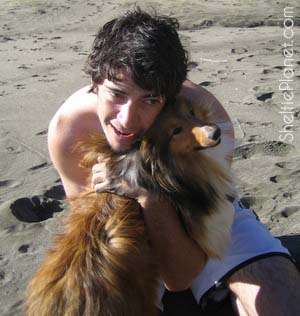 Follow Sheltie Planet
Community Forum - Register now and talk woofy to your heart's content.
Facebook - We operate the largest Facebook page for Shelties, come join us.
Twitter- If it's good enough for celebrities, it's good enough for us.
YouTube - The best place to watch videos of our Shelties in action.
Flickr Album - A whole bunch of high quality photos of our Sheltie dogs.
Write for Sheltie Planet
Interested in writing* a one-off or regular contribution to Sheltie Planet? We'd love to have more voices on the website. Whether you're a Sheltie rescuer, breeder, or hobbyist we welcome amateur and professional writers of all backgrounds to share their perspective.
We love an informal style that offers advice or insights, or just happy endings about Sheltie rescues. To get an idea of our style guidelines, check out the article archives. To apply, email Rebecca with:
A short note about yourself and the Shelties in your life
A title or summary idea for your article or story
*We don't accept articles from marketing agencies or non-Sheltie related topics so please don't ask.