Find Sheltie Puppies in Canada
Find Sheltie puppies for sale near you. Search our extensive Canadian directory of professional Shetland Sheepdog breeders.
NOTE: Professional breeders produce a few litters per year. They keep the potential champions and rehome pet-quality Sheltie puppies. Never buy puppies from puppy mills or pet stores. Remember, you can also adopt a Sheltie from a Canadian Sheltie Rescue.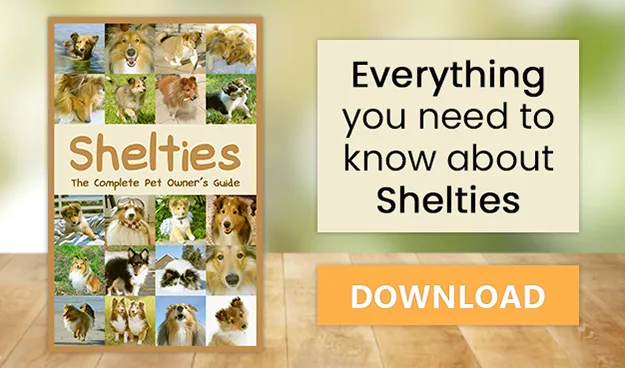 Sheltie Breeders in Alberta
| | |
| --- | --- |
| Breeder | Yvonna Halkow, WillowGlyn Shelties |
| Location | Gwynne, Alberta |
| Contact | willowglyn.com |
| | |
| --- | --- |
| Breeder | Laura, Zesta Shetland Sheepdogs |
| Location | Leduc, Alberta |
| Contact | zestashelties.com |
| | |
| --- | --- |
| Breeder | Margaret Zacher, Ladymagic Shelties |
| Location | Edmonton, Alberta |
| Contact | cdndogshow.com |
| | |
| --- | --- |
| Breeder | Seanna O'Neill, Khirugai Kennels |
| Location | Edmonton, Alberta |
| Contact | sko [at] dogsport.org |
| | |
| --- | --- |
| Breeder | Carol Williams, Liska Shelties |
| Location | Devon, Alberta |
| Contact | liskashelties.com |
| | |
| --- | --- |
| Breeder | Clare Belanger, Avonlea Shelties |
| Location | Leduc, Alberta |
| Contact | avonleashelties [at] hotmail.com |
| | |
| --- | --- |
| Breeder | Ann McMillan, Gratia Shelties |
| Location | Calgary, Alberta |
| Contact | 403-279-5994 |
| | |
| --- | --- |
| Breeder | Kim Boyes, Hyper Hounds Shetland Sheepdogs |
| Location | Calgary, Alberta |
| Contact | hyperhounds.ca |
Sheltie Breeders in British Columbia
| | |
| --- | --- |
| Breeder | Brenda Newlove, CanyonView Shelties |
| Location | Kelowna, British Columbia |
| Contact | canyonview.ca |
| | |
| --- | --- |
| Breeder | Judy Tulloch, Coastalview Shetland Sheepdogs |
| Location | Brentwood Bay, British Columbia |
| Contact | coastalviewshelties.com |
| | |
| --- | --- |
| Breeder | Susan Carbert, Madselin Shelties |
| Location | Falkland, British Columbia |
| Contact | madselin.com |
| | |
| --- | --- |
| Breeder | Rick and Robie Hambly, Ramora Shelties |
| Location | Chilliwack, British Columbia |
| Contact | ramorashelties.com |
| | |
| --- | --- |
| Breeder | Joseph C Brant, Satelier Shetland Sheepdogs |
| Location | Hedley, British Columbia |
| Contact | 250-292-8356 |
Sheltie Breeders in Manitoba
| | |
| --- | --- |
| Breeder | Sherrie Sparling, Skyehaven Shetland Sheepdogs |
| Location | Manitoba |
| Contact | skyehaven.ca |
| | |
| --- | --- |
| Breeder | Betty and Kim Sawatzky, Amberlyn Shelties |
| Location | Springstein, Manitoba |
| Contact | amberlynshelties.org |
| | |
| --- | --- |
| Breeder | Michelle and Dale Rogowski, Cassbar Shelties |
| Location | Headingley, Manitoba |
| Contact | cassbarshelties.com |
| | |
| --- | --- |
| Breeder | Marilyn O'Donnell, Dyniques Shetland Sheepdogs |
| Location | Landmark, Manitoba |
| Contact | dyniquesshelties.com |
Sheltie Breeders in New Brunswick
| | |
| --- | --- |
| Breeder | Judi and Bill Byrne, Lyricisle Shetland Sheepdogs |
| Location | Saint John, New Brunswick |
| Contact | lyricisle.com |
| | |
| --- | --- |
| Breeder | Jean and Len Cormier, Nikkilen Shelties |
| Location | Moncton, New Brunswick |
| Contact | nikkilenshelties.com |
| | |
| --- | --- |
| Breeder | Gloria Pountney, Seafarer Shelties |
| Location | Woodman's Point, New Brunswick |
| Contact | seafarershelties.com |
| | |
| --- | --- |
| Breeder | Brian and Linda Reid, TrueSpirit Shelties |
| Location | Hampton, New Brunswick |
| Contact | truespirit.ca |
Sheltie Breeders in Newfoundland
| | |
| --- | --- |
| Breeder | Len, Carolyn and Liam Dooling, Silverthaw |
| Location | Saint John's, Newfoundland |
| Contact | silverthaw.com |
Sheltie Breeders in Nova Scotia
| | |
| --- | --- |
| Breeder | Dave and Phyllis Panting, Mcfey Shelties |
| Location | Stewiacke, Nova Scotia |
| Contact | 902-639-2039 |
| | |
| --- | --- |
| Breeder | Karen and Rob Henley, Shelhaven Shelties |
| Location | Rawdon, Nova Scotia |
| Contact | shelhaven.ca |
| | |
| --- | --- |
| Breeder | Linda Schrader, SunnySeas Shetland Sheepdogs |
| Location | Liverpool, Nova Scotia |
| Contact | sunnyseas.ca |
Sheltie Breeders in Ontario
| | |
| --- | --- |
| Breeder | Heather Walton, Aberdale Shelties |
| Location | Port Rowan, Ontario |
| Contact | aberdale.com |
| | |
| --- | --- |
| Breeder | Cyndy Ermel, Cermel Shelties |
| Location | Waterloo, Ontario |
| Contact | cermelshelties.com |
| | |
| --- | --- |
| Breeder | Bettijane Flanagan, Dalgarnoch Shelties |
| Location | Thunder Bay, Ontario |
| Contact | dalgarnoch.ca |
| | |
| --- | --- |
| Breeder | Gary and Sue Pike, Granite Shelties |
| Location | Ennismore, Ontario |
| Contact | graniteshelties.ca |
| | |
| --- | --- |
| Breeder | Debbie and Ken Vandyk, Fairfax Shelties |
| Location | Uxbridge, Ontario |
| Contact | fairfaxshelties.com |
| | |
| --- | --- |
| Breeder | Nancy Tibben, Golden Hylite Shelties |
| Location | Orton, Onatario |
| Contact | goldenhylite.com |
| | |
| --- | --- |
| Breeder | Bonnie and Jim Rector, Highledge Shelties |
| Location | Hamilton, Ontario |
| Contact | highledgeshelties.com |
| | |
| --- | --- |
| Breeder | Sue McCleverty, Kneehi Shelties |
| Location | Inverary, Ontario |
| Contact | kneehishelties.ca |
| | |
| --- | --- |
| Breeder | Kim Aston and Pete Culumovic, Laureate Shelties |
| Location | Ottawa, Ontario |
| Contact | laureate.ca |
| | |
| --- | --- |
| Breeder | Jeff and Kellie Whiteside, Heardabout Shelties |
| Location | Southern Georgian Bay, Ontario |
| Contact | herdaboutshelties.com |
| | |
| --- | --- |
| Breeder | Irene and Brendan Latchford, Nitelatches Shelties |
| Location | Stoney Creek, Ontario |
| Contact | nitelatchesshelties.com |
| | |
| --- | --- |
| Breeder | Sharon MacLean, Sharl's Shelties |
| Location | Oshawa, Ontario |
| Contact | sharlsshelties.com |
| | |
| --- | --- |
| Breeder | Athill Shetland Sheepdogs |
| Location | Thunder Bay, Ontario |
| Contact | athillshelties.com |
| | |
| --- | --- |
| Breeder | Catherin (Glover) Latreille, Winaway Shelties |
| Location | Georgian Triangle, Ontario |
| Contact | winaways.tripod.com |
| | |
| --- | --- |
| Breeder | The Wrays, Windgate Shelties |
| Location | Sutton, Ontario |
| Contact | windgates.ca |
| | |
| --- | --- |
| Breeder | Dorothy Greenaway, Greendor Shelties |
| Location | Goderich, Ontario |
| Contact | greendorshelties.ca |
| | |
| --- | --- |
| Breeder | Cathy and Frank Pickard, Kincardine Shetland Sheepdogs |
| Location | Orillia, Ontario |
| Contact | kincardineshelties.com |
| | |
| --- | --- |
| Breeder | Valeria J Bindon, Kinship Shelties |
| Location | Metcalfe, Ontario |
| Contact | kinshipshelties.ca |
Sheltie Breeders in Quebec
| | |
| --- | --- |
| Breeder | Rachelle Rodriguez, Cory Shelties |
| Location | Quebec |
| Contact | corysheltie.com |
| | |
| --- | --- |
| Breeder | Dany Therrien, Melodaly |
| Location | St Leonard d'Aston, Quebec |
| Contact | melodaly.com |
| | |
| --- | --- |
| Breeder | Inga Paquin, Premina Shelties |
| Location | Lower Laurentians, Quebec |
| Contact | premina.ca |
Sheltie Breeders in Saskatchewan
| | |
| --- | --- |
| Breeder | Wayne and Donna Lewis, Donayne Shetland Sheepdogs |
| Location | Saskatchewan |
| Contact | 306-781-0171 |
| | |
| --- | --- |
| Breeder | Ann Elliott, Glenmorris Kennels |
| Location | Carlyle, Saskatchewan |
| Contact | glenmorris.ca |
| | |
| --- | --- |
| Breeder | Gwen E Krienke, Ksara Shelties |
| Location | Vanscoy, Saskatchewan |
| Contact | ksarashelties.com |