The Best Dog Beds for Shelties
Here are the best dog beds for Shelties based on his age, health, and temperament, as well as external factors like time of year and affordability.
A good dog bed is a worthwhile investment for your Sheltie, who doesn't just sleep at night, but naps regularly throughout the daytime too. The best dogs beds help regulate body temperature, provide security, and offer maximum comfort.
The Best Dog Bed for Comfort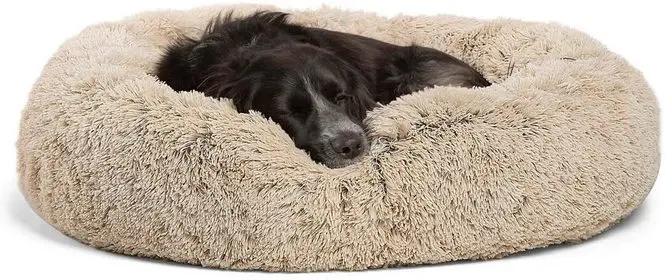 If your Sheltie is a super snuggler then get him a bed that hugs him back. A good dog bed needn't just cushion your Sheltie from the hard floor; plush fabric and raised sides offer a greater sense of comfort and protection when he's resting. Few dogs would turn their nose up at this on a cold night, but nervous Shelties in particular benefit from the added physical security.
You can add to this effect by placing his bed inside a dog crate or makeshift fort with just a small opening for entry. This mimics your dog's natural instinct to burrow into the ground to take shelter, creating a dark, enclosed space for him to sleep. It's much more private, with a clear definition of his territory, offering a safe place where he can relax.
The Best Friends by Sheri Calming Donut Bed is ideal for dogs that like to curl up and feel safe. The raised rim provides head and neck support, while the faux shag fur is designed to resemble their mother's coat. This dog bed is a runaway success, having sold more than one million to date. The Medium (30") Donut Bed is ample for Shelties, and has a removable shell for washing. This luxury comes at the price of $60.
The Best Dog Bed for Cold Winters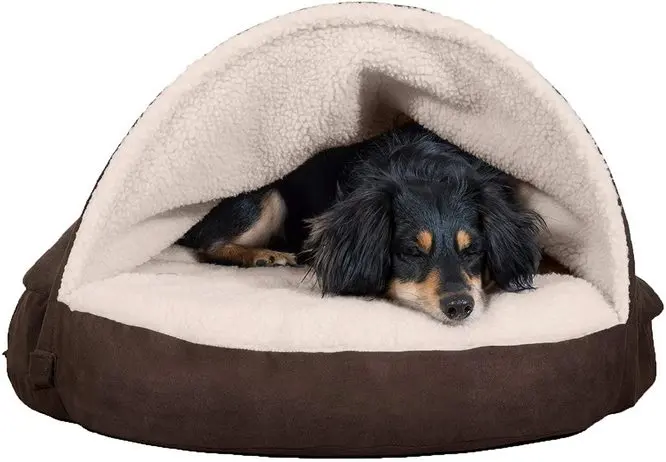 If your home gets extremely cold in winter, or even all year round, then you want a super toasty snuggle spot for your Sheltie. While Shetland Sheepdogs have an insulating layer of fur, body temperature drops during sleep and inactivity, at the same time as the outside temperature drops overnight.
The Furhaven Hooded Dog Bed has an attached blanket for extra warmth that can be tented as a cave or left to drape so your Sheltie can burrow inside. It's lined with Sherpa for insulation and supported by orthopedic foam to cushion pressure points and evenly distribute body weight. The 26" Hooded Dog Bed is the best size for most Shelties, catering to dogs up to 30lbs (13.5kg), and is excellent value at $36.
The Best Dog Bed for Hot Summers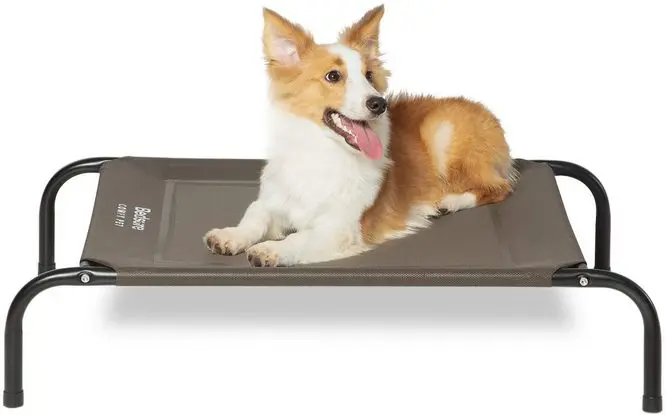 If your home gets stinking hot in the summertime, your Sheltie will appreciate an elevated bed that allows for greater airflow under the body. Remember, dogs can't sweat, take off clothes, or reach for the air con remote. When they're too hot at night, they'll usually resort to pressing their belly on a hard floor to cool down. This doesn't make for a good sleep, and adds pressure to what are likely to be painful joints in older dogs.
The Bedsure Elevated Dog Cot lifts your Sheltie off the ground, with a durable mesh to allow air to flow through the fabric. It stands 8" off the ground—low enough for older Shelties to hop on and off without difficulty—and easy to clean by hand or hose. The mesh is tight so that it doesn't trap dog hair, and tough so that it resists rips from claws. This bed also has skid resistant feed so it doesn't skid around when your Sheltie hops up. The Small (35.4") Elevated Cot is best for Shelties, supporting dogs up to 40lbs (18kg) and costs $28.
The Best Dog Bed for Older Shelties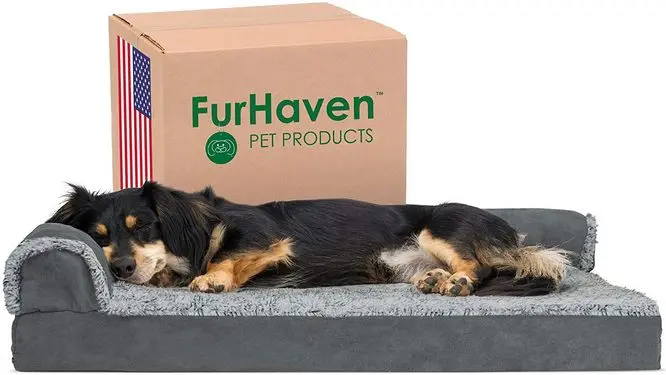 As your Sheltie ages, take notice when he starts to hesitate before jumping in and out of the car, or taking the stairs. This is a sure symptom of painful joints and perhaps arthritis. Make sure you point this out to your vet at the annual check up, or take your dog in for a visit sooner if you think he might be in any kind of chronic discomfort. There are treatments like dietary supplements and medications that can help repair the damaged cartilage.
His joints may also become stiff and sore while sleeping in the same position, so ease his pain with an orthopedic foam bed. The Furhaven Orthopedic Dog Bed is a bolstered L-shaped corner sofa design providing high-level cushion support. It has an egg create orthopedic foam base to cushion pressure points, while the fluff-filled bolster railings support the neck, back, hips, and joints. The plush cover is also fully removable for washing; however, it's definitely not for puppies as they'll chew this one to bits.
The Medium (26") Orthopedic Dog Bed is best for Shelties, supporting dogs up to 35lbs (16kg) and is one of most affordable orthopedic beds at $28.
The Best Dog Bed for Puppies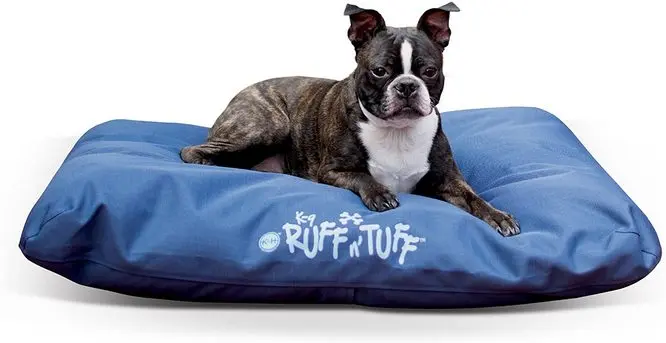 Sheltie puppies love to chew, and they'll engage in some serious destructive chewing given a nice plush dog bed. So buy a durable dog bed for your Sheltie puppy when he's young. Most Shelties outgrow destructive chewing in the first year, and by three years old, a gnaw on a good dog chew is a much more sporadic pastime. After that, you can go wild with a plush, snuggly dog bed.
The K&H K-9 Ruff n' Tuff Dog Bed is chew resistant, washable, and has no exposed zippers to gnaw on. The heavy duty polyester makes it suitable for indoor or outdoor use, and the cover is machine washable. The Ruff n' Tuff also features a channeled liner to keep the Poly-Fil stuffing in place, creating a comfortable, continuous surface for your puppy to relax on.
There's no small option for puppies, so your Sheltie pup will have a huge pad all to himself. The Medium (36") Ruff n' Tuff Bed suits young and adult Shelties to 35lbs (16kg) and will set you back $56.
The Most Hilarious Dog Bed of All Time
I can't leave you without sharing this masterpiece. The Petmate Nap of Luxury is the most adorable and ridiculous dog bed ever. It's designed for the pleasure of humans rather than dogs, and customers have pointed out the padding isn't that soft either. Apparently, though, cats love it.