Behind The Scenes at Sheltie Planet
Learn about the human creators of Sheltie Planet and how we met our most splendid and loving Shetland Sheepdogs, Howard and Piper.
Hi, my name is Rebecca. I'm the author of Sheltie Planet. That's me with my partner Pete, who also designed this website and composed all the music in our Sheltie videos. He's awesome.
Together we are 100% owned by two adorable Shelties, Howard and Piper. We also have a three-year-old son, Fox. We live in Auckland, New Zealand.
Here's a montage of our first year with Shetland Sheepdogs.
How We Discovered Shelties
In 2007, Pete and I were living in the UK when we decided to emigrate to his homeland - New Zealand.
We set up our own business, making websites and writing about the world. Life became pretty laid back and we realized we were living the dream.
There was just one thing missing. Something small, cute, and messy.
No, not that. A PUPPY!
Pete's a lifelong dog lover and being a bit of a giant himself, he wanted a really BIG dog.
On the other hand, I had a confusing relationship with dogs. They simultaneously scared me and looked rather cute.
We decided to get a puppy so that I would overcome my fear by starting with a tiny furball and seeing the dog grow up.
We talked about German Shepherds and Collies. But we were renting a house at the time, and our landlord would only allow us to keep a small breed of dog.
So, what happened?
We discovered the Shetland Sheepdog.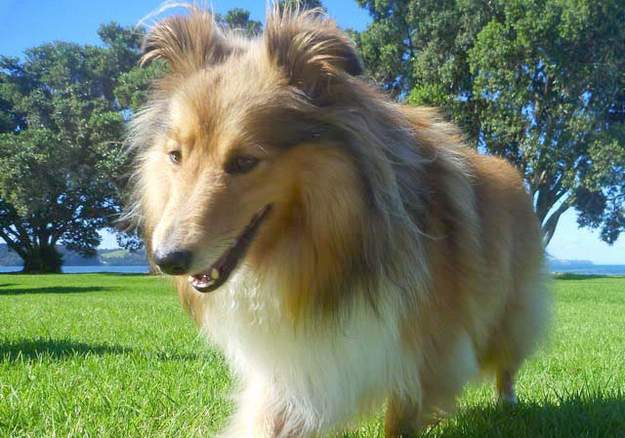 Our First Sheltie Puppy
Having set our hearts on a Sheltie puppy, it was actually really difficult to find one to adopt.
After a lot of searching, I finally found a breeder called Shelton Shelties in Papakura, Auckland.
I called up to see if they had any litters planned. By chance, they had. But the last 8-week old puppy, a male nicknamed Toes, was about to go home to his new owner.
It seemed we were too late... This was the only Sheltie puppy I'd been able to find in all my searching. Perhaps we weren't destined for a Sheltie after all.
Then a few days later, we got the call.
Sadly, the other lady had had a fall. She was in no condition to take on a new puppy.
Toes was available if we still wanted him! And that is how we met this little fella.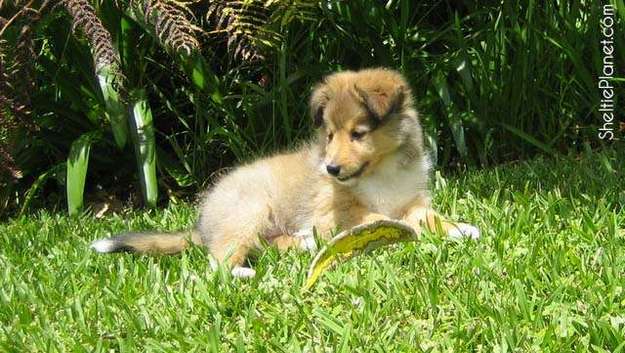 This is our first Sheltie puppy on the day we took him home. The breeder nicknamed him Toes because he had cute little white socks on each paw.
Later that day we decided to give him the somewhat modest name of Howard Woofington Moon. He would go on to become a world famous Sheltie, thanks to the internet.
Puppy Days
Howard didn't leave my side for the next three days.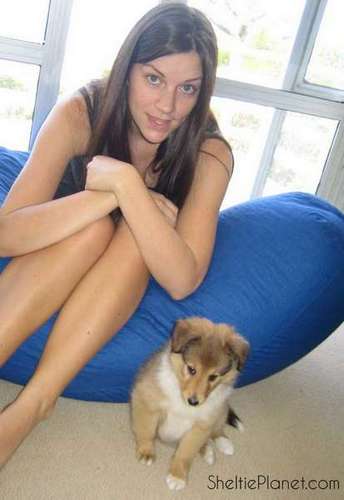 But as he settled in, he grew very curious in nature.
He trotted around and explored his new house, played with lemons in the garden, and met lots of new people. Everyone wanted to meet our fluffy little Sheltie puppy.
Soon we took Howard for walks every day along the beach by our house.
Even as a delicate little puppy, he loved to meet other dogs, and would not hesitate to run up to strangers to say hello. This was definitely not the "shy Sheltie" I had read about.
Howard Gets Bigger
Our Sheltie puppy quickly grew up into a very confident Sheltie dog. By one year old, he was full size. (Check out these photos of Howard evolving from a puppy to an adult dog.)
We've had a lot of adventures which you can read about on this website or view in photos on our Facebook page.
Today, Howard is 7 years old - well into his middle-age. It's shocking how time flies. Of course, I still think of him as a cheeky little puppy.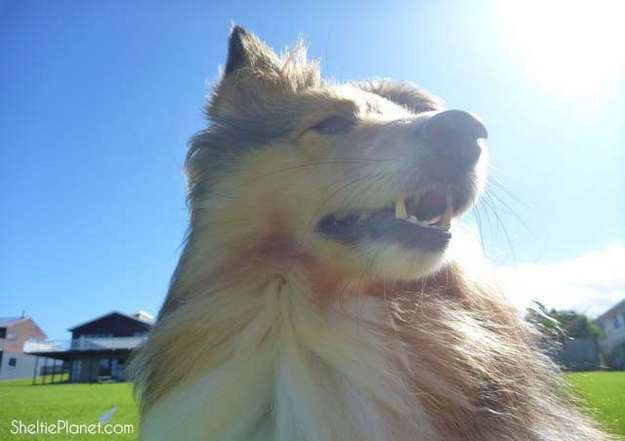 Here's another montage featuring Howard growing up. At the end, you'll see him getting acquainted with our next Sheltie...
Our Second Sheltie Puppy
When Howard was about nine months old, I emailed the breeder with some pictures. I mentioned in passing that we would love to have another Sheltie some day.
I didn't expect her to call five minutes later and offer us Howard's brother.
"Shelties are like potato chips," goes the saying. "You can never have just one."
This is absolutely true.
I learned that the breeder had kept Piper to be a show dog. But the poor little guy wasn't confident enough for the show dog lifestyle.
For one, he was anxious around children and strangers. He was also very hand shy.
On the plus side, he was very confident and playful with other dogs.
Piper needed a loving family where he could feel secure - and who better to live with than his own brother?
Howard and Piper shared the same father, Storm. They were born from different mothers just three weeks apart. They would have run together when they were puppies.
We mulled it over but deep down we already knew the answer.
Howard's an amazing dog and neither of us could resist the idea of adopting his brother too. So Howard, Peter and I made the long drive to meet Piper.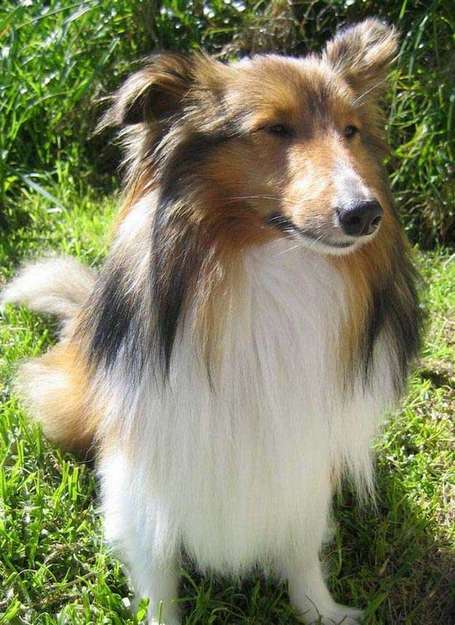 Meeting Piper
The moment I laid eyes on Piper I realized he was completely different to Howard. He caught sight of us and immediately crouched into a tiny little ball like a hedgehog. He was terrified.
Howard, on the other hand, was busy marking his territory by urinating on the breeder's foot.
"Well, he's certainly never done that before!" We laughed. The breeder took it well.
We introduced the two Sheltie boys and they sniffed at each other curiously. We met Storm too, who looked a lot like Howard.
Then we saw a dozen other Shelties in their kennels. By now we were true Sheltie fanatics and it was a huge treat to meet all those Shetland Sheepdogs at once.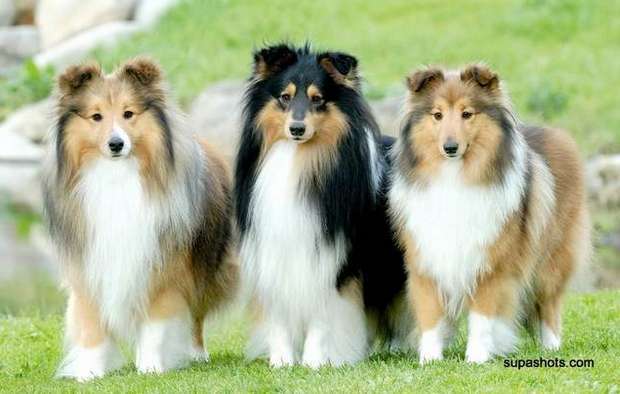 The journey home was pretty scary for Piper.
Looking back, it was the most nervous I have ever seen him. He lay, tensed up and scared on my lap. He threw up twice. I did everything I could to reassure him. I wished he could have understood my words.
Life got a lot better for Piper after that.
Reunited with his brother, Piper soon settled in to his new home. The timid little guy soon found his voice too. He barks the most out of the two of them, and has a curious habit of howling like a baby wolf when the answer machine goes off.
He looks so confident these days compared to our first day together, when his whole world changed. This is Piper and me now.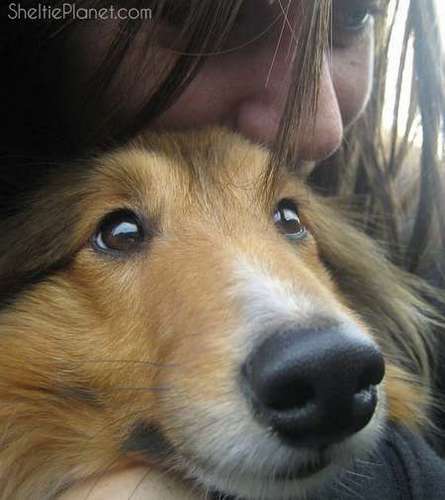 Piper loves affection. He's the perfect lap dog. Sometimes you just need to glance over in his direction and he'll sit up, ears pricked, tail wagging, waiting for you to call him over.
Together, Howard and Piper excel at teamwork. Piper uses his nose to open underwear and sock drawers, and Howard uses his cunning to displace the contents around the house.
It's not unusual for visitors to see Howard proudly trotting into the living room with my underpants in his mouth. I'm sure this is quite normal for Sheltie owners.
Howard and Piper are a pair of rascals. And we wouldn't have it any other way.
Follow Sheltie Planet
We hope you enjoy browsing our website.
Sheltie Planet is actually not all about Howard and Piper, despite what they claim. This site is about Shetland Sheepdogs everywhere.
So be sure to join our community and share your favorite photos and stories, as well as ask and answer questions about this unique dog breed.
Thanks for getting to know the people and the pooches behind Sheltie Planet.
Best wishes
Rebecca, Pete, Fox, Howard and Piper