Behind The Scenes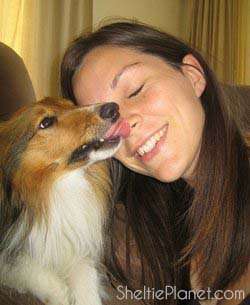 Hi, my name is Becky. I created Sheltie Planet in 2008 when I fell in love with my first Sheltie puppy, Howard. Since then, we've taken on a second furry critter named Piper. Together they are the fluffiest, noisiest, cutest, and silliest dogs in town.
I'm a full time student and mum of a four-year-old boy named Fox (wonder what inspired that name?!) In my spare time I update Sheltie Planet and write my other blog Science Me. I live on the Whangaparaoa peninsula in Auckland, New Zealand.
My Story
I emigrated here from the UK in 2007. Having worked as a stressed-out financial journlist in London, I was ready for a slower pace of life. I moved into a house right by the beach and started blogging for a career. Life became TOTALLY laid back. There was just one thing missing.
A furry beast of canine origin - more commonly known as a dog.
We were renting a house at the time and after some convincing, our landlord allowed us to keep a small dog breed. This was a little frustrating at first, but it was actually the key to us discovering the magnificent Shetland Sheepdog...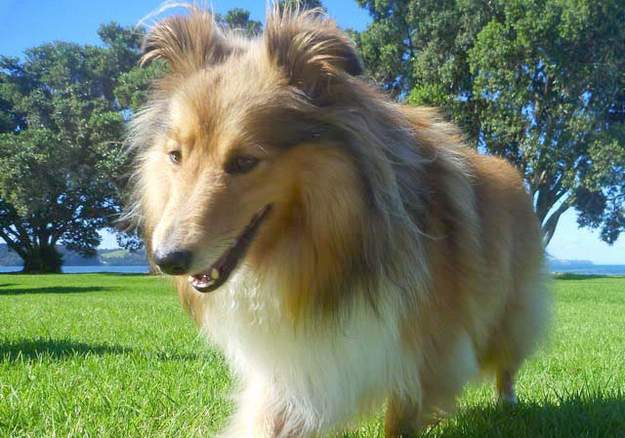 My First Sheltie Puppy
I set my heart on adopting a Sheltie puppy, but they are quite rare here and there were none at any SPCA or shelter that needed re-homing.
After a lot of searching, I found a Sheltie breeder in Papakura, Auckland, called Shelton Shelties. As chance would have it, they were currently homing a litter of 8-week-old Sheltie puppies. But all of them were promised to people who had locked them down weeks ago.
Perhaps we weren't destined for a Sheltie after all.
Then a few days later, I got the call. One of her buyers had taken a bad fall and was in no condition to take on a new puppy. "Toes" was now available if we still wanted him. And that is how we met this little guy.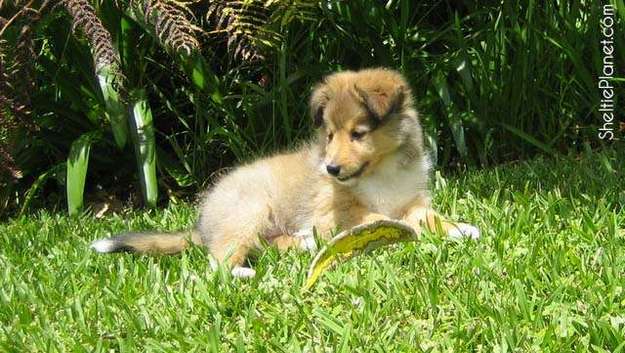 This is my first Sheltie puppy on the day we met. Surely the cutest creature I have ever known. The breeder had nicknamed him Toes because he had little white socks on each paw. Later that day we decided to give him the modest name of Howard Woofington Moon. I hope you agree it was 100% appropriate.
Puppy Days
Howard didn't leave my side for the next three days straight.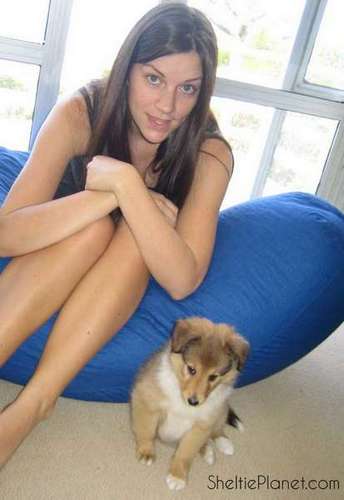 But as he settled in, he grew very curious in nature. He trotted around and explored his new house, played with lemons in the garden, and met lots of new people. Everyone wanted to meet our fluffy little Sheltie puppy.
Soon, we started taking Howard for daily walks along the beach. Even as a delicate little puppy dog, he loved to bound up to much bigger dogs, and didn't hesitate to run up to strangers to say hello. This was definitely not the "shy Sheltie" I had read about.
Howard Gets Bigger
Howard rapidly grew into a very confident adult Sheltie. By one year old, he was full size. Check out these photos of Howard evolving to see the surprising transition.
We've had a lot of adventures around New Zealand which you can read about here on this blog. Today, Howard is 9 years old and well into his middle-age. It's shocking how time flies. Of course, I still think of him as my cheeky little Sheltie puppy.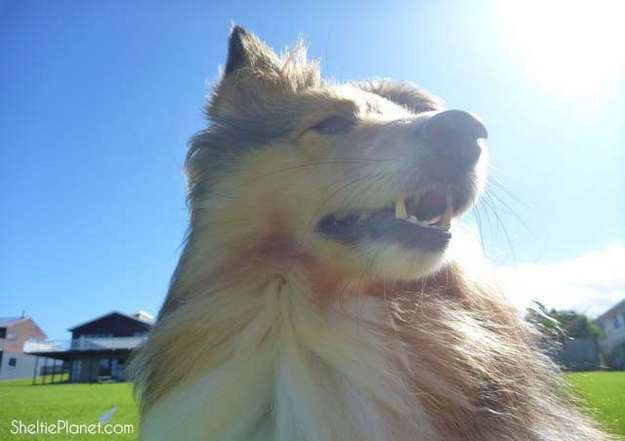 Along Came a Piper
Back when Howard was nine months old, I emailed his breeder with some pictures. I mentioned in passing that we would love to have another Sheltie some day. I didn't expect her to call five minutes later and offer us Howard's brother.
"Shelties are like potato chips," goes the saying. "You can never have just one."
I learned that the breeder had reserved one of her puppies, called Piper, to be a show dog. He was extremely eager to please but in new situations, he became a nervous nelly. He wasn't going to handle the show dog lifestyle at all.
Piper needed a loving family where he could feel secure - and who better to live with than his half-brother, Howard?
We mulled it over but deep down we already knew the answer. In what universe was I going to turn down a Sheltie in need of a loving home?!
Meeting Piper
When I laid eyes on Piper I realized he was completely different to our bold and over-confident Howard. The moment Piper caught sight of us, he crouched into a tiny ball like a hedgehog and, terrified and anxious, tried to melt himself into the grass so we wouldn't see him.
Here he is a little later, having developed the confidence to sit up.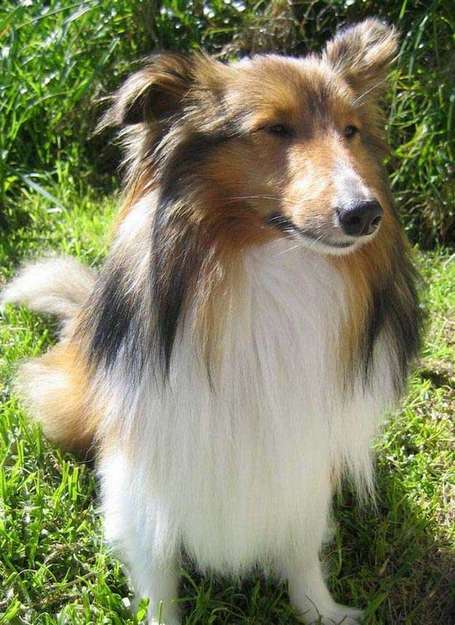 Howard, on the other hand, was busy peeing on the breeder's foot.
We introduced the boys and they sniffed at each other curiously. Both were unneutered at that point and it was possible they would have a fight. But with Piper being submissive, there was no growling or hissing at all. PHEW.
We took a tour of the kennels and met Storm - their father - who looked strikingly like Howard. We met a dozen other beautiful Shelties that day. By now we were absolute Sheltie fanatics and it was a huge treat to meet so many Shetland Sheepdogs in one hit.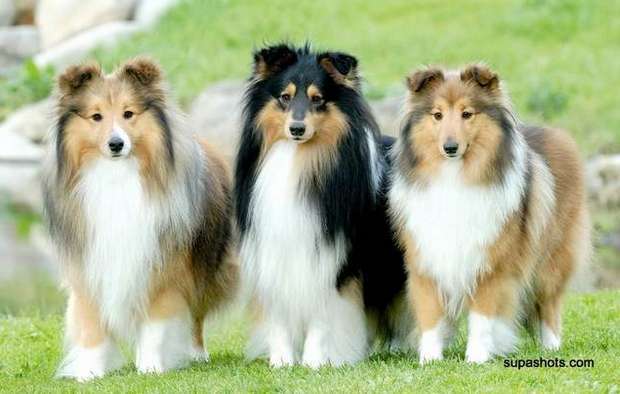 Taking Piper Home
The journey home was pretty scary for Piper. He lay, tensed up and scared on my lap. He threw up twice. I did everything I could to reassure him. I wished he could have understood my words.
But life got a lot better for Piper after that. Reunited with his brother, he settled in to his new home. The timid little guy found his voice too. He barks a fair bit, and has a hilarious habit of howling like a baby wolf when the answer machine goes off. He's a real talker.
He looks so confident these days compared to our first day together, when his whole world changed. This is us now. He's the most affectionate, eager-to-please dog I've ever known.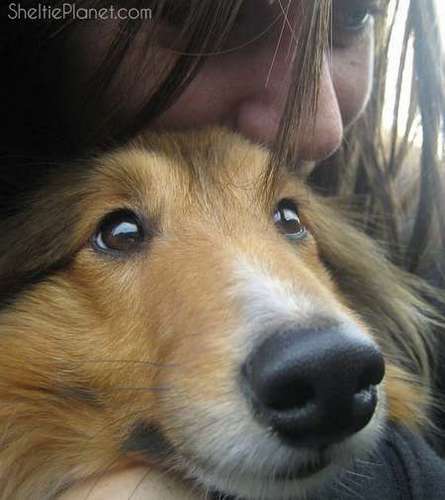 Piper is also the perfect lap dog. You only need to make eye contact across the room and he'll immediately sit up, ears pricked, tail wagging, waiting for you to invite him up.
Howard and Piper excel at teamwork. Piper uses his cunning to open underwear and sock drawers, and Howard uses his teeth to displace the contents around the house. It's not unusual for visitors to see Howard proudly trotting into the living room with my underpants in his mouth.
Join Our Community
We hope you enjoy reading Sheltie Planet. This blog is actually not all about Howard and Piper, despite what they claim. This site is about Shetland Sheepdogs everywhere.
Be sure to join our Sheltie forum and share your own photos and stories, as well as ask and answer questions about this wonderful dog breed.
We also have a 37,000-strong Facebook page and a few hundred followers on Twitter.
For a whole bunch of Howard and Piper photos, check out our Flickr Album. Just in case you are as madly in love with them as we are.