Sheltie Names
Ideas for Sheltie names that are clever and cute! I've put together a list of my favorite Sheltie puppy names for inspiration.
Names are important, as you'll be hollering this at the dog park for years to come. A funny-sounding name could score you a few looks!
Some say you should consider a name that's easy for your Sheltie to recognize. For instance, it's easier for them to pick out hard/sharp letters like 'K' and 'T' than it is soft letters like 'F' and 'N'.
You can also make it easier on your dog by giving them a name with only one or two syllables (forget Rumplestiltskin). With this in mind...
Our Favorite Sheltie Names
If you're a fan of Sheltie Planet, you'll know that we have two Shetland Sheepdogs, Howard and Piper.
When we were choosing a name for Howard, it soon became clear that Peter and I had different tastes.
Peter liked grand, discerning names like Donald, Frank or Douglas while I leaned toward softer, cuter names like Leo, Charlie or Blake.
This of course was all great practice for naming our first baby!
After some pretty hilarious discussions on Sheltie names, we agreed on Howard, which we picked up from Howard Moon on the English TV show, The Mighty Boosh. And so our adorable, fluffy, innocent, playful, wee little dog was officially named Howard Woofington Moon.
His half brother, Piper was already named when we adopted him. We wouldn't have thought of this name but now we love it - because that's his name! Naturally, he also adopted his brother's surname, so he's Piper Woofington Moon.
Most people don't give their dogs surnames but we did. We think they're people too.
Cool Dog Names for Your Shetland Sheepdogs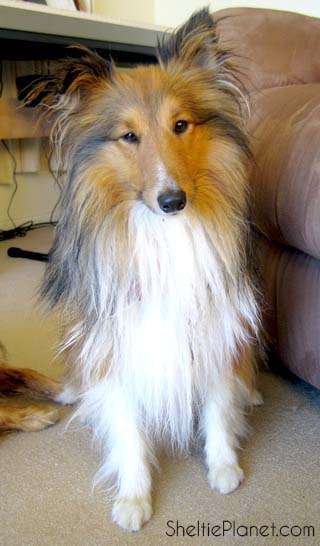 Ideas for Sheltie names can come from their looks. After all, a name should suit its owner, right?
Since the most common coat color is Sable (tan/gold/mahogany and white) consider names like Sandy, Bear, Honey and Foxy.
(We later named our son Fox. I think these Shelties might have had their unconscious influence!)
If you have a Tri Color Sheltie, names like Jet, Blackie, Raven or Shadow seem pretty fitting, since the primary color is black.
Blue Merle's remind me of wizards - think Gandalf or Merlin.
Do Human Names Suit Dogs?
We obviously think so! In fact, I think human names on Shelties enhances their perceived character.
Consider these male name: Arthur, Andris, Benji, Barney, Donnie, Eddie, Freddie, George, Horatio, Louis, Mack, Ollie, Oscar, Stewie, Stevie, Victor or Willie.
I've softened these Sheltie names because I prefer them that way. But you can turn them into their formal counterparts for a whole different sound (eg, Eddie to Edward, or Ollie to Oliver). Just stick with one variation of the name so you don't confuse your dog.
If you are looking for cute female Sheltie names, how about Annie, Amy, Cassie, Daisy, Flo, Goldie, Heidi, Henri, Lucy, Minnie, Maggie, Nelly, Ruby, Rose, Sammy, Sadie, Tammy, Vicky or Willow.
Famous Character Names
If you want your Sheltie to have a names with a special meaning, look to your favorite characters from books, movies and legends.
Some character names that would work well as Sheltie names are: Leia (Star Wars), Bessie (The Faraway Tree), Ludo (The Labyrinth), Nibbler (Futurama), Athena (Greek Goddess of Wisdom), Simba (The Lion King), Stitch (Lilo and Stitch), Neo (The Matrix), Doc (Back To The Future).
More Cool Dog Names
Finally, if you want a traditional cute dog name for your Shetland Sheepdog, I've saved this space especially for you.
Here are some really cute dog names I found: Astro, Buttercup, Bilko, Bamba, Dexter, Digger, Gonzo, Einstein, Kermit, Loco, Peanut, Pickle, Rio, Sunny, Taz, Tigger, Xena, Zara, or Zuce.
Find more ideas for Sheltie names in The Best Pet Name Book Ever. It has 3,000 ideas for naming dogs (and, for that matter, cats, goldfish, hamsters and pets of any imaginable kind). This edition has been updated to include dog names from recent movies and TV shows as well as sports celebrities and other public figures.