Sheltie Tales - Part Four
In our final chapter of Sheltie stories, we meet more siblings, go to a Sheltie meetup, and have one last drop in from Coco.
The Story of Lucky and Chase by Julie Smith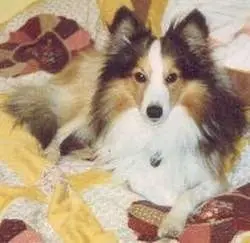 The first Sheltie I ever owned arrived mysteriously in my backyard one day—at the time I was still living at home with my parents...
I was at work and received a phone call from my ex boyfriend who told me that he no longer could take care of his Sheltie puppy and that he had dropped him in the fenced backyard at my parents house. I immediately left work and went home. I ran in the front door and ran downstairs to go out into the backyard... but there in the basement stood the cutest little guy who just captured my heart at first sight.
My parents did not care for my ex boyfriend so I could not tell them where the puppy came from so I acted dumb and said "aww where did he come from?" My parents told me he just arrived mysteriously in the backyard... They weren't dumb and I'm sure they could see through me but regardless they made me go door-to-door in the neighborhood asking if this little guy belonged to anyone. Thank God they all said no!
My parents were leaving for a weekend getaway and told me to find the dog a home while they were gone. We already had two dogs and they didn't want to keep a third. Over that weekend I took the little puppy to the vet for a check up and his shots and just fell head over heels in love with him.
When my parents returned I pleaded with them to let me keep him... my Dad was toying with me and told me no we could not keep him... but secretly my Dad had fallen in love with him too. Over the next few weeks we had several visitors stop in and many of them wanted this cute little guy for their own. I was so worried that my Dad would give him away while I was at work but he was having too much fun with him playing fetch and could not get over how very smart and affectionate he was! Not to mention he got along great with my parents' two Dachshunds.
In the end, I was able to keep this little guy who we named Lucky. I took Lucky everywhere with me... we were inseparable. Then one day I took Lucky over to a friend's house—and I had no idea that the day before they had adopted a Dobermann mix from the shelter. When their dog came up to Lucky, he viciously attacked him. I jumped in the middle and pried Lucky from this dog's mouth getting bit myself several times in the process.
I rushed Lucky to the animal emergency care... he had several puncture wounds and he did not look good. They kept Lucky there overnight—I was a complete mess and was up all night praying to God to please let Lucky live... I kept calling the hospital throughout the night to get updates but I did not receive any promising news—just that Lucky had a punctured lung, broken ribs and that he was in grim condition.
I called again in the morning and when the receptionist put me on hold my heart sank... Then she came back on the line to tell me that Lucky had made it through the night and that he was standing up in his cage...! I cried because I was so relieved. I told my mother and she cried too. We went to pick Lucky up from the hospital and on the ride home he just kept licking the bites I had on my hands from where the other dog bit me.
Lucky had a long healing process but recovered 100%. I was so thankful to the doctor that worked on Lucky—he told me that it was the most vicious attack he had ever seen and that since it was slow at the hospital that night he was able to focus 100% on Lucky. My prayers had been answered. Lucky lived a long healthy life up till he was 15 years old—during that time I got married and moved out to a new home and of course took my li'l Lucky with me.
He was so incredibly smart and could read my every emotion. He was my best friend. As his time got small I knew I had to prepare myself—his eyesight and hearing started to go. I woke up one morning and found him laying on the foyer and he could not get up. I rushed him to my vet, who kept him overnight and told me that his kidneys were failing him and that I was faced with the most difficult decision of my life... to say goodbye to my best friend.
I couldn't bare for him to suffer so the next day, my husband and I went to our vet and spent about an hour with Lucky before we had to say goodbye. For ages afterwards I could barely cope... My heart was broken beyond repair and it was the first time in my life that I did not have a four legged member of my family to fill that void in my heart. I thought about getting another dog and I so longed for another Sheltie... I went and looked at a couple of Sheltie pup litters but could not bring myself to adopt one... I was not ready...
Then one day I saw an ad in the paper saying Sheltie pups for sale. I went to the website and saw the picture of the pups—there was one pup that looked just like Lucky and my heart sank... I made an appointment to go see the pups. I wanted to cancel but finally my husband convinced me to go see the Sheltie pups—it was an hour and half ride away.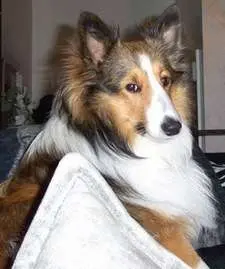 When we got there, the pup that looked like Lucky was just too adorable—but he was too busy playing with his sister to even bother with us! The other litter mates seemed more loving and attentive and my husband really liked one of the other males. But I really had my heart set on the one that looked like Lucky. After about an hour, I finally adopted the pup that looked like Lucky...
On the ride home he slept in my lap. We named the new addition to our family Chase because he loved to play fetch—he was so incredibly smart—within a week he was potty trained.
Then one evening as I was looking over the registry papers for Chase, I was in a state of shock when I saw that Chase had entered this world the same day and time that Lucky had departed this world... It was definitely a sign from above that this little guy was sent to me to heal my heart.
Chase is now 9 years old now and his intelligence just amazes me and everyone that meets him. Chase knows each name of his 50 plus toys. He will bring us the paper, bring me my slippers when I come home from work, even wake the kids up for us! He has brought us so much love and happiness and I never thought I could love like this again. I thank Lucky for introducing me to this amazing breed—and I will never be without my lil Sheltie in my life.
Sarah The Sheltie by Christina O'Donnell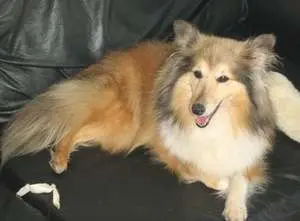 I was watching Oprah and there was an episode about puppy mills, it made me so sad. So my husband and I decided to save an older dog instead of getting a puppy as there are so many out there that no-one wants...
I pull into the drive way and a beautiful 6-year-old Sheltie named Sarah came smiling and wagging her way towards me. The lady there said she was looking after Sarah because her old owner had died and her husband was now going into an old people's home and could no longer look after her.
Her bark sounded so weird and I asked why she sounded like that? I found out she had been de-barked—I was horrified. I was even more determined to bring her into our family. As I was getting back into my car with Sarah, a little puppy came running out barking like she was calling out for Sarah not to go.
The lady there said the puppy, named Jess, was the only survivor of the litter of another dog and she seemed to think Sarah was her mum. The lady said the puppy was for sale and I rang my husband to see if we could adopt two dogs... Then Jess came home with us too!
We love our girls so much and so happy they came into our life.
Lady and Indy by Mary Patterson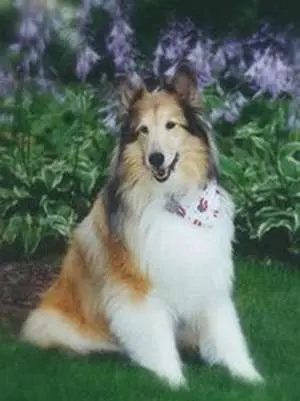 My husband wanted a dog for his first birthday we celebrated following our wedding.
I preferred a small lap dog and Pat wanted a Collie. We went to a pet store and he discovered a book on Shetland Sheepdogs. I told him I didn't think I could like, let alone, love that bread. But Pat decided he would place this little book in different hiding spots around the house for me to surprisingly discover and rediscover—just like Ralphie left magazine ads for his Mom for the Red Rider BB gun he wanted in the movie, A Christmas Story.
Pat predicted I would eventually 'get it' and he would get his Sheltie. Since I knew he loved watching Lassie when he was a boy, I felt I needed to find a sable/white.
In 1988, I was new to Kansas City. At that time we did not have GPS or MapQuest. I called Sheltie breeders and searched both KC, Kansas and KC, Missouri. Thank goodness for good note taking directions, I was able to bring Pat's Sheltie home for his birthday!
Pat named her Lady as he knew he would love her as much as the mixed-breed Lady dog he had as a small boy.
And that our Sheltie was... a Lady who gave us unconditional love for 15 wonderful years, who endured four moves to various States, who laid by us when as we recovered from surgeries and, in turn, we laid by her when she needed loving help the last year of her life on this Earth.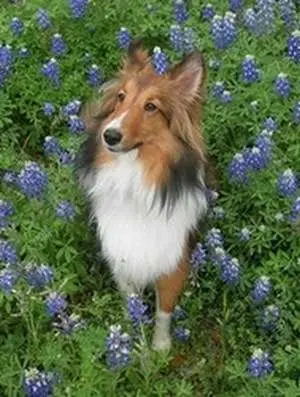 It took us more than half a decade and another move to yet another State... and, after internet searches, Map-Quest and GPS directional advice, we have our second Sheltie, named Miss Indy.
Pat and Indy take long 5am walks every day of the week, making sure to pause at a special spot along the way to give thanks to their special Guardian Angel for holding back the rain until their walk has been completed.
There is just something about a Sheltie!
My Name is Lucy by Karen Cunningham Johnson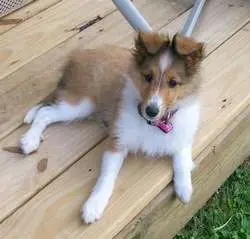 "Hi it's me, Lucy. I am 5.5 lbs and so very happy at my new home after three weeks. I now know what it's like to live inside in the AC and get love every single day of my life. I came from a farm in a pen with my bubbies and sissies and Mom and Dad. I do miss them but I don't miss not having any attention and no shade. I have two people that love me very much and a new sissie cat that I love to herd around."
We were so happy in early March to have rescued a 1-year-old Sheltie found on our grounds at work. It became obvious after two days we would not be able to keep her because she needed to be outside where she could run and play. At that time we had no fence so we gave her up.
But in May we bought our first house with fence included :) My first quest was to find another Sheltie of my very own—meet Lucy! We were lucky to have a friend who took the one we rescued earlier in and she is deliriously happy. I am looking forward to the day they can play together.
Pete and I live in New Zealand. It's a beautiful part of the world with more natural scenery than you can shake a stick at. The only downside of living here is that my family doesn't.
So every couple of years we travel back to the UK to visit the gene pool. It's a huge trip, taking about 30 hours of non-stop travel door-to-door. Which is why we usually go for a whole month. The painful part is that we have to leave our Shelties behind.
So what do you do with your furbabies when you have to go away for so long?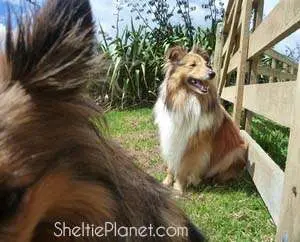 Usually, we rely on Pete's family to take care of our pooches. But this year we stumbled onto the idea of dog sitters. This is the idea of inviting someone to live in your house and take care of your dogs in a way that suits their normal routine.
The big bonus is that dog sitters are free. It's a mutually beneficial deal in which they get free accommodation and a nice vacation with some animals. And you get to go away knowing your pets are facing minimal disruption while you're gone.
So we posted an ad and within 24 hours we were overwhelmed with two dozen responses. They all sounded like nice people and were super keen to house sit for a month, even in the middle of winter.
In the end, although we had people applying from all over the world, we settled on a retired New Zealand couple. We chose local sitters who'd be committed to spending time with the dogs, rather than leaving them home alone to do the tourist thing. Most importantly, they had good feedback and references from past house sitting jobs. This really minimizes the risks involved with picking total strangers to perform your house sit.
We spoke to our dog sitters, Stan and Raewyn, on the phone beforehand and read up about their lives on their blog, Campervan Stan. They seemed really caring and trustworthy, and this definitely showed when we met in person. Finally, the date came around and it was time for us to leave for the UK. Although saying goodbye to the dogs was hard, it was that much easier knowing they got to stay in their own home with trusted caregivers.
Stan and Raewyn were great. Not only did they take the boys for long walks virtually every day (and the weather got rotten) they also sent us loads of photos via email. This definitely eased our worries and helped us feel like we were in touch with the Shelties even while we weren't there. Here are a few of the pics that popped into our inbox.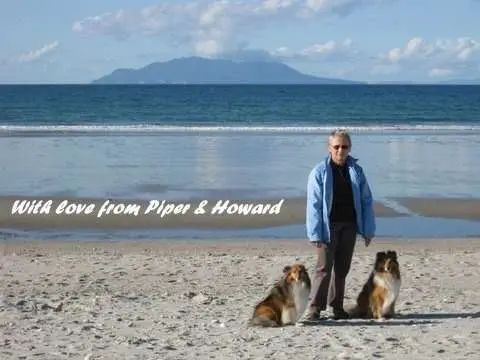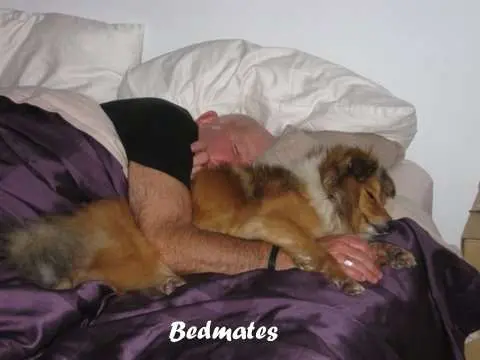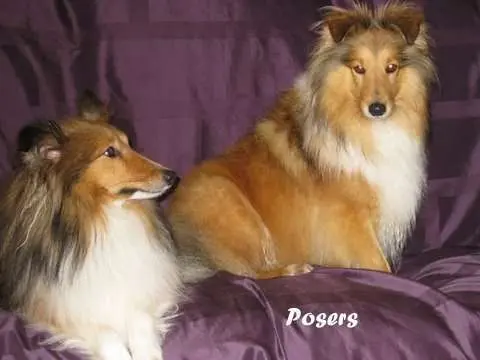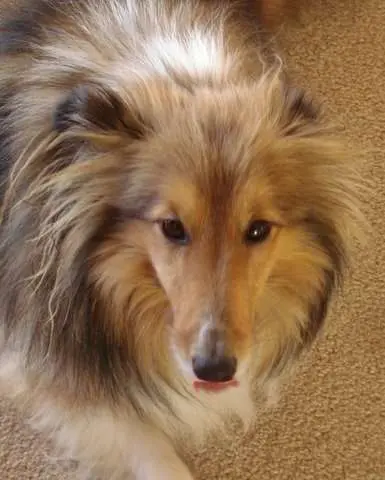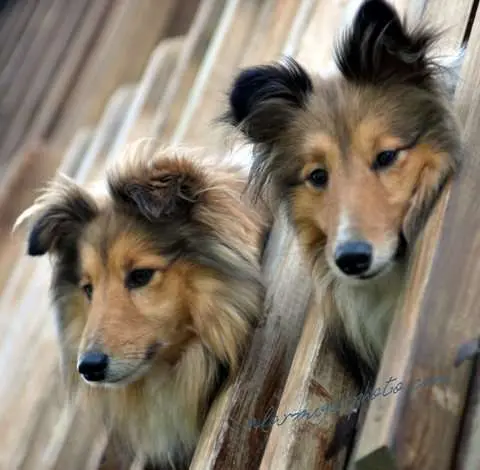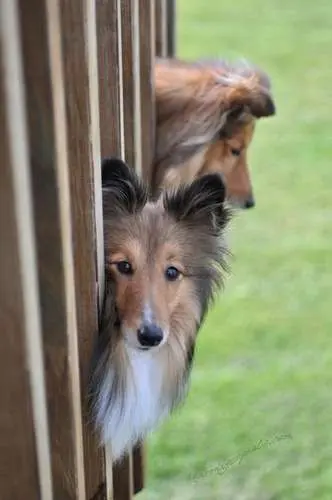 Thank so much to Stan and his brother Al Armiger for all these photos.This is just one aspect of what made our dog sitting experience so positive.
On our way home, we were counting down the hours until we were reunited with the Shelties. When we finally walked through the garden gate, Howard and Piper both came rushing out to greet us. There was a moment of uncertainty as Piper had to stop and decide who we were. Then it was barking and jumping all round.
Soon after, it was Stan and Raewyn's turn to say goodbye to their new friends. They said they are so in love with our dogs, they have decided to get a Sheltie puppy of their own.
So even though it was tough leaving our pets behind, it's kinda cool that someone else got to enjoy them while we were gone. And I know that our boys had a good time while we were away. They certainly got plenty of attention and exercise and made some great new friends.
A Sheltie Meetup by Rebecca Casale
Today we went to a Sheltie meetup at a farm in Auckland, featuring 15 Shelties plus their humans. We also had an honorary Sheltie (spot the Pomeranian). The end result was Shelties EVERYWHERE!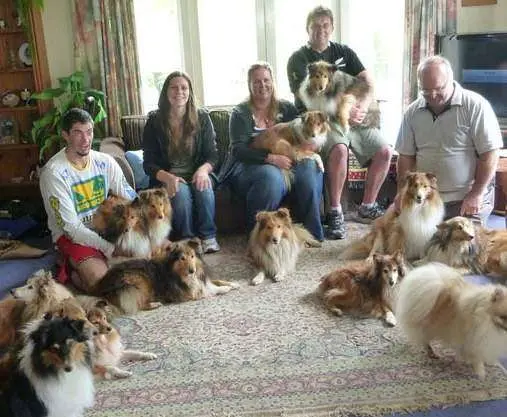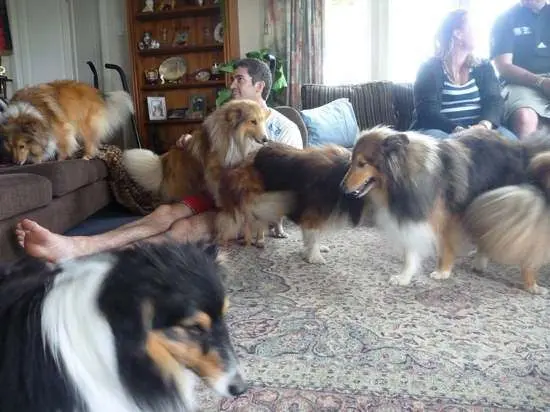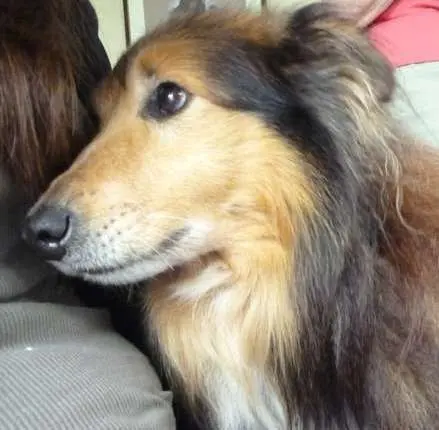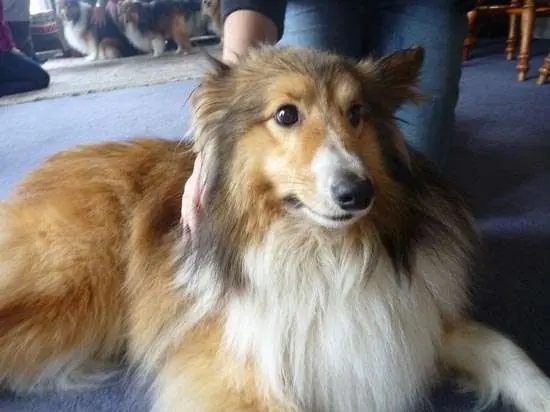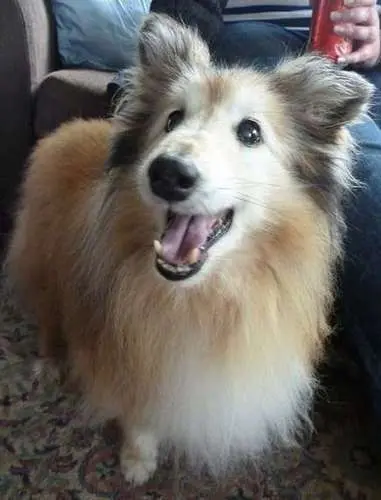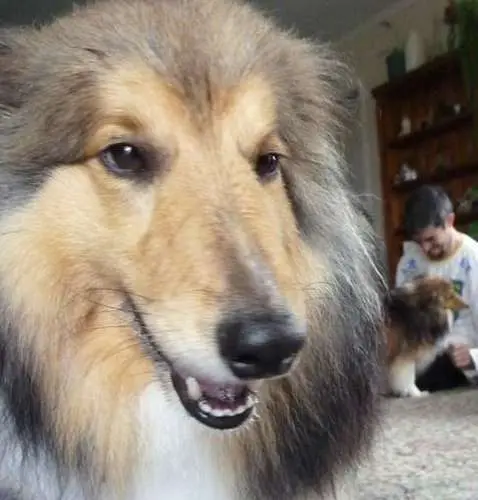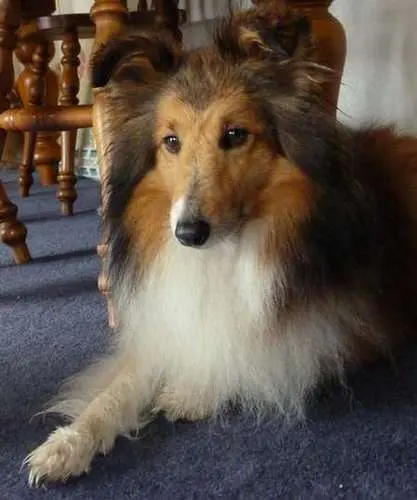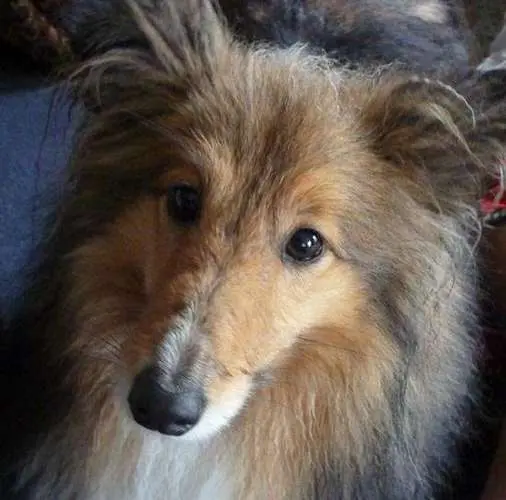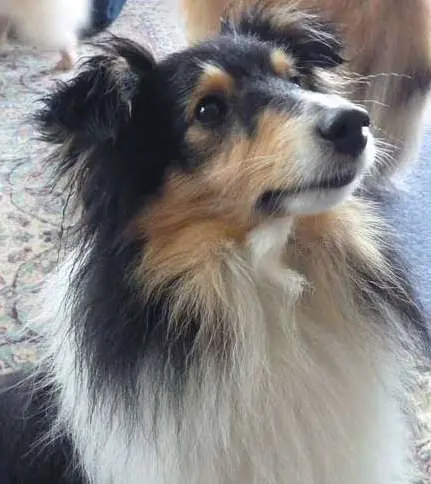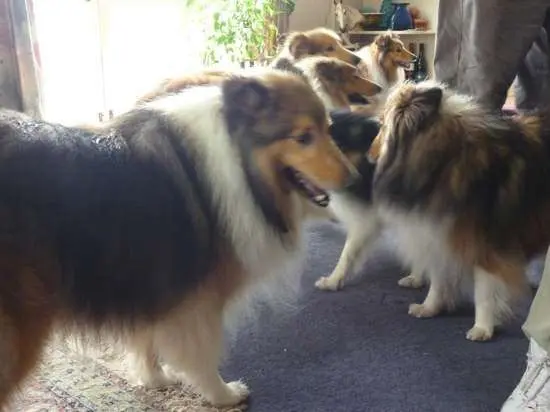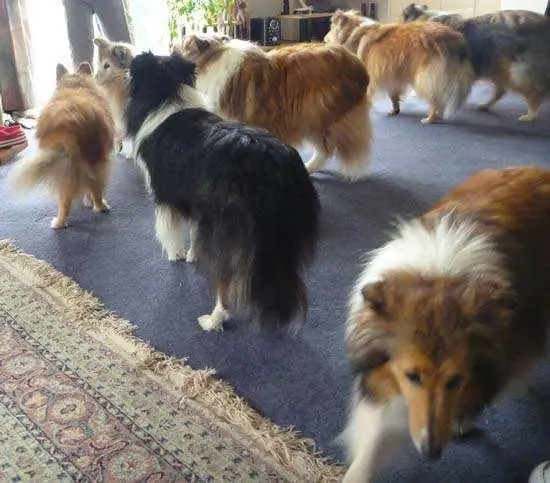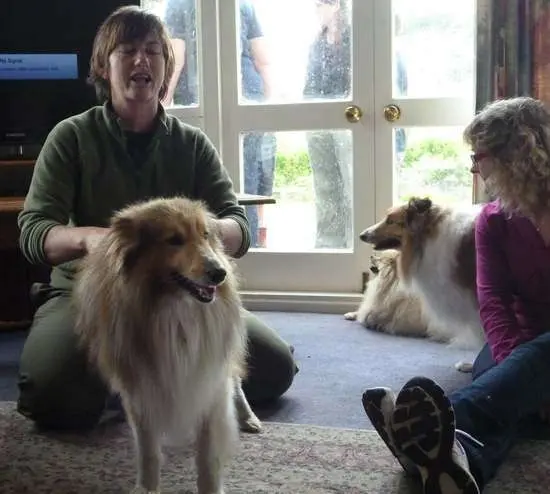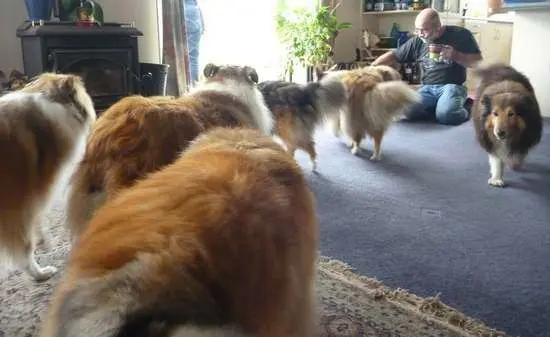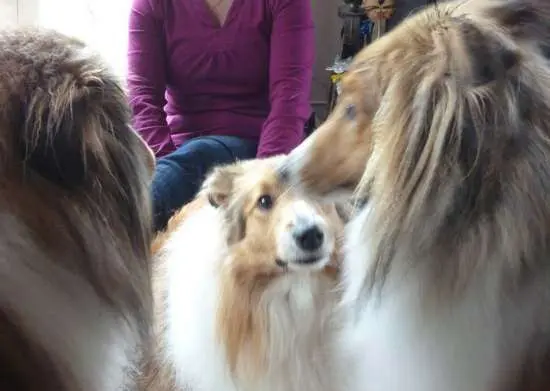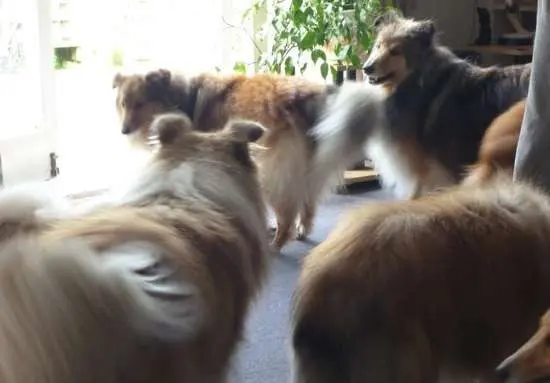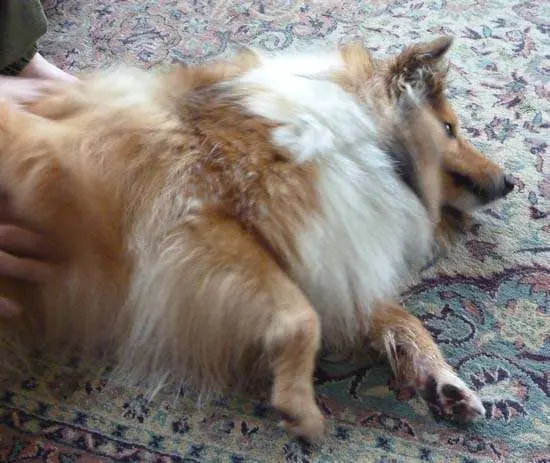 Coco's Blog - November
November 3 - I had to go the the vet today because I have been limping occasionally for the past few weeks. The vet told me that I have to rest for the next 2 weeks with only short walkies. That nice vet gave me a box of sweeties and she told me to eat one before dinner every day. She is nice that vet.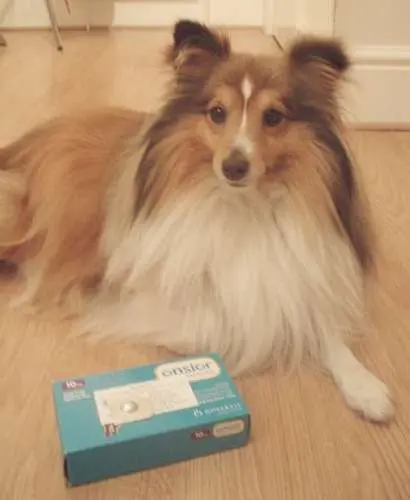 November 5 - Mummy took me to the green patch and then we did some training. Mummy wanted to do "Get it and put it back" but I was not really in the mood for it. So we decided to do some basic training.
I walked backwards and did the "leave it" command too. While training I barked at mummy. I shouldn't have but the weather was nice today and yet I couldn't go to the park so I was irritated.
The tiny little sweetie ball the vet gave me is very tasty. Do you want some, daddy?
November 6 - It is dull and dark isn't it? I have been inside almost all day. How boring... I might get depression. When mummy took me to the green patch it started raining a little. It wasn't proper rain for which I should wear my green dragon raincoat. If I had a hoodie jacket to cover my hair it would be convenient. Yes!! Why don't I dress myself up to cheer myself up? Hoodie, hoodie, hoodie... I'm sure I have a hoodie in my wardrobe. Oh, here it is. Hmmm... it is OK but it will be cold and wet soon so I should get warm hoodie coat with fluffy fake fur around it.
November 7 - I had nice Sunday today. The first thing is that daddy took me to the park by car. I wasn't allowed to chase any squirrels or pigeons and we did only a short walk there but still I enjoyed it a lot.
The other thing is that when someone ding-donged the doorbell. Mummy thought it was a delivery man for her, but then mummy called me saying "Coco!! You have a visitor!!" It was my favourite old lady and she came around to see how I was. How nice!! She is always nice to me and when I was a little puppy girl she even invited me for a cup of tea.
Oh! Talking of tea, I wonder if daddy will take me to a proper English Afternoon tea one day? Then I should prepare a very elegant dress and a hat for the day.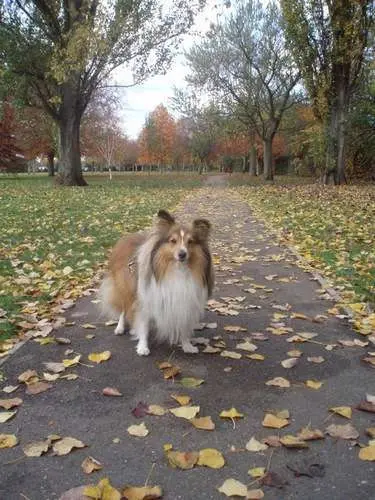 November 11 - The post man ding-donged the doorbell and he had a big envelope for me. It was addressed to daddy and ME! Yes, it was from 4 leggedlondon.com!! It was a bag of doggie swag which they promised me!!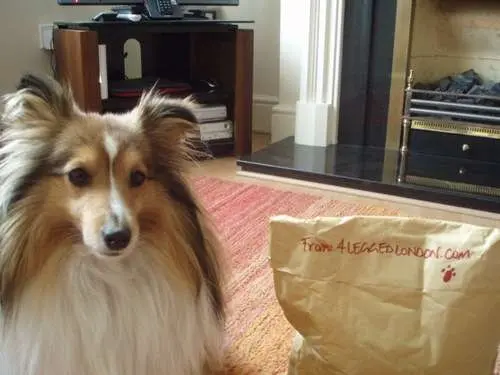 November 13 - I am really fed up with this short walk just around the block every day. My legs are much better now aren't they? I want to go hiking. I want to go somewhere natural!! Somewhere I can run about!! Anyway, what will tomorrow's weather be like? Let's have a look on the computer.... Woooof!! It will be sunny tomorrow! I have to persuade mummy and daddy. What should I do? Well, maybe If I am all set for the hiking they will say OK won't they?
November 14 - I've been enjoying writing my dog blog on Facebook very much. Especially when I read all those comments from my Facebook friends I am very happy and I like them a lot!
Share this with a friend