195 Shetland Sheepdog Breeders in The US
Search by Location: AL | AZ | AR | CA | CO | CT | DE | FL | GA | HI | ID | IL | IN | IA | KS | KY | LA | ME | MD | MA | MI | MN | MO | MT | NE | NV | NH | | NY | NC | OH | OK | OR | PA | SC | SD | TN | TX | UT | VT | VA | WA | WV | WI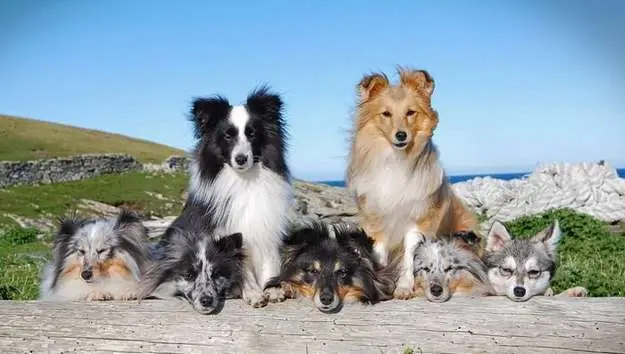 Sheltie Breeders in Alabama
| | |
| --- | --- |
| Sheltie Breeder | Istari Shelties |
| Location | Phoenix, Arizona |
| Contact | istari.info |
Sheltie Breeders in Arkansas
Sheltie Breeders in California
| | |
| --- | --- |
| Sheltie Breeder | E' Dees Shelties |
| Location | California |
| Contact | edee[at]directcon.net |
Sheltie Breeders in Colorado
Sheltie Breeders in Connecticut
| | |
| --- | --- |
| Sheltie Breeder | Barbara Paine, Asharon Shelties |
| Location | Salem, Connecticut |
| Contact | 860-889-1772 / mdpaine[at]snet.net |
| | |
| --- | --- |
| Sheltie Breeder | Barbara Kenealy, Rockwood Shetland Sheepdogs |
| Location | Moosup, Connecticut |
| Contact | rockwoodshelties.com |
| | |
| --- | --- |
| Sheltie Breeder | Rosmoor Shelties |
| Location | Connecticut |
| Contact | rosmoor.com |
Sheltie Breeders in Delaware
| | |
| --- | --- |
| Sheltie Breeder | Jennifer Milani, Maplecove Shetland Sheepdogs |
| Location | Brandywine Valley, Delaware |
| Contact | maplecove.com |
| | |
| --- | --- |
| Sheltie Breeder | Debbie Willoughby, Wilobrez Shelties |
| Location | Middletown, Delaware |
| Contact | wilobrez1.tripod.com |
Sheltie Breeders in Florida
| | |
| --- | --- |
| Sheltie Breeder | Annessa's Shetland Sheepdogs |
| Location | Orlando, Florida |
| Contact | 407-886-3700 / honestly14[at]earthlink.net |
| | |
| --- | --- |
| Sheltie Breeder | Bill and Irene Munsey, Donlyn Shelties |
| Location | Plant City, Florida |
| Contact | donlynshelties.com |
| | |
| --- | --- |
| Sheltie Breeder | Anna Whiting, Highfields Shelties |
| Location | West Palm Beach, Florida |
| Contact | highfieldshelties.com |
| | |
| --- | --- |
| Sheltie Breeder | Janet and Dale Barber, Jandale Shelties |
| Location | Florida |
| Contact | jandaleshelties.com |
| | |
| --- | --- |
| Sheltie Breeder | Sheile and Lucky Coleman, Kry'san Shelties |
| Location | Jacksonville, Florida |
| Contact | 904-714-4069 / krysan[at]comcast.net |
| | |
| --- | --- |
| Sheltie Breeder | Nina and Joe Plail, Plail's Sheltie Ranch |
| Location | Webster, Florida |
| Contact | 352-568-0862 / sheltieranch[at]aol.com |
| | |
| --- | --- |
| Sheltie Breeder | Ruth and Bill Tindle, Sequoia Shetland Sheepdogs |
| Location | Panama City, Florida |
| Contact | 850-722-4719 / rtindle828[at]aol.com |
| | |
| --- | --- |
| Sheltie Breeder | Sunsational Shelties |
| Location | Dunedin, Florida |
| Contact | webmaster[at]sunsational-shelties.com |
Sheltie Breeders in Georgia
| | |
| --- | --- |
| Sheltie Breeder | Becky, Blessed Shelties |
| Location | Atlanta, Georgia |
| Contact | myshelties.com |
| | |
| --- | --- |
| Sheltie Breeder | David and Kelly Hester, Chelsea Creek Shelties |
| Location | North West Georgia |
| Contact | 706-862-2409 / kdhester[at]alltel.net |
| | |
| --- | --- |
| Sheltie Breeder | Bob and Joy Good, Goodtime Shelties |
| Location | Sylvania, Georgia |
| Contact | goodtimeshelties.com |
| | |
| --- | --- |
| Sheltie Breeder | Rod, Southcrest Shetland Sheepdogs |
| Location | Atlanta, Georgia |
| Contact | 678-923-2327 |
| | |
| --- | --- |
| Sheltie Breeder | Geoff and Peggy Browne, Bronwyn Shelties |
| Location | Dacula, Georgia |
| Contact | 770-339-2944 / geoffreybrowne[at]bellsouth.net |
Sheltie Breeders in Hawaii
| | |
| --- | --- |
| Sheltie Breeder | Donna Crabtree, GorDon Shelties |
| Location | Kailua Kona, Hawaii |
| Contact | gordonshelties.com |
| | |
| --- | --- |
| Sheltie Breeder | Susan F. Ancheta, Jisude Shelties |
| Location | Hilo, Hawaii |
| Contact | jisudeshelties.com |
Sheltie Breeders in Idaho
| | |
| --- | --- |
| Sheltie Breeder | Clan Duncan Shelties |
| Location | Idaho |
| Contact | danaq[at]aol.com |
Sheltie Breeders in Illinois
| | |
| --- | --- |
| Sheltie Breeder | Therese Poirier, Saranac Shelties |
| Location | Edwardsville, Illinois |
| Contact | saranacshelties.com |
| | |
| --- | --- |
| Sheltie Breeder | Carloway Shelties |
| Location | Illinois |
| Contact | carloway[at]att.net |
| | |
| --- | --- |
| Sheltie Breeder | Carol Steiner, Honeyblossom Collies and Shelties |
| Location | New Lenox, Illinois |
| Contact | honeyblossomcollies.com |
Sheltie Breeders in Indiana
| | |
| --- | --- |
| Sheltie Breeder | Kathryn and Gretchen Hensley, Rushwind Shelties |
| Location | Indiana |
| Contact | rushwindshelties.com |
Sheltie Breeders in Iowa
| | |
| --- | --- |
| Sheltie Breeder | Alexa Brink, Allie's Legacy |
| Location | Oakland, Iowa |
| Contact | 712-482-5588 / allieslegacy[at]att.net |
| | |
| --- | --- |
| Sheltie Breeder | Jeannette Powers-Hodson, Kell Shelties |
| Location | Swan, Iowa |
| Contact | kellshelties.com |
Sheltie Breeders in Kansas
| | |
| --- | --- |
| Sheltie Breeder | Kat and Cal McGuire, Majestic Shelties |
| Location | Wichita, Kansas |
| Contact | 316-880-2995 / majesticshelties[at]gmail.com |
Sheltie Breeders in Kentucky
Sheltie Breeders in Louisiana
| | |
| --- | --- |
| Sheltie Breeder | Bellevue Shetland Sheepdogs |
| Location | Northwest Lousisiana |
| Contact | bellevueshelties.com |
Sheltie Breeders in Maine
| | |
| --- | --- |
| Sheltie Breeder | Cathcance Shetland Sheepdogs |
| Location | Topsham, Maine |
| Contact | 207-729-0478 / lbernier[at]gwi.net |
Sheltie Breeders in Maryland
| | |
| --- | --- |
| Sheltie Breeder | Ric O'Shar Shelties |
| Location | Little Orleans, Maryland |
| Contact | ricoshar.20m.com |
Sheltie Breeders in Massachusetts
| | |
| --- | --- |
| Sheltie Breeder | Genesis Shelties |
| Location | Hanson, Massachusetts |
| Contact | whalendogs[at]yahoo.com |
| | |
| --- | --- |
| Sheltie Breeder | Foxglove Shelties |
| Location | Carlisle, Massachusetts |
| Contact | kschive[at]ma.ultranet.com |
| | |
| --- | --- |
| Sheltie Breeder | Cindahope Shelties |
| Location | Massachusetts |
| Contact | cindahope.com |
| | |
| --- | --- |
| Sheltie Breeder | BTI Shelties |
| Location | Massachusetts |
| Contact | 508-966-3768 / db_two[at]yahoo.com |
| | |
| --- | --- |
| Sheltie Breeder | Kathy Ryan, Sunaire Shelties |
| Location | Norwood, Massachusetts |
| Contact | sunaireshelties[at]msn.com |
Sheltie Breeders in Michigan
| | |
| --- | --- |
| Sheltie Breeder | Agape Shelties |
| Location | Grand Ledge, Michigan |
| Contact | 517-627-3162 |
| | |
| --- | --- |
| Sheltie Breeder | Baker Park Shelties |
| Location | St Louis, Michigan |
| Contact | 989-681-2054 |
| | |
| --- | --- |
| Sheltie Breeder | Lynne Gilbert, Kristilyn Shelties |
| Location | Hemlock, Michigan |
| Contact | kristilynshelties.com |
| | |
| --- | --- |
| Sheltie Breeder | Hidows Shetland Sheepdogs |
| Location | Michigan |
| Contact | hidows[at]greatlakes.net |
| | |
| --- | --- |
| Sheltie Breeder | ShadowBrook Shelties |
| Location | Grass Lake, Michigan |
| Contact | 517-522-3286 / mrsgee33[at]aol.com |
| | |
| --- | --- |
| Sheltie Breeder | Walters' Way Shelties |
| Location | Burton, Michigan |
| Contact | waltersway.com |
| | |
| --- | --- |
| Sheltie Breeder | Walt & Mary Christensen, Neahm Shelties |
| Location | Westland, Michigan |
| Contact | 734-421-7065 / waltmary[at]comcast.net |
| | |
| --- | --- |
| Sheltie Breeder | KM Shelties |
| Location | Scottville, Michigan |
| Contact | bettysbarn.net |
Sheltie Breeders in Minnesota
| | |
| --- | --- |
| Sheltie Breeder | Somerhaven Shelties |
| Location | Northern Minnesota |
| Contact | somerhaven.com |
| | |
| --- | --- |
| Sheltie Breeder | Weis Shelties |
| Location | Redwood Falls, Minnesota |
| Contact | weissheltie.com |
Sheltie Breeders in Missouri
| | |
| --- | --- |
| Sheltie Breeder | George and Tatsuko Danforth, Romayne Shelties |
| Location | Oak Grove, Missouri |
| Contact | 816-690-6413 / gdanf[at]earthlink.net |
| | |
| --- | --- |
| Sheltie Breeder | Rapporlee Shetland Sheepdogs |
| Location | Cedar Hill, Missouri |
| Contact | rapporlee.com |
Sheltie Breeders in Montana
Sheltie Breeders in Nebraska
Sheltie Breeders in Nevada
Sheltie Breeders in New Hampshire
Sheltie Breeders in New Jersey
| | |
| --- | --- |
| Sheltie Breeder | Aneita Frey, AllSpice Shelties |
| Location | Bridgewater, New Jersey |
| Contact | a.frey[at]asdc.net |
| | |
| --- | --- |
| Sheltie Breeder | Florence Martin, High Born Shelties |
| Location | Belleville, New Jersey |
| Contact | 973-751-2079 / flo[at]highbornshelties.com |
Sheltie Breeders in New York
| | |
| --- | --- |
| Sheltie Breeder | Julie Blasi, Beacon Shelties |
| Location | New York |
| Contact | 516-353-6361 / beaconshelties[at]att.net |
| | |
| --- | --- |
| Sheltie Breeder | Canami Shetland Sheepdogs |
| Location | Northern New York |
| Contact | canamishelties.com |
| | |
| --- | --- |
| Sheltie Breeder | Kimark Shelties |
| Location | Niverville, New York |
| Contact | 518-784-2413 / bhackel[at]berk.com |
| | |
| --- | --- |
| Sheltie Breeder | M&M Shelties |
| Location | New York |
| Contact | mmshelties[at]mmshelties.com |
| | |
| --- | --- |
| Sheltie Breeder | Wyndeway Shetland Sheepdogs |
| Location | Alexandria Bay, New York |
| Contact | Good Dog Breeder Page |
Sheltie Breeders in North Carolina
| | |
| --- | --- |
| Sheltie Breeder | Kimberley Cox, Cox Shelties of Mayberry |
| Location | Pilot Mt, North Carolina |
| Contact | 336-374-7403 / kicox27041[at]yahoo.com |
| | |
| --- | --- |
| Sheltie Breeder | Lindores Shetland Sheepdogs |
| Location | Jacksonville, North Carolina |
| Contact | 937-830-6827 / lindoresshelties[at]gmail.com |
| | |
| --- | --- |
| Sheltie Breeder | Wistwin Shelties |
| Location | Fuquay Varina, North Carolina |
| Contact | wistwin.com |
| | |
| --- | --- |
| Sheltie Breeder | Amelina Shelties |
| Location | Greenville, North Carolina |
| Contact | shelties[at]suddenlink.net |
| | |
| --- | --- |
| Sheltie Breeder | Candace Sasser, Candescent Shetland Sheepdogs |
| Location | Stanley, North Carolina |
| Contact | candescentshelties.com |
Sheltie Breeders in Ohio
| | |
| --- | --- |
| Sheltie Breeder | Daisy Chain Shelties |
| Location | Dayton, Ohio |
| Contact | 937-431-1504 / purath[at]hotmail.com |
| | |
| --- | --- |
| Sheltie Breeder | Lerwick Shelties |
| Location | Ohio |
| Contact | 614-849-2911 / mwi9136772[at]aol.com |
| | |
| --- | --- |
| Sheltie Breeder | Meadowing Shetland Sheepdogs |
| Location | Pataskala, Ohio |
| Contact | meadowind[at]insight.rr.com |
| | |
| --- | --- |
| Sheltie Breeder | Paragon Shelties |
| Location | Ohio |
| Contact | 330-607-1477 / paragonshelties[at]neo.rr.com |
| | |
| --- | --- |
| Sheltie Breeder | Sherri Nester, Falmist Shelties |
| Location | Ohio |
| Contact | 567-224-3271 / javared5[at]gmail.com |
Sheltie Breeders in Oklahoma
| | |
| --- | --- |
| Sheltie Breeder | Okies Shelties |
| Location | Tulsa, Oklahoma |
| Contact | okies.com |
Sheltie Breeders in Oregon
| | |
| --- | --- |
| Sheltie Breeder | Cherden Shelties |
| Location | Scappoose, Oregon |
| Contact | 503-543-2993 / cherden11[at]netzero.net |
| | |
| --- | --- |
| Sheltie Breeder | Coronet Shelties |
| Location | Medford,Oregon |
| Contact | 541-773-5295 / kjettinger[at]charter.net |
| | |
| --- | --- |
| Sheltie Breeder | Granite Gables Shelties |
| Location | Grants Pass, Oregon |
| Contact | granitegables.com |
| | |
| --- | --- |
| Sheltie Breeder | IvanLee Shetland Sheepdogs |
| Location | Lebanon, Oregon |
| Contact | 541-259-1275 / ivanleeshelties[at]gmail.com |
| | |
| --- | --- |
| Sheltie Breeder | Kensil's Shelties |
| Location | Oregon |
| Contact | sylviacalderwood[at]aol.com |
| | |
| --- | --- |
| Sheltie Breeder | Sheltie Acres |
| Location | Salem, Oregon |
| Contact | 503-393-3680 / info[at]sheltieacres.com |
| | |
| --- | --- |
| Sheltie Breeder | Corina Olsen, RavenWyn Shelties |
| Location | West Portland, Oregon |
| Contact | ravenwyn.com |
Sheltie Breeders in Pennsylvania
| | |
| --- | --- |
| Sheltie Breeder | Misty Foehlinger, Misty Morning Shelties |
| Location | Maytown, Pennsylvania |
| Contact | 717-426-2171 / mistyshelties[at]excite.com |
| | |
| --- | --- |
| Sheltie Breeder | Brieya Shelties |
| Location | Bechtelsville, Pennsylvania |
| Contact | 610-845-9858 / brieya[at]dejazzd.com |
| | |
| --- | --- |
| Sheltie Breeder | Dante Kennels |
| Location | Western Pennsylvania |
| Contact | dantekennels.com |
| | |
| --- | --- |
| Sheltie Breeder | Denise Perkovich, Jemari Shelties |
| Location | Pennsylvania |
| Contact | 570-561-3992 / perkjemari[at]aol.com |
| | |
| --- | --- |
| Sheltie Breeder | L-N-D Shelties |
| Location | Elizabethtown, Pennsylvania |
| Contact | lnd-shelties.com |
| | |
| --- | --- |
| Sheltie Breeder | Mirmar Shelties |
| Location | Hellertown, Pennsylvania |
| Contact | 610-838-0837 / mirmar[at]ptd.net |
| | |
| --- | --- |
| Sheltie Breeder | Crosswood Shelties |
| Location | Saint Stephen, South Carolina |
| Contact | 843-567-2504 / maryejb[at]hughes.net |
| | |
| --- | --- |
| Sheltie Breeder | Trish Watters, Creekside Shelties |
| Location | Seneca, South Carolina |
| Contact | creeksideshelties.com |
Sheltie Breeders in South Dakota
Sheltie Breeders in Tennessee
| | |
| --- | --- |
| Sheltie Breeder | Jeff and Kerri Denter, Felicity Shetland Sheepdogs |
| Location | Westmoreland, Tennessee |
| Contact | 615-442-7056 / kerri82286[at]aol.com |
| | |
| --- | --- |
| Sheltie Breeder | Aldebaran Shelties |
| Location | Lenior City, Tennessee |
| Contact | aldebaranshelties.tripod.com |
| | |
| --- | --- |
| Sheltie Breeder | Rod N' Stuff Shelties |
| Location | Savannah, Tennessee |
| Contact | streetie.com |
| | |
| --- | --- |
| Sheltie Breeder | Sundrifter Shelties |
| Location | Tennessee |
| Contact | kfaille[at]dtccom.net |
| | |
| --- | --- |
| Sheltie Breeder | Winterlace Shelties |
| Location | Tennessee |
| Contact | WinterlaceShelties[at]prodigy.net |
Sheltie Breeders in Texas
| | |
| --- | --- |
| Sheltie Breeder | Diana Rockwell, Rivendell Farms Kennel |
| Location | Harper, Texas |
| Contact | 830-864-5325 / rivendellfarms1[at]gmail.com |
| | |
| --- | --- |
| Sheltie Breeder | JR's Little Cuties |
| Location | Ferris, Texas |
| Contact | 469-386-7381 / SheltieGirl1215[at]myway.com |
| | |
| --- | --- |
| Sheltie Breeder | Mary Masek, Masek Kennels |
| Location | Ferris, Texas |
| Contact | masekkennels.com |
| | |
| --- | --- |
| Sheltie Breeder | Caprock Shetland Sheepdogs |
| Location | Cedar Park, Texas |
| Contact | caprockshelties.com |
| | |
| --- | --- |
| Sheltie Breeder | Lockehill Shelties |
| Location | Texas |
| Contact | lockehil[at]gvtc.com |
| | |
| --- | --- |
| Sheltie Breeder | Musical Shelties |
| Location | Azle, Texas |
| Contact | 817-448-8444 / Dmusick[at]swbell.net |
| | |
| --- | --- |
| Sheltie Breeder | Shalaine Shelties |
| Location | Texas |
| Contact | shalaine.com |
| | |
| --- | --- |
| Sheltie Breeder | Wildwind Shelties |
| Location | Venus, Texas |
| Contact | 817-703-8746 / wildwind[at]aircanopy.net |
| | |
| --- | --- |
| Sheltie Breeder | Linda Cobbs, Lil Shelties of Texas |
| Location | Houston, Texas |
| Contact | 409-956-4537 / linda_fay_cobbs[at]sbcglobal.net |
Sheltie Breeders in Utah
Sheltie Breeders in Vermont
Sheltie Breeders in Virginia
| | |
| --- | --- |
| Sheltie Breeder | Amarden Shelties |
| Location | Northern Virginia |
| Contact | 703-753-5012 / amardenshelties[at]msn.com |
| | |
| --- | --- |
| Sheltie Breeder | Medolyn Shelties |
| Location | Northern Virginia |
| Contact | 703-926-5795 / jen[at]medolynshelties.com |
| | |
| --- | --- |
| Sheltie Breeder | Sparkshire Shetland Sheepdogs |
| Location | Spotsylvania, Virginia |
| Contact | sparkshire.com/index2.htm |
| | |
| --- | --- |
| Sheltie Breeder | Darmil Shetland Sheepdogs |
| Location | Shenandoah Valley, Virginia |
| Contact | darmilshelties.com |
| | |
| --- | --- |
| Sheltie Breeder | Kuntry Road Shelties |
| Location | Virginia |
| Contact | 276-251-5909 / kuntryrdshelties[at]aol.com |
Sheltie Breeders in Washington
| | |
| --- | --- |
| Sheltie Breeder | Accent Shelties |
| Location | Buckley, Washington |
| Contact | 360-897-9090 / nancy[at]accentshelties.com |
| | |
| --- | --- |
| Sheltie Breeder | Montrose Shelties |
| Location | Spanaway, Washington |
| Contact | 253-847-7647 / sheltypaws[at]aol.com |
| | |
| --- | --- |
| Sheltie Breeder | Shadoway Shelties |
| Location | Woodland, Washington |
| Contact | shadowayshelties[at]aim.com |
| | |
| --- | --- |
| Sheltie Breeder | Carol Nelson, Harborlite Shelties |
| Location | Graham, Washington |
| Contact | 360-893-6568 / cnofhl[at]aol.com |
Sheltie Breeders in West Virginia
| | |
| --- | --- |
| Sheltie Breeder | Misty Buhrman, Buhrman Shelties |
| Location | Berkeley Springs, West Virginia |
| Contact | 304-258-6761 / sheltiemist77[at]aol.com |
| | |
| --- | --- |
| Sheltie Breeder | Belmar Shelties |
| Location | East Bank, West Virginia |
| Contact | lgbelmar[at]aol.com |
| | |
| --- | --- |
| Sheltie Breeder | Carmylie Shelties |
| Location | Hedgesville, West Virginia |
| Contact | 304-821-1012 / carmylie[at]earthlink.net |
Sheltie Breeders in Wisconsin
| | |
| --- | --- |
| Sheltie Breeder | Birchwynd Shelties |
| Location | Green Bay, Wisconsin |
| Contact | birchwynd.com |
| | |
| --- | --- |
| Sheltie Breeder | Candlelit Shelties |
| Location | Milwaukee, Wisconsin |
| Contact | candlelitsheltie[at]aol.com |
| | |
| --- | --- |
| Sheltie Breeder | Moes Windy Hill Shelties |
| Location | Spring Valley, Wisconsin |
| Contact | 715-772-3191 / moe[at]wwt.net |
| | |
| --- | --- |
| Sheltie Breeder | Purdee Shelties |
| Location | Holmen, Wisconsin |
| Contact | 608-526-1107 / purdeeshelties[at]yahoo.com |
| | |
| --- | --- |
| Sheltie Breeder | Roseview Shetland Sheepdogs |
| Location | Cedarburg, Wisconsin |
| Contact | roseviewshelties.com |
| | |
| --- | --- |
| Sheltie Breeder | Silverpine Shelties |
| Location | South Eastern Wisconsin |
| Contact | 414-481-6404 |
| | |
| --- | --- |
| Sheltie Breeder | TouchTone Shelties |
| Location | Redgranite, Wisconsin |
| Contact | 920-566-0145 / creations[at]snovali.com |
| | |
| --- | --- |
| Sheltie Breeder | Stable Lane Shelties |
| Location | Wisconsin |
| Contact | stablelane[at]new.rr.com |
| | |
| --- | --- |
| Sheltie Breeder | Vicky Johnson, 7 Bridges Shelties |
| Location | Galesville, Wisconsin |
| Contact | 7bridgesshelties.com |
Becoming a Professional Sheltie Breeder
Are you so in love with Shelties that you might just become a professional Sheltie breeder yourself? There are many things you need to consider before you embark on this lifestyle.
Breeding is a Big Commitment. Besides the massive amount of breed research you'll need to undertake, you'll also need the time, money, and facilities to accommodate many dogs in your house and/or kennels. You'll need whelping boxes, large penned exercise areas, and a suitable vehicle for taking multiple puppies to the vets. You'll also need to afford lots of dog food, pay ongoing vet bills, and have a strong tolerance for barking. Grooming Shelties will become a necessary part of your everyday routine.

You Need to Understand Genetics. To some extent, breeding animals means Playing God, involving artificial selection as opposed to natural selection. You'll match mating pairs that you think will produce puppies of the ideal Shetland Sheepdog appearance, temperament, and health. This requires knowledge of how parent genes interact to create physical characteristics in their offspring. Fortunately, the science of inheritance patterns in Shelties is already done; your job is to read up and talk to fellow dog breeders for advice.

Raising Puppies is Hard Work. Remember your first puppy? It certainly came as a shock to me just how much attention Howard needed—and he was just one puppy. Now multiply that by 4-6 per litter and imagine doing it over and over, year after year. Once the puppies are weaned off their mother's milk, you'll be doing all the work to keep them clean, fed, and happy around the clock. Like babies, puppies have tiny stomachs and tiny bladders, demanding high frequency attention.

Parents and Puppies Need Vet Checks. You'll need to take your mating pairs to the vets for pre-breeding genetic screenings to ensure they won't be passing on any genetic diseases. What's more, all your kennel dogs and puppies will need routine vet care, vaccinations, quality nutrition, dental care, and parasitic treatments. Vet bills make it difficult to profit from ethical dog breeding, making this a lifestyle not a business.

Canine Pregnancies Develop Rapidly. Female dogs, called bitches, are pregnant for just 63 days, compared to 280 days in humans. A healthy pregnancy can be confirmed by ultrasound after 30 days, with the mother needing extra food, care, and supervision in case of medical emergencies.

You'll Be The Midwife. Breeders oversee births at home, where the mother can be in a quiet, warm, and familiar space to whelp her puppies. After a period of contractions, puppies can be born rapidly or up to four hours apart. Afterwards, it's crucial to match the number of placentas delivered to the number of puppies born, as retained placentas can cause serious infection. You'll have many jobs, including freeing the puppies from their amniotic sacs, stimulating their breathing, and aiding suckling after the birth.

Breeders Give Up Most of Their Puppies. While you may form attachments with the puppies in their first two months of life, keeping them all is likely unrealistic. Breeders accumulate many dogs in their kennels, and only keep puppies as potential champions or breeding stock. Those not up to the breed standard are rehomed as pets at 8 weeks old, which could be too much to bear if you fall in love with all your puppies.
I'm sure many Sheltie fanatics have fantasized about breeding professionally. I know I have. But ultimately, this is a major lifestyle choice requiring a huge commitment, so make sure you have the time, money, and motivation to be a dedicated Sheltie breeder before you dive in.
READ: An Interview with a Sheltie Breeder