Contact Sheltie Planet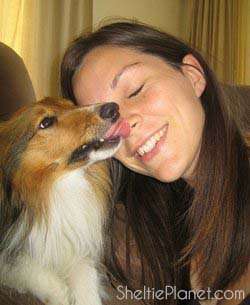 Hi, I'm Rebecca, the creator of Sheltie Planet. I live in New Zealand with my partner Pete, our three-year-old son Fox, and our two Shetland Sheepdogs, Howard and Piper. Here's a picture of the lovely Piper licking my face. You have to be pretty charming to get away with that sort of carry on. And that he is.
To learn more about how our clan got together, read About Us. Otherwise, keep on reading for ways to get in touch with our online Sheltie community.
Join Our Community
Visit our online networks for more cute photos and to meet other Sheltie enthusiasts:
Want to Adopt a Sheltie?
Check our database of Sheltie Rescues and Sheltie Breeders covering the US, Canada, UK, Australia and New Zealand. Remember, never buy a puppy from a pet store.
Questions About Shelties
If you have a question about Shelties, please see our Sheltie FAQ or post it on our Sheltie Forums. Common questions include:
"How do I stop my Sheltie barking?"
"Should I shave my Sheltie for the summer?"
"How do I safely tip my Sheltie's ears?"
If you've just taken on a new Sheltie and want to learn about dog training, we recommend Daniel Steven's Secrets To Dog Training course and Clicker Training by Canis.
Donate
If you enjoy the content on Sheltie Planet, please click the Donate button below.
Your contribution keeps this website up and running and offers a friendly thanks for the hard work we've put into it over the years.
We are extremely grateful for your support!
Best wishes from all of us
Rebecca, Pete, Fox, Howard and Piper