Contact Sheltie Planet
Hi, I'm Becky, the creator of Sheltie Planet. I live in New Zealand with two Shetland Sheepdogs, Howard and Piper. Here's a picture of Piper licking my face. You have to be pretty charming to get away with that.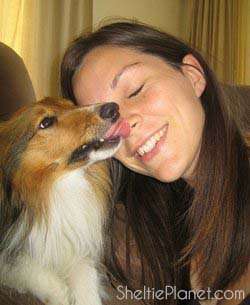 To learn more about how I fell in love with Shelties, see Behind The Scenes. If you enjoy this blog, I encourage you to follow our Facebook page or Twitter feed for more Sheltie fun.
We also have a friendly Sheltie Forum where you can share photos and stories, and get advice from other Sheltie lovers.
Adopting a Sheltie?
I strongly recommend checking your local Sheltie Rescue first to see if there are any Shelties in need of a home. If not, you may want to put your name down with a local Sheltie Breeder for a puppy. Our database covers the US, Canada, UK, Australia and New Zealand. (If you're a breeder or shelter and need to update your contact details, please leave a comment in the Facebook box below and I'll update your listings as soon as I can.)
Remember, never buy a puppy from a pet store.
Questions About Shelties
If you have a question about Shelties, please see our Sheltie FAQ or post it on our Sheltie Forums. Common questions include:
"How do I stop my Sheltie barking?"
"Should I shave my Sheltie for the summer?"
"How do I safely tip my Sheltie's ears?"
If you've just taken on a new Sheltie and want to learn about dog training, we recommend Daniel Steven's Secrets To Dog Training course.
Donate
If you enjoy the content on Sheltie Planet, please consider making a donation of any amount below. I use PayPal to handle all donations.
Your contribution helps pay the hosting and security costs for running this website, and offers a friendly thanks for the hard work gone into it over the years. We're extremely grateful for your support.
Email
Please post your Sheltie questions to our Facebook or Forum, as we are unable to answer all of them personally (there are just too many!)
If you have feedback about the website or wish to contact us for any other reason, please email becky[at]sheltieplanet[dot]com