Please Help Nancy and Ceili
By Becky Casale - download her Sheltie Anthology today
Nancy Rutland is one of our readers in a terrifying situation and we would like to make a personal appeal for your help.
Ceili's fundraising has now finished - skip to the end to see the result!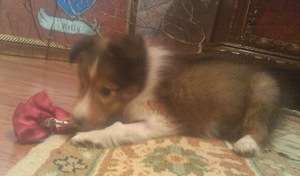 Nancy recently purchased a Sheltie puppy from an out-of-state breeder. When he arrived she took him to the vet and discovered that he had Parvo. Ten days later he was also diagnosed with Coccidia. A further 13 days after that he was diagnosed with Persistent Right Aortic Arc (PRAA) - a genetic heart defect requiring an expensive surgery.
The breeder has offered to pay the Parvo bill but unfortunately their duty to help cover further vet bills - both legally and ethically, it seems - ends there. This left Nancy with an appalling choice: to spend a small fortune on surgery or have her new happy, inquisitive, playful but ultimately sick puppy put to sleep.
Nancy immediately knew she had to do all she could for Ceili, and so he went into surgery on Tuesday. Even though there is no guarantee he will make it - she had to try. He deserves this chance, just as any human would deserve this chance too. He has been living at the vet clinic for several days now, and Nancy visits him to take him to the grass out back and play with him. "He'd pounce about & bite at the crusty leaves, then come sit in my lap & let me love him... If he dies I want him to at least have had a fun life, and he has," Nancy says.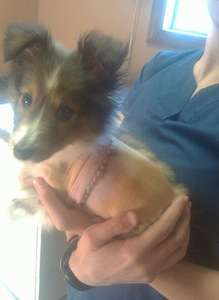 Thankfully, Ceili survived the heart surgery, which is amazing in itself - but he is not yet eating and the vet is unsure whether he will pull through; they just have to wait and see. On top of this heartbreaking situation, Nancy has to find the money required to pay for the surgery that has given Ceili this fighting chance. Nancy is on disability and finding the money to pay for the surgery will not be easy.
Sheltie Planet has nearly 4,000 fans on Facebook. I know that if we all pull together and contribute a small amount each, we can raise the money to help Nancy out of an ugly financial situation. It is also our way to say thank you for having such a big heart and giving a Sheltie the only chance he has for life.
Nancy and Ceili Thank You With ALL Their Hearts!
Result!
Thanks Sheltie Planet fans! You guys raised an amazing $1,408 for Nancy and Ceili! The money has been sent and those funds mean that as soon as he is fit, All Animal Clinic in Hattiesburg, MS, can release Ceili to go home with Nancy.
As you can read from the updates below, he is doing really well and eating solid foods again. This is a great sign that he is in recovery and things are looking really good.
---
Update from Nancy, Nov 9th
This is Ceili's 2nd hospital tour. He's been under Dr. Russum's full time care since last Thursday. He & Dr. Longoria did his surgery yesterday & today Ceili has been slowly eating & so far is keeping food down--2 soupy tablespoons every two or 3 hours.
I drove down to play with him (I can only hold him, he's not allowed to walk after major surgery yet) his puppy breath had turned to ID diet breath, but the aroma was wonderful. That smell means he's eating!
CEILI'S EATING!! ---well it's a type of gruel made of water & ID, but so far he's able to stand as well. He has a VERY long incision which you can see on this page.
Update from Nancy, Nov 13th
Sheltie Planet people are AWESOME! I am honored & taken aback by the donations that have tumbled in for little Ceili. This was begun just a very few days ago & y'all have raised OVER $1000!!! He's been in the hospital this time since last week. Both doctors told me they believe he will be home the first part of next week! Everybody at the animal clinic love him & play with him so he's not just stuck in some cage.
I spoke with one of his surgeons today, Dr. Longino, & she said they have started him on solid food & he is not gagging much at all & is keeping it down. They both say they are happy with his progress so far. He is alert & perky & full of energy. Ceili doesn't appear to be hurting at all, though his scar runs from his backbone to under his arm. It's healing nicely & is sewn up so well it looks like he's wearing a cable-knit sweater lol. He's in good hands at the moment & I'm anxious for him to come home & play with my 8 yr old Sheltie, Failte. It's been fun to watch them play the little bit of time he has lived here (he's been in 2 hospitals & spent 11 days & nights in them since I got him Oct 20).
But, better days are a'comin!! Ceili is coming home soon.
Again thank you ALL so very much for donating & for those of you who could not, thank you for caring as well. Well-wishes have been sent even by those of you at Sheltie Planet who did not write them. I know you. Animal lovers send out the best vibes! We have received them all
Bless you people & thank you for loving my little puppy.
Update from Nancy, Nov 16th
Well now CEILI IS HOME!!!! He's running & jumping a little (shhh! Don't tell Dr. Russum).... I've built a special pen inside the fenced in backyard so he can't run but a couple of yards til Dr. Russum gives me the go-ahead. Failte, my 8 yr old Sheltie, LOVES him! She barks & paws at him & he is so small he LITERALLY can run UNDER her belly (& Failte is not a big dog). He is alert & happy & VERY inquisitive. The most inquisitive puppy I've ever had- so I believe that shows how intelligent he is.
On the way home from the vet yesterday we had to stop & buy him a wee collar because his little blue harness will now touch/rub his incision. It is healing perfectly & most of the swelling is gone & there's not even a bruise!
Ceili iis having to eat gruel, which is fine with me--at least HE IS ABLE TO EAT! Trying the dry dog food was a bit too early. I'm having to put canned puppy food in a blender (which I had to buy yesterday because I'm not a cook & didn't have one. lol) & puree it. He eats it well... he had a little problem a couple of times but overall eats great & his little belly is TIGHT & fat! That's a FANTASTIC sight to not be able to see those bones & have that baby TRY to eat & can't.
I'm SO thankful to everyone at Sheltie Planet for helping Ceili have surgery to save his life. He would have not been able to eat & would have had to have been "put down" had it not been for the surgery, which so many of you donated. All Animal Clinic helped as well as they didn't charge what we had expected. I'll keep Ceili's photos as he grows on my FB page (I'd like to invite as many as reads this to add me so you can be sure to see him grow). I believe he's not going to be as small as expected because of his sonic weight gain. I didn't know a fellow could gain THAT much weight in a week.
Staying in the hospital recked havoc on my housebreaking! He's learning but whoa! I didn't know it would set us back this far. (I'm a stickler about untrained dogs so maybe I'm exaggerating.) He's very intelligent so I'm sure Ceili will be back to where we left off soon. Perhaps following Failte in & out the dog-door will accentuate my training. He LOVES his Failte!
Again, for those of you who donated from Sheltie Planet, thank you SO much for donating & for all his get-well wishes. You've made a HUGE difference--by helping give Ceili a life, even tho we didn't even know if he could make it thru surgery. You took the chance with me...& Ceili made it! Dr. Russum told me yesterday as I was taking him in my arms to leave his clinic, "He had 3 legs in the grave & the other on a banana peel before surgery. I'm VERY happy with his progress."
My love & blessings to all!