Sheltie Tales - Part Three
Coco Sheltie returns in part three, along with Sadie, Tara, Kiko, Dacia, and Little Lady.
Coco's Diary - October
October 1 - Raining, raining... all day raining. I cannot go out and this is just boring. I sat by the window for a while to see if anything exciting happens but nothing is happening. Even next door's doggies are inside today. I love sitting by the window and looking outside so I want my daddy to build a balcony with a roof for me, please...
October 7 - It was raining this morning so I decided to look through the wardrobe while mummy was out for shopping. Let me see... what shall I try today? This and that and this and that and.... Hmmm...I suppose they are OK, but maybe, Daddy, can you take me out for shopping this weekend? I saw a fabulous harness with ribbons and everything in a magazine the other day.
October 8 - I have friends all over the world now so I looked at the map and studied. So where am I???
OH MY WOOF! I asked mummy where I was and for the first time in my life I discovered how big the globe was. I have plenty of places to go, don't I??? How exciting!! I need a big pink case to put all my dresses, hats and everything. I have to get a passport too. America, Canada, New Zealand, etc... I wish I could join nanny Joan and granddaddy Mick when they go on a cruise next year...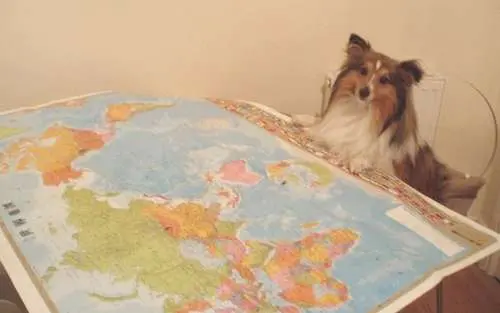 October 9 - Daddy said he would take me shopping this weekend. Yeah!! We went out by car and the place we arrived was... the vet! Why!! Mummy said it was for my booster vaccination. The vet gave me some treats and while I was eating them she stabbed a big needle in me. Is it because of this injection I feel very sleepy?
Zzzzz... mmm? Something smells nice... Yes, it is beef!! Daddy is cooking "Beef, Guinness and Cheddar Cheese stew" and he is cutting the beef. Ohhhhh... it looks yummy... I can have a bit of the beef can't I? Daddy didn't take me shopping, so I deserve it don't I?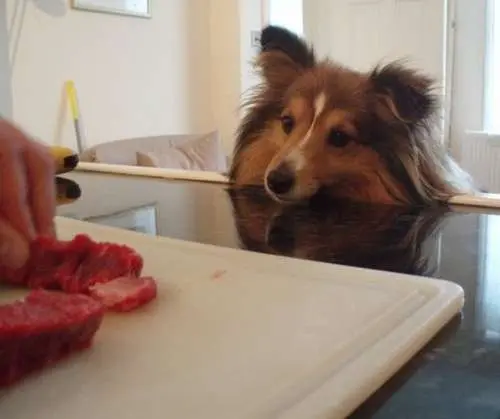 October 10 - Daddy took me and mummy to Polesdon Lacey. I found a pretty lion ornament. Mummy told me to sit down next him so she could take a photo of us. The lion and I were similar in height and I thought I could do an impression of him. We look like twins, don't we? I wanted to take him home but I couldn't. Can you make one for me, Daddy? We did a lot of walking and I saw horses and many sheep. I saw a few doggies too. I said hello nicely without snapping at them. I am quite a sociable doggie now aren't I?
October 11 - Mummy got a parcel from nanny Masae in Japan and I found these sweeties for me. They are my favourite. Thank you, nanny. Don't worry, daddy. You've got a lot of your favourite Japanese sweeties too.
October 14 - This morning mummy and I visited our doggie friend's house. I have been on a the bus with nanny Joan when I was littile but this was my first bus trip with mummy so mummy was very excited. The bus was quite busy. I looked up at mummy and I felt mummy was wishing something like "Coco, don't bark now, please..." I am a good girl so I sat down on the floor and I was very quiet all the way. When I got off the bus an old man tapped me on my head saying "Very quiet and good!" Mummy looked very happy so I was happy too.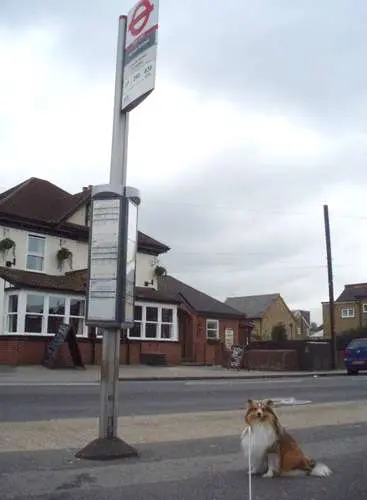 October 15 - When I came downstairs I was startled because the vacuum cleaner was sitting right there. I don't like it because it is horribly noisy and always scares me. I wanted to go to mummy but mummy was on the other side of the vaccum cleaner. It doesn't move on its own does it? Mummy denies it but I think it's alive. Why does mummy uses this scary thing to clean the house? I loved the mop when I was little but never liked the vacuum cleaner.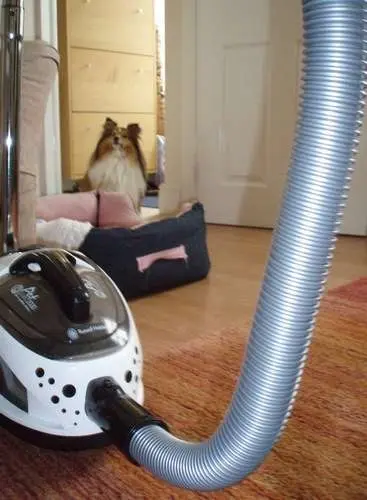 October 21 - Daddy's new photo frame was delivered today in a big box, he is going to put a big photo of me in the photo frame and hang it on the wall. Mummy put me on top of the box at first, she just wanted to have some fun didn't she? But then she put me in the box and I was scared. I thought she would send me somewhere. Mummy gave me a sweetie after. She thinks sweeties make everything OK. I am upset, I am going to ask daddy to tell her not to do such a cruel thing ever again.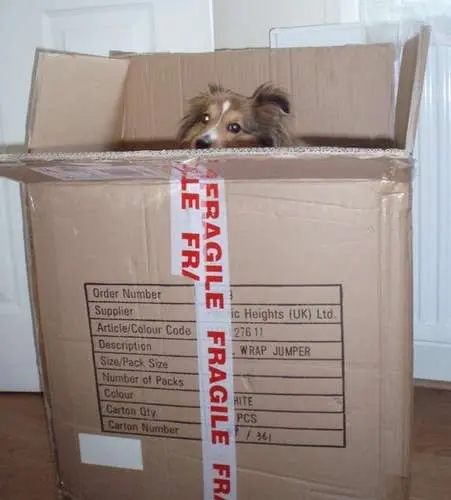 October 21 - I tried mummy's sunglasses. I was going to look like a super model. I thought I looked like Daddy's favourite Kate Moss. But mummy said I looked like a pilot. I do look like a doggie pilot don't I? Like Snoopy sitting on his house wearing his pilot costume.
October 22 - When I was happily walking in the park a big round fluffy sheep dashed for mummy. Mummy didn't know and I wanted to warn her but I was too scared to do anything. Anyway it was Daisy the poodle.
She kept coming a few times and she jumped at mummy too. Mummy was laughing but I couldn't move because she looked even bigger when she was jumping around. I thought I might be squashed if I went near her.
Once Daisy became calmer I showed my "Costume drama - Lady Coco" photo to Daisy and her daddy. Her daddy smiled and said I looked nice but Daisy was indifferent. I think she was jealous. I've known her since she was a puppy but we are so different. Still, I will show her my "Costume drama - Maid" photo next time.
She might like it mightn't she?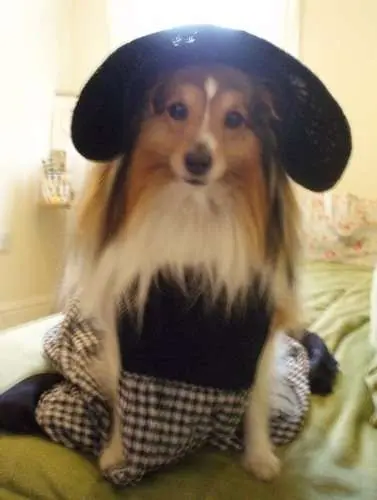 October 23 - I went to Waterloo to see nanny Joan and granddaddy Mick. I like it at their house as they always look after me when my mummy and daddy desert me and go somewhere warm and sunny. I want to go with mummy and daddy but I don't mind because nanny Joan's bedroom is very pretty and girlie. I'm looking forward to sleeping there.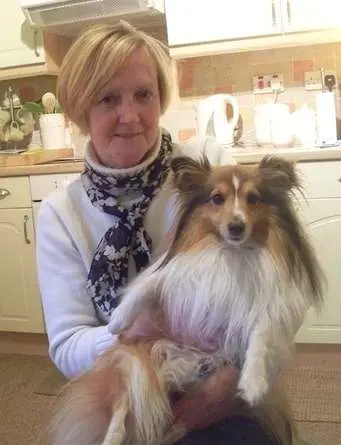 October 26 - I met Daisy but she was not well and her daddy said we couldn't walk together. Still I took my "Costume drama - Maid" photo with me so I showed it to her. She looked interested in the costume a bit so I asked her if she wanted to try my costume. She said she would think about it and then we said bye-bye.
Hmmm... she is a standard poodle so my maid costume would be too tight for her wouldn't it? But she can try my maid cap can't she? Maybe I can have a look in my wardrobe for something bigger for her. Anyway I will wait until she gets better.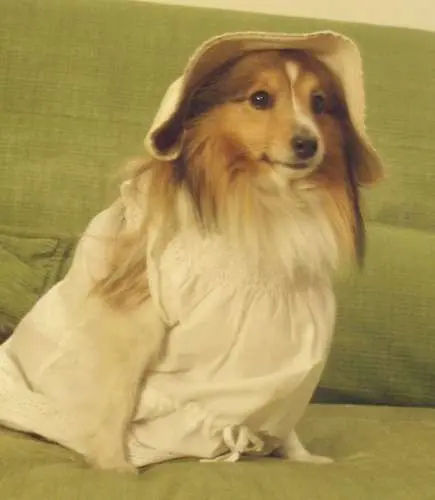 October 27 - While mummy was doing the gardening I wanted to have a sleep in the garden. Mummy kept asking me what I thought about the new Pansies and asking me to help her digging, so I could not sleep. Now mummy is going to the library so I can have a good nap in my bed. Yaaaawn Yaaaawn.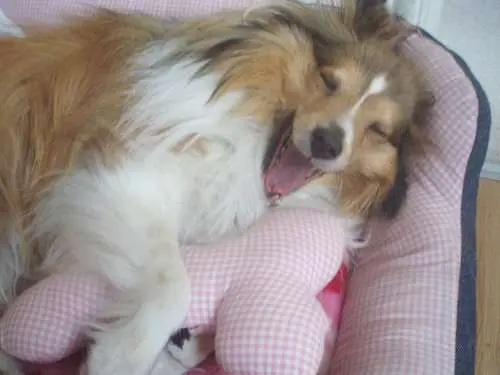 October 29 - I gave a lots of thought to my future career and decided to start jogging. Model, Hollywood star, athlete, therapy dog, dancer, etc... whichever career I choose I should always be fit shouldn't I? I could be a star overnight couldn't I? Anyway I should wear the proper gear for jogging so I looked through my wardrobe while mummy was baking. I chose my most favourite t-shirt and a cap which daddy gave me. How do I look? Perfect for jogging?
I think I can start from something like 10K and increase bit by bit and maybe I can take part in London Marathon and then New York City Marathon and then maybe I might catch some agents' eyes. Having ambition is always important.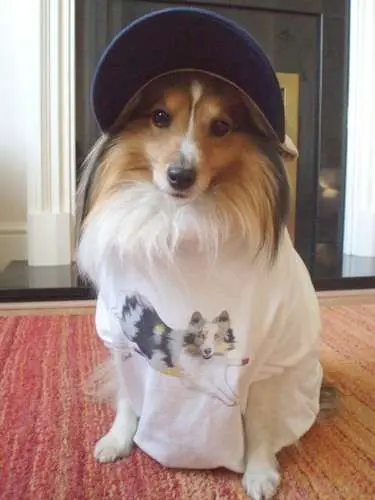 October 30 - Daddy took me to the garden centre today & I could ride in the trolley. The trolley said 'strictly no children can ride on this trolley' but I could, Ha Ha Ha!!! I wish mummy or daddy could take me to a big supermarket or shopping centre, what do they think I am going to do, lick a chicken or eat the sausages, I'm far to grown up now to do that.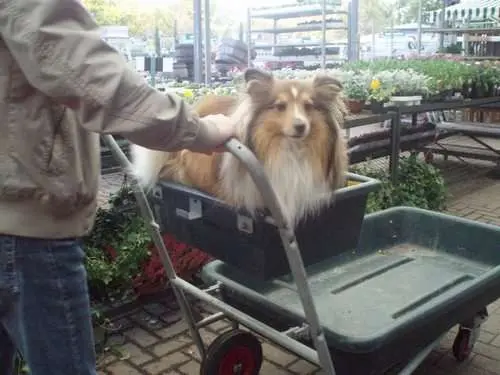 October 31 - Happy Halloween... Today I dressed up in my Halloween witch costume, I've had it since I was a little puppy girl, it was a present from the girl next door. My daddy says I should get a new outfit but I saw him looking on the internet at dinosaur outfits but I want something cooler than that. What do you think?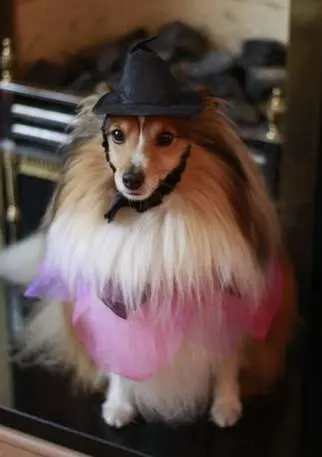 Our Beautiful Sadie by Margaret Schiffer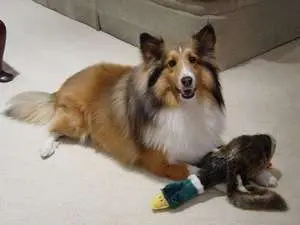 In 1998, my husband Dan and I had just become empty nesters and we didn't like it one bit! Not prone to starting over with a human baby, we thought we would try a dog. We found an ad in the local paper for two 13-month-old Shelties, brother and sister, that were available.
The owners were elderly and the husband had become ill and they could no longer care for the two younger dogs and their mother. Dan and I had never been around Shelties, but we had just done some research and, from what we had read, thought that a Sheltie would be a perfect fit. We went to look at the brother and sister pair and they were both adorable. I decided to just sit on the floor, cross-legged and just watch them and let them make the first move. Sadie, the girl, walked right up to me, climbed into my lap and curled up in a ball. To this day, we say that she chose us!
We brought Sadie home that day. She was quite quiet and timid and we noticed that she showed fear around men. We kept things calm for a few days and then it was Monday and time to go to work. We owned our own business, so I brought Sadie to work with me. She hid under my desk every day for at least two weeks. All of my co-workers were so patient with her, they talked in a calm voice and let her make the first move. And within a few months, Sadie and I would arrive at the office and I wouldn't see her until the end of the day. She spent all day visiting each office, catching a nap wherever she was tired and mooching an occasional treat that she knew Mom wouldn't approve of.
Over time, her fear of men disappeared and she and my husband would make regular trips to the airport (Dan is a pilot). She loved walking the fields and running along the ground as the airplanes flew by.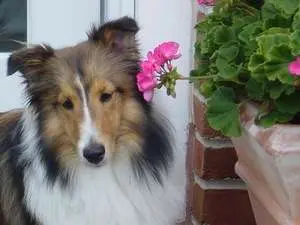 In 2008, Sadie suddenly had a violent seizure and was diagnosed with a brain tumor. With the help of our fantastic vet and medication, we were able to have our beautiful girl for 15 more months. She went to work with me on Friday December 18th 2009 and had the best day. She died in our arms the very next day. I have never know a more loving creature in my life.
We now have a new Sheltie puppy named Piper (after the aircraft company, of course!) Our hearts just could not be without one of these wonderful animals. She is smart, hilarious, loving and, most of all, a testament to Sadie.
Our Sheltie and Collie Family by Margaret Lakofsky
Sadly we lost our beautiful mahogany Sheltie, Katie, last June—just two months short of 15 years old. She was named Lakofsky's Katie Scarlett after Gone With The Wind and we had had her since she was 7 weeks old.
The next day, I was looking at the website of Almost Home Dog Rescue in Ohio. We have fostered 25 Collies and Shelties over the years from them and our Collie, Apollo, was adopted from them.
Very unexpectedly they had two Sable and White 12-week-old Sheltie puppies listed on the website. I always said that I would never get another puppy, because they are such hard work when they're young compared to older rescue dogs. However I was drawn to her, because her name was Tara, the same as the plantation in Gone With The Wind. It was Kismet! It was as if Katie was sending Tara to us.
I called Daryl, who handles the adoptions for AHDRO. She had heard that we had lost our Katie the day before, but she said that they had already had two applications for the puppies. She said if one of them fell through, Tara would be ours. A few days later I had resigned myself to not getting Tara when Daryl called and told me that one of the applicants for the puppies had dropped out. Tara was ours!
The next day Daryl called again. The family that was adopting the other puppy wanted to know if they could have Tara instead—because she interacted much more with their kids and they wanted to just change her name to Tara. But I told her we wanted the puppy named Tara and so a few days later we made the drive down to Columbus to pick her up at her foster parents' home.
They told us she was feisty and she certainly is! From the time she arrived, she and our male Collie, Apollo, became best buddies, Tara at 5lbs and Apollo at over 80lbs. She climbed all over him and played tug of war with his tail, but he never minded. (When we fostered two Shelties in the spring, poor Apollo was jealous because she played with them.)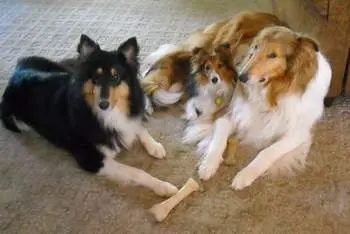 We also lost our 11-year-old Collie Gracie this past June and adopted another Collie, a Tri Color named Gabriella from a rescue in Michigan. So now Tara has two collie playmates! Gabby will put her shoulder down on the floor so that Tara can climb on her shoulders or she will lay on her back so that Tara can climb on her chest to play. Tara now weighs 15lbs and is the perfect size to be my little "lap Collie".
Tara is very different than our Katie was, but we love her very much. We love to watch her run around the backyard with the Collies following close behind her. She is such a hoot. We are looking forward to having 15 years with her, just like we had with our Katie.
Dacia's Story by Agi Cortez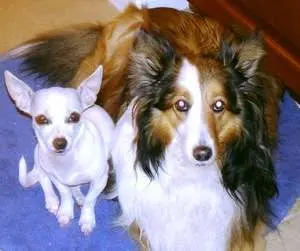 Over 13 years ago, our 12-year-old daughter wanted a cat.
I was severely allergic to cat dander and we managed to convince her to find a dog that she'd love to own.
Our family was given an Italian Greyhound a couple years earlier and as beautiful as he was, he wasn't very bright. So our daughter researched intelligent dogs and decided on the Sheltie breed. After months of visiting every shelter (this was before the internet was widely used) we eventually visited a shopping mall pet store.
We had that sinking feeling about pet shop puppies and felt so sorry for them. This was before we had heard anything about pet stores working with puppy mills and their deplorable conditions. It wasn't so much that they weren't taken care of, but as my daughter put it at the time: how would you like being looked at every day and no-one is willing to take you home?
I smiled and there she was; Dacia was there with a sad and very distant look in her eyes. Sitting with her back to the glass, she laid in her glass cage uninterested in the public fiasco she was born into. My daughter was automatically smitten and instantly saddened. She asked if we could pay her 'bail' and get her out of there. No dog should have to be undignified by this circus-like atmosphere.
After a few moments with her in the petting area, Dacia came to life; she was almost 6 months old and had still not been 'bailed' out. There, in her kind eyes, was a simple truth; and something redeeming about her and my entire family rallied to bring her home. Dacia became a welcome addition to our household. Since Cody the Italian greyhound was more or less always self-serving, Dacia was the kind-hearted smart soul that was a great companion for him; offsetting his oddball nature. She was so bright, she managed never to get in the same type of trouble Cody would find himself in; she would often times watch him get in to trouble and with those wise eyes, you could almost see her disapproval. Calm, cool and collected, you could also see her grin when Cody would get busted. She was always ready to go, prepared with her leash when she felt it was time to usher everyone out of the house.
We had several great years with her, she lived through Cody's apparent neck strain from relentlessly trying to get into the trash; and his apparent suicide to have the toxic chocolate chip cookies that were laid atop the kitchen counter to cool. Each time Cody was doing something 'boneheaded' she sat back and watched him; as if she was made just to babysit him.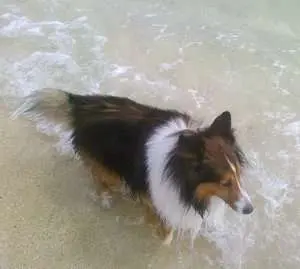 When Dacia was 10 years old, our son was given a abandoned Sheltie named Tako. Since he knew that Shelties were incredibly smart, he figured he'd keep Tako.
Our son thought Tako would eventually become mild-mannered like Dacia; but never realized that Dacia aged gracefully and was like Tako in her younger days. Dacia always put up with Tako's juvenile ways—often letting him know that she's the boss. Soon after that our son was sent to his new duty station and Tako left. Dacia was again lonely, this time we were able to adopt two Chihuahua misfits from a shelter that no-one wanted. They were termed 'man-haters' and so they were continually returned to the shelter.
We decided we'd foster them to see if they could live in a household with a man. In a relatively short time, they turned to butter when my husband entered. His relationship with the 'man-haters' stunned the shelter director. Even she thought Dacia had something to do with their change of heart because the few times the shelter placed those problematic pups elsewhere, there were always other pets in the household. She'd never seen anything like it.
Just over a year ago, Dacia began to slow down; she tired after short walks and would sleep for hours. She rarely had the strength to rise in the morning and would continually pant. With temperatures reaching over 100 degrees, we opted to shave her when it got too hot; but this was no longer cooling her down.
One day she could no longer raise her head and so we made the painful decision to let her go. We believe she had undiagnosed cancer and she was severely overweight for a Sheltie—weighing in at 34 lbs at the time she finally crossed the rainbow bridge. In fact, the night we took her to the vet; Sonny, our 3 lb Chihuahua misfit, snuck into my purse, almost as if he knew what was going to happen. Kiko, our other 8 lb 'man-hater', also decided to hide and not come when called.
Sonny cried when Dacia was finally gone. It's funny how Dacia had such a connection with all our animals and how she touched us. She was such a great friend and great companion.
We decided to take time to grieve and not replace Dacia straight away. For a few weeks that worked; that is until, one day I found myself looking at Shelties to adopt online. After three months of searching, the closest shelter that had adoptable Shelties was in Utah—there were no Shelties available for adoption in California. After weighing the pros and cons; ultimately the shelters had difficulty with an out-of-state adoption, particularly with their requirement to inspect your home.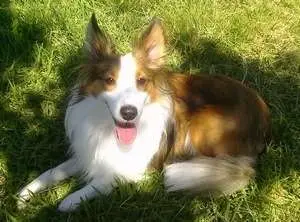 So we finally found a breeder that had a puppy we fell in love with. Liana is a dainty little girl. She's not a Dacia; she's a bit more precocious and curious soul. We now call her Lia and she's just as wise as Dacia but she doesn't have that maternal nature as Dacia did. She's more like a wee princess.
Lia loves following me around; she's a great shadow and claws at us if she demands attention. At the dog park, she runs wild then herds Sonny and Kiko. She definitely has her herding instinct. She's a joy to watch; realizing she's never going to replace Dacia, she is the epitome of a Sheltie, which is why we loved Dacia so much.
Lia the princess prances, smiles, chases, herds and is wickedly smart. And there's one thing she learned that Dacia used to do. When she was either hungry or thirsty, Dacia would literally throw her bowls around making all sorts of racket when she wanted a refill. Lia hasn't gotten the strength yet, but she's now using her nuzzle and pushing the bowls around to do the same thing.
Some people are 'cat people'; some are 'dog people'; and then there are 'Sheltie people'. We are definitely Sheltie people.
Here we are, over a year later—and with all the craziness in the world—looking at my misfits and Lia the princess sleeping near me as I write this. I smile knowing that having a Sheltie in our lives brings it all in perspective and we're better for it!
Our Little Lady by Susan Cox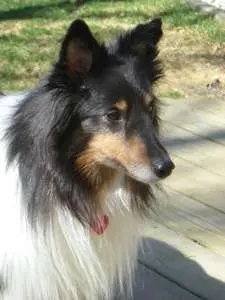 Our Little Lady has quite a background story before we adopted her in January 2010, bless her little heart. I found that face and fell in love online while searching Sheltie Rescue sites from every State around ours, Indiana.
I wanted another black-white-tan (tri) like the one and only Cindeelu who went to the Rainbow Bridge in February of 2009 at age 14. I knew we could not replace that little angel but I always liked the tri-color. We still have Cindeelu's sister, Kate, who is a Blue Merle and still beautiful at 14 now and in pretty good health, always wanting to chase that Frisbee.
Well, Lady was found on the Iowa Sheltie Rescue website. I filled out an application online and after several phone calls with the director, my husband and I were on an adventure in the freezing cold with snow piled a foot deep. We drove to Cedar Rapids, Iowa, from Greenwood, Indiana and back from a Friday night through a Saturday night. All for the love of Shelties!
After 7 months of living in Indiana with a fenced-in yard to run in, she's a Mama's girl. She does not like men and barks my husband in the house and out of the house. The couch is neutral territory and sometimes she jumps up on our bed and lets him pet her. Otherwise in her mind he is big and mean so we feel a man must have mistreated her in the past.
Her background history is one of mistreatment for sure and who, we don't know. We were told she was given as a new puppy to someone's dad who was a widower. He raised her and died when she was 6 years old. Lady was overweight at 30 pounds and unkept with matted hair. The old gent's daughter tried to keep Lady after her Dad died but had two large dogs who chewed up one of Lady's ears and would not let her eat. That daughter gave her to another home and we don't know circumstances there, but that third home did not work out and that's when Lady came to the Iowa Sheltie Rescue at age 8 in December of 2009.
She lived in a foster home in Cedar Rapids with about 4 other dogs and that's where we saw her first online and I fell in love with her face. She was down to 19 pounds and her ear healed but flops in 3 parts. I call it her "Trinity" ear..."Father, Son and Holy Ghost" because it's a miracle those big dogs didn't kill her.
Now, after 7 months, she is learning to accept love and not cower and reject it. She is highly motivated by her leash (I call it her ground wire) and due to past abuse and mistreatment she confuses easily, like perhaps she's a little retarded from being kicked around, poor thing! She is up to 27 pounds and holding, gets all the love and grooming we can muster and her coat is gorgeous again.
She begs me for walks every day and we go except when the humidity is too bad (August in Indiana... phew!) She has always gotten along with our other dog, Kate and she accepts strangers but is always within 5 feet of her new mama. This is her forever home for sure and my husband loves me so much he puts up with her barking at him, referring to it as her "song" when he leaves or returns home.
The end of our Little Lady's story from Indiana. Don't you just love happy endings?
Share this with a friend