Sheltie Health and Grooming
A guide to Sheltie health, with advice on spaying and neutering, grooming, flea and tick prevention, and common Shetland Sheepdog health issues.
Shelties are generally a very healthy dog breed, although their genetic history does make them more prone to diseases of the skin, hip and eye. If you own a Shetland Sheepdog, make sure you are aware of all the common ailments - even though your dog has a good chance of never suffering any of these his whole life.
This section also talks about the pros and cons of neutering or spaying your Sheltie - which is essential to help prevent the problem of dog overpopulation. You'll also learn about how to groom a Sheltie so his coat is always shiny and healthy - and how to deal with fleas and ticks. We also look at the pros and cons of pet insurance and what makes the best dog food diet.
Shelties are basically a healthy dog breed, especially if they are well-bred. This article explains the more common health problems found in Shetland Sheepdogs, including knee and hip issues, skin problems, and eye abnormalities.
Most of these issues are genetic so you can have a puppy tested in advance. You'll also learn about the importance of maintaining a healthy weight in your Sheltie.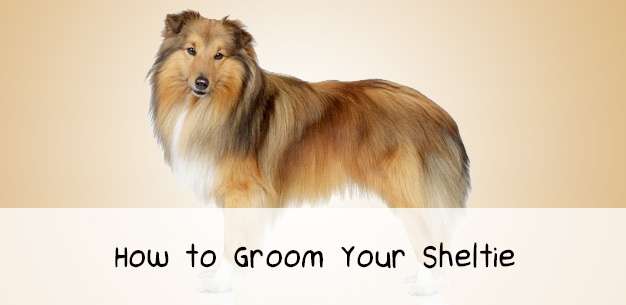 This article is all about your Sheltie's coat and nails. You'll learn about the brushes and tools you'll need, how to groom the Sheltie undercoat, how to trim the nails safely, how often to bathe your Sheltie, and how to deal with fleas and ticks.
This is a complete guide to grooming with valuable advice for new and experienced Sheltie owners alike.
Your Sheltie has a luxurious undercoat which requires frequent grooming. This can easily become a dense mass of loose, dead hair that ends up all over your house, furniture and clothes.
The FURminator is a patented grooming tool that strips away the undercoat without damaging the topcoat. Read my FURminator review and watch a video demo.
I asked our Facebook community to share their favorite photos of bathtime with their pooches. And this is the result. Here are 101 cute, funny and oh-so-sorrowful photos of their dripping wet Shelties in the bath. Whether they're shrunk by half, or giving you the side eye for making them clean, they're a pretty adorable bunch. Some love it. Some hate it. But we all have to do it...
After spending more than $700 on vet bills during the first year of having two Sheltie puppies, I wondered is pet insurance worth it? It certainly appears so at face value, but after digging a little deeper I found some surprising results.
This article compares the pros and cons of pet insurance, plus the fictional case of Lucky the dog and the cost of a lifetime of vet bills.
What is the best dog food to give to your beloved Shetland Sheepdog? Is it safe enough to give him kibble only or should you be giving fresh foods as well? And what is all the fuss about dog food scams - should you be worried?
This article examines the truth about supermarket pet foods and what essential nutrients you need to get into your Sheltie's diet for good health and longevity.
Have you ever fed your dog a grape as a treat? How about let him eat leftover meals containing onion, mushrooms or garlic? Does he get the odd tomato scrap when you're making a sandwich?
Unfortunately, all these foods and more can be poisonous (and even fatal) to dogs. To keep your Sheltie healthy, see our list of foods that are toxic to dogs.
Should you neuter your Sheltie? Deciding whether or not to sterilize your dog can be a tough decision - especially when there is so much confusion over the advantages and disadvantages of neutering.
This article covers all the pros and cons of neutering a Sheltie, taking into account the health and behavioral benefits, based on all the known facts. A must-read for any dog owner.
When should you spay a Sheltie? Besides controlling pet population, there are many health advantages to spaying your Shetland Sheepdog. The question is, when should you do it? Timing is everything, as surgery will affect the hormone levels of your dog.
This article looks at all the pros and cons of spaying and when to do it for optimum protection against cancers and infections.